Microsoft has been changing, and changing fast since Satya Nadella was named CEO early last year and Steve Ballmer took a bow. Nadella has often called his approach making Microsoft a mobile first, cloud first company. And now, the better part of two years later, we have seen what that means in terms of operations, new products and services, and, importantly, corporate partnerships. Today Microsoft embraces various open source projects, everything from GitHub integration for Visual Studio, support for Node.js, and even working with Linux. This has been a substantial departure from the tenure of Steve Ballmer, who once referred to open source as a cancer.
Another notable change under Nadella's leadership is Microsoft now partners with companies once considered adversaries, like Box and Salesforce. Even the tone of Microsoft's relationship with Apple is dramatically different with Office being a prominent part of the unveiling of the iPad Pro, Apple's 2-in-1 competitor to the Surface Pro, and, of course, this recent holiday ad featuring Microsoft employees' heartfelt caroling outside of Apple's glass cube store in NYC.
The difference in leadership between Ballmer and Nadella could be described in a many ways, but Salesforce CEO Marc Benioff took the opportunity on Bloomberg TV to explain one important way Nadella and Ballmer are complete opposites, and why that is important. As Business Insider reports, Benioff thinks Nadella was picked as Ballmer's replacement because, unlike Ballmer, Nadella can create these partnerships and work with other leaders. Benioff elaborates that:
I think one of the reasons Steve Ballmer is not the CEO of Microsoft and Satya Nadella is, is because Steve had a hard time having relationships with other CEOs. I know that from my personal experience, and Satya's the opposite."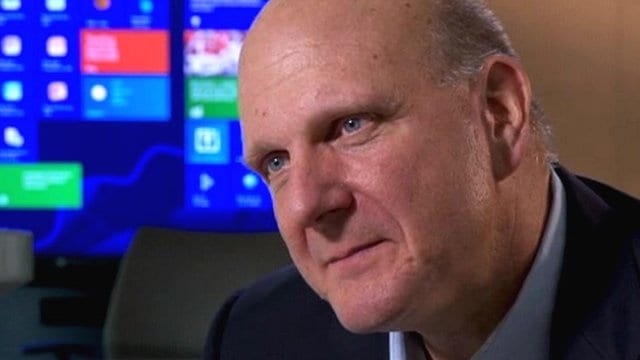 The difference in Microsoft and Salesforce's relationship between the Nadella era and Ballmer's tenure is one of the more dramatic and practical examples of Benioff's observations. Previously the two companies "virtually did no meaningful work together," and Benioff would criticize the company "for failing to go social or mobile under Ballmer's tenure." Now the two companies are finding new ways to integrate Salesforce and Office. There have also been opportunities like Nadella making a keynote address at Salesforce's Dreamforce conference and Benioff exuding Nadella and Microsoft's praises like in this very Bloomberg TV interview.
Business Insider's Eugene Kim also explained how Nadella's ability to work with other partners and CEOs is translating into attracting talented employees who are excited by the new possibilities that come from Microsoft's more open approach. The tech company's new Executive Vice President of Business Development, Peggy Johnson, said Nadella's openness towards partnerships was what convinced her to join Microsoft.
In another Bloomberg interview, Johnson said:
"I had watched [Nadella's] progression and I was curious about his vision. He seems so different. And out of the blue, when I got a call to look at the role as head of business development, and got to meet Satya in person — he's such a change agent. Satya recognizes the importance of working with partners, so I think you'll continue to see perhaps surprising relationships in the year ahead."
Since coming on board, Johnson has struck deals with AOL, Uber, and Yahoo, and fully expects that list to grow.


Nadella has certainly shaken things up since taking over. But more importantly, he has not sought changing for the sake of change, or narrow mindedly forcing change. Instead he is being thoughtful in how he sees Microsoft grow and evolve through openness and collaboration. Arguably, his sincerity and willingness to work with others, not just lead or command, has brought a new level of integrity to Microsoft's mission of empowering everyone on the planet.
Of course it hasn't been an easy change. An aircraft carrier sized giant like Microsoft after all can't just turn on dime, and there have been costs with massive layoffs and vast reorgs. But, now the tech community is exciting by Microsoft's possibilities, and former adversaries and current rivals have gone from criticizing Redmond to commending the company's new direction. Only time will tell if this change will payoff with more than platitudes.
Share This Post: