There's been evidence in a number of reports to support that the PC market is in a flux. PCs and tablets have begun to shift out of focus as the more convenient 2-in-1 devices come to the forefront. These devices take the capabilities of tablets and notebook computers to create a more compact and versatile product.
Canalys reported today that the PC market in general has slipped into a decline that is matching the 2011 sales reports. According to the recent report, "worldwide PC shipments (desktops, notebooks, two-in-ones and tablets) totaled 101 million units in Q1 2016." Compared to the 120.2 million combined total of PCs and tablets sold in the 2011, the numbers have now clipped below the last quarter of 2011 and continues to decline. This year reported a substantial loss compared to Q1 reports for 2015, as seen in the graph below.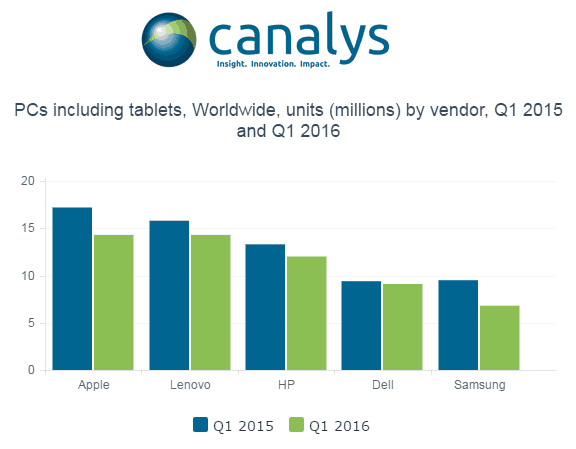 Apple is still holding onto the lead nearly half a decade later with 14 million units sold, which includes sales of their also-declining but still industry-leading iPad tablets. That's a loss of 17% total sales with Lenovo trailing right behind by approximately 25 million units. Tim Coulling, Canalys Senior Analyst explained:
"The global PC market had a bad start to 2016 and it is difficult to see any bright spots for vendors in the coming quarters. The tablet boom has faded in the distance and the market is fully mature. Global shipments declines are expected to continue unless vendors bring transformational innovation to the market. Apple and Microsoft are propping up shipments in established markets with their detachables, but price points make them less affordable in low-income countries. Although other vendors are coming to market with cheaper alternatives, they are unlikely to have a big impact on volumes in the short term. The number of people looking to buy their first PC is at an all-time low and 2016 is likely to bring yet more turmoil to global PC vendors."
While traditional PCs and tablets are down, the 2-in-1 device market is fairing significantly better, with an increase of 13% across all vendors. With Microsoft's FY16 Q3 report just last month, we saw major increases in sales of the Surface Book and Surface Pro 4 with the Surface division rising 61%.
Even Telsyte expected tablet sales to continue falling given their study of the 2015 analytics.  While Apple predominantly held the top sales, Microsoft has apparently begun the uphill climb to catch up via the introduction of the premium Microsoft Surface devices. It will be interesting to see how the numbers shift in the upcoming quarters.
Share This Post: