Not so long ago, Skype used to be a popular option among PC gamers looking for a simple app for voice chat and light messaging. But unfortunately for Microsoft, quality problems, questionable UI changes and the rise of more focused competitors led many gamers to leave Skype for better alternatives.
One of these alternatives is Discord, a chat and VoIP app that has seen a meteoric growth since its launch three years ago. Back in May, Discord claimed to have crossed 130 million registered users, up from 45 million users in May 2017. The ambitious company, which boldly claims on its website that "It's time to ditch Skype and TeamSpeak" seems poised to become an unstoppable force in the gaming world.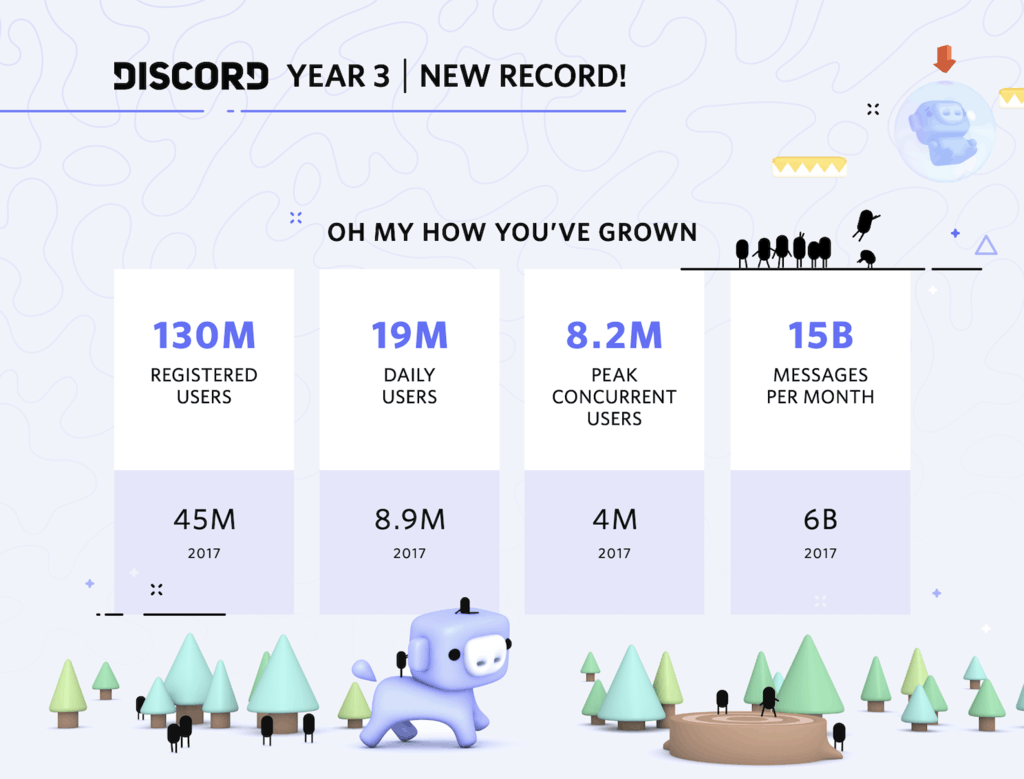 Despite its obvious gaming focus, especially after the company recently opened its own digital store with "First on Discord" games, Discord isn't used exclusively by gamers. The app is actually quite similar to Slack or Microsoft Teams, and it lets you create servers with multiple channels for discussing different topics of your choice. Discord also supports bots, roles with custom permissions, and integrates with many third-party services like Twitch, Spotify, and even Xbox Live. None of this wouldn't matter if Discord wasn't a well-designed and fast app, and in our own experience the app is consistenly fast on all platforms (including mobile), and it won't slow down even if you join multiple servers with thousands of users.
For PC gamers, Discord lets you display what game you're currently playing or streaming, and there's an Overlay mode that lets you access chat and VoIP features while you're in your game. Discord also has a "Streamer mode" that can automatically disable Windows sounds and notifications, and as a matter of fact, the most popular streamers out there are all using Discord to build their communities. For those who don't stream, Discord can be the ultimate friends list that follows you across all platforms, and the app recently added a Game tab where you can see at a glance what games you're friends are playing.
The interesting thing I've personally observed is that Microsoft and many other video game companies have become a big Discord supporter. There are official servers for the biggest video games out there such as Fortnite, PUBG, Rocket League, or Minecraft, but Microsoft has also created official servers for Xbox, Mixer, the Xbox Ambassadors program, Halo, Gears of War, and Sea of Thieves. There's even an official "Microsoft community" server, where you can chat with some Microsoft employees in real time.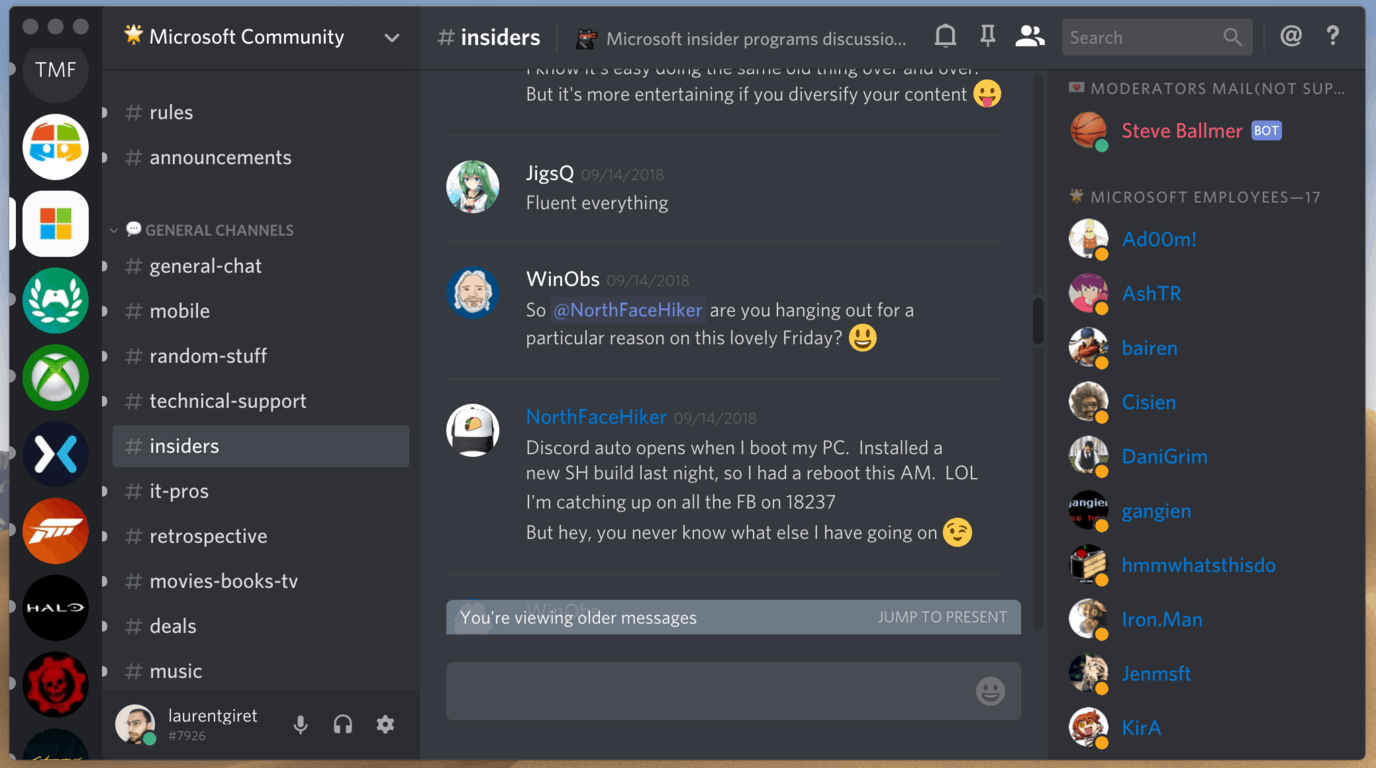 Recently, I've seen that members of the Windows Insider team have often been teasing new Windows 10 Insider builds on this server, and you should definitely check it out if you're a Windows 10 fan. The cool thing about this server is that certain roles like "Patch Tuesday" or "Windows Insiders" are self-assignable, and those who have them will get a bot notification every time a new Windows 10 build is released.
Earlier this year, Microsoft also teamed up with Discord to integrate its Xbox Live service with it. By connecting your Xbox Live account to Discord, you can display your gamertag on your Discord profile, and also show your Discord contacts which Xbox games you're playing in real-time. Mixer, Microsoft's Twitch competitor, also lets you link your Discord account and add a Mixer bot to your Discord server: By doing so, you'll be able to automatically send announcements when you go live on Mixer, invite Mixer users to your channel, and sync chat between Mixer and your Discord server.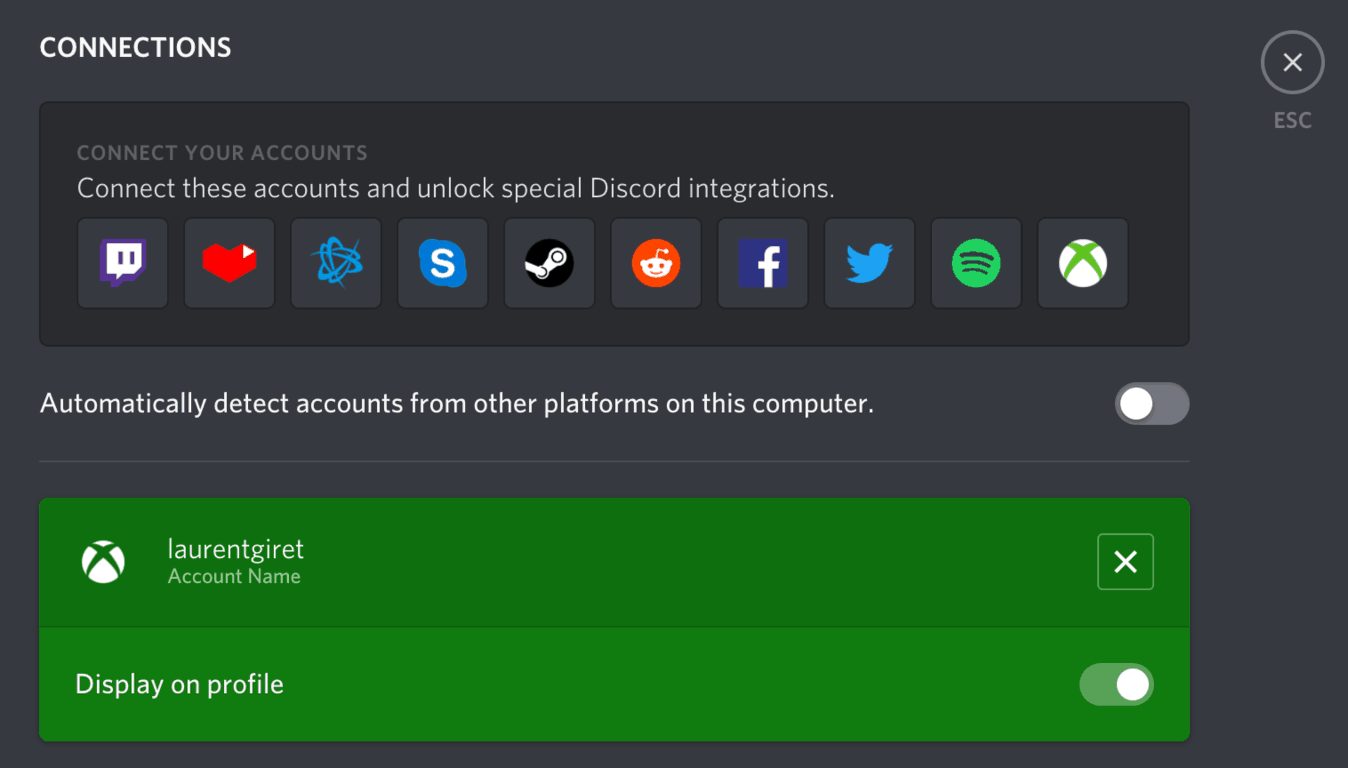 In some ways, Microsoft seems to be using Discord more than its own social tools like Skype or Xbox Live Clubs. Two years ago, Microsoft experimented with using Skype to let e-sports fans interact with professional gamers like Ninja, who has since become the biggest video games streamer on Twitch and created a massive community on Discord. I was part of this little Skype experiment back in the day, and came away very disappointed.
Add GamingWithSkype on Skype & come chat with @Ninja_TB after his #HCS Pro League game on Friday #SkypeTogether pic.twitter.com/IuNNauZB4j

— Skype (@Skype) July 13, 2016
The truth is, Skype group chats are simply not designed for these kind of live interactions, and creating a Skype group chat with more than 50 users will quickly become unmanageable. That's really too bad, and I wish Skype had a special "community" mode with a new UI that combined the best of Discord and Microsoft Teams.
Skype may have lost gamers to Discord in recent years, but the same can be said about Microsoft's Xbox Live platform. Xbox Live Clubs are really slow and use a clunky UI on all platforms, and the few official clubs that I joined aren't really active at all. Worse, Xbox Live will regularly show you "popular" content you probably don't care about, and recommend you to follow complete strangers. Just like Google and Apple, Microsoft doesn't seem to "get" social, as we've recently seen with the company's desperate attempt to copy Snapchat Stories in Skype.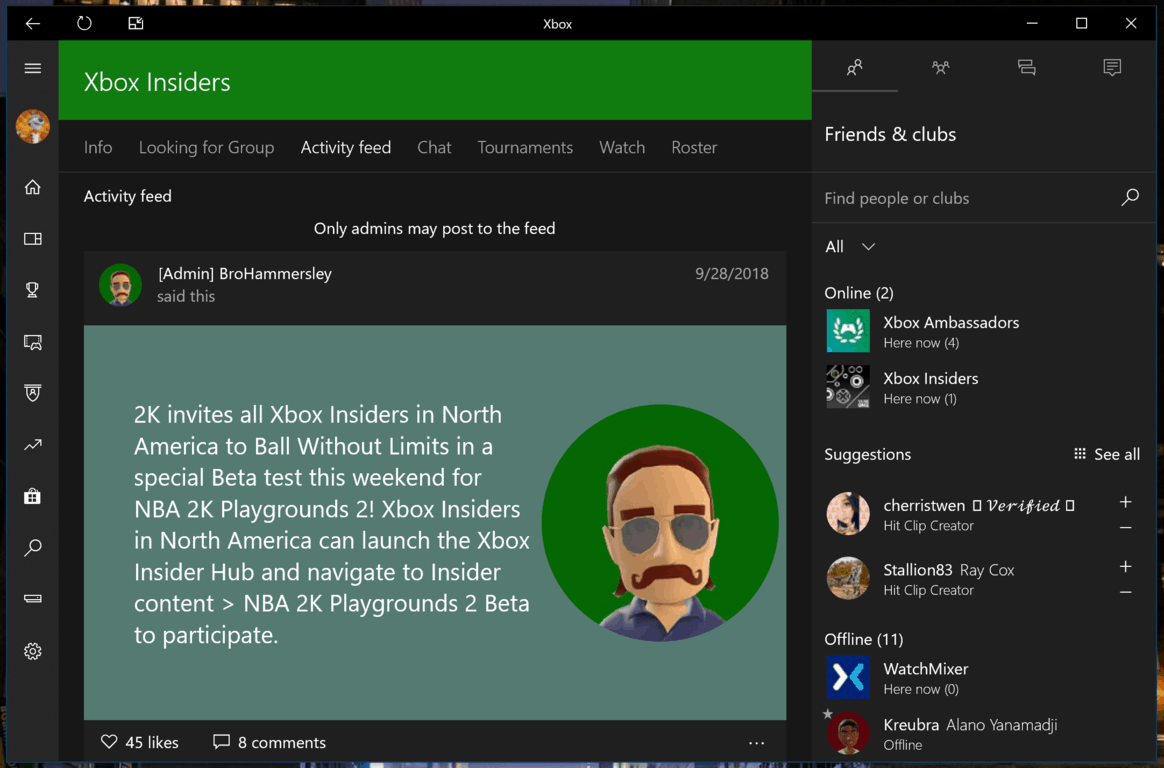 Back at E3, Xbox head Phil Spencer said that the company was well aware that its Xbox app on Windows 10 doesn't really appeal to PC gamers. "We're reworking how we're thinking about the PC audience to try to be more reflective of the PC community that's out there instead of trying to pull people into the things that come from the console space," the exec said at the time.
According to Windows Central, Microsoft is planning to revamp its Xbox Live Clubs so that they work more like Discord servers, with different channels replacing the single group chat panel that exists today. While that seems to be a step in the right direction, I'm not sure if this will be enough for PC gamers to finally care about the Windows 10 Xbox app. Discord remain light years ahead thanks to its better design, cross-platform availability and integrations with third-party services, and a true desktop app like Discord can probably do things that the UWP Xbox app will never be able to do.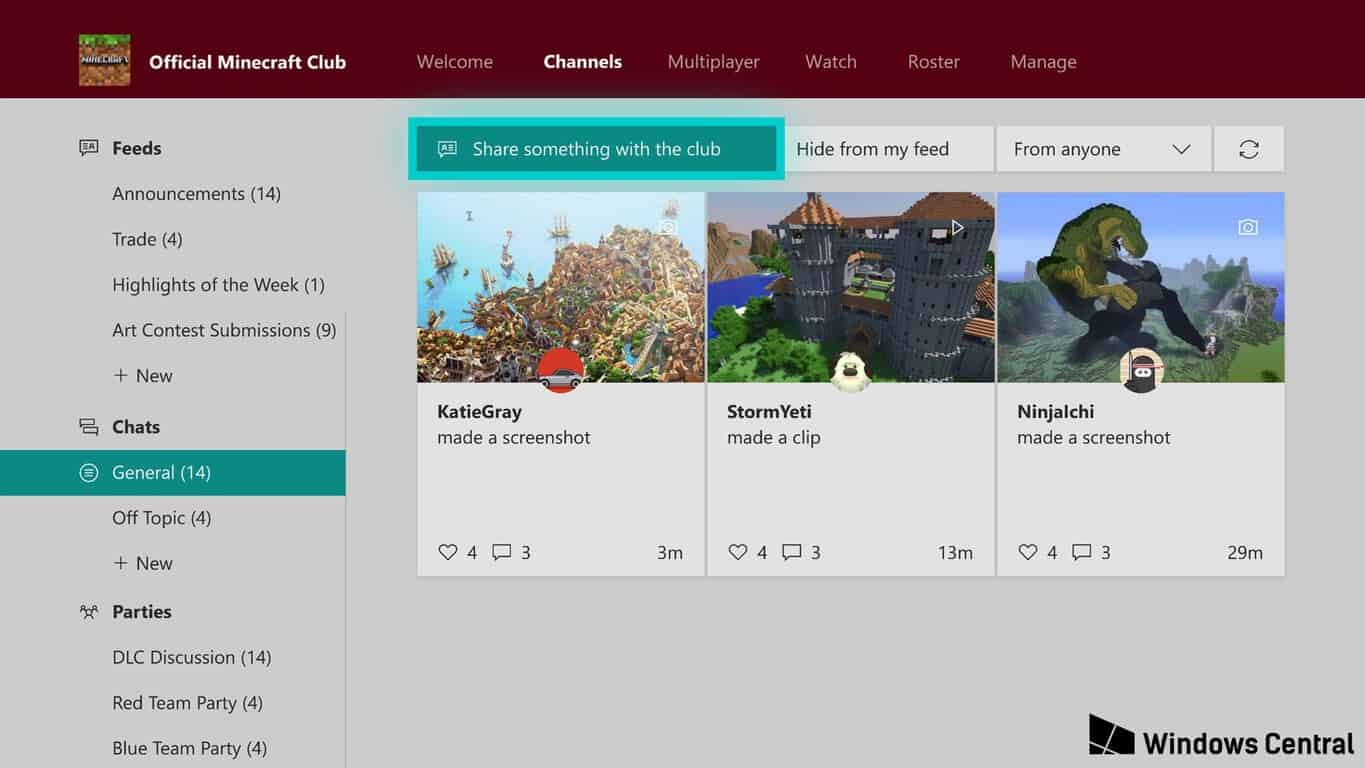 In the end, it seems that Discord could be a great acquisition for Microsoft. Discord is growing very fast, it's already making money with its $4.99 "Nitro" premium subscription, and the company launching a new digital games store is probably something that Amazon, Valve and Microsoft are all watching very closely. Discord has become a force to be reckoned with in just three years, and I wouldn't be surprised if Amazon, Google or Facebook wanted to acquire it.
The Redmond giant previously let Amazon purchase Twitch back in 2014, and it's now playing catchup with its own Mixer service. Microsoft still owns one of the biggest gaming platforms out there with Windows, so Discord would definitely be a great fit at Microsoft. The app could coexist with Skype and Microsoft Teams, with all three apps keeping their own purpose. However, Phil Spencer's recent E3 comments suggests that Microsoft is still more interested in improving its own Xbox Live platform, for better or worse.
It would be perfectly fine if Discord remains independent, and so far the company is doing all the right things to sustain its impressive growth. If you already tried Slack or Microsoft Teams, we really encourage you to check out Discord. The official Microsoft Discord server is a great place to start, and you'll find here a very active community of 11K+ members where you can discuss everything Microsoft. And now that Google+ will be soon closing its doors, we wonder if all the Microsoft-owned Google+ communities dedicated to the company's Android apps may soon make the move to Discord.
Share This Post: