With the Creators Update, Microsoft gave Windows 10 users more granular controls over telemetry and all the diagnostic data that the OS shares with the Redmond giant. If you have already installed the update, you should know that Microsoft has reduced by half the volume of data collected at the "Basic level, which is one the reasons why France recently dropped all of its privacy complaints about Windows 10.
Nonetheless, the fact that Microsoft still doesn't allow Windows 10 users to easily switch off all data collection remains a concern for many. Advanced users may know how to turn off data collection by using the Services desktop app, though you should be aware that doing so will also disable Xbox achievements for Windows Store games that support them.
The issue was discovered by Reddit user PoliteSpellingNazi, who explained on the Xbox One subreddit that Xbox Achievements will no longer work if the Connected User Experiences and Telemetry service is turned off in the Windows 10 Services app. The description for this service notes (emphasis ours):
The Connected User Experiences and Telemetry service enables features that support in-application and connected user experiences. Additionally, this service manages the event driven collection and transmission of diagnostic and usage information (used to improve the experience and quality of the Windows Platform) when the diagnostics and usage privacy option settings are enabled under Feedback and Diagnostics.
If you disabled this service a while go, are now having second thoughts, and don't remember where to find it, here are the steps to turn it back on:
Open the Services desktop app, which you can easily find with the Cortana search bar or by using Windows Key + R and then type "services.msc"
Find the "Connected User Experiences and Telemetry" service in the list an open its property sheet.
Change the Startup Type to "Automatic"
Restart your PC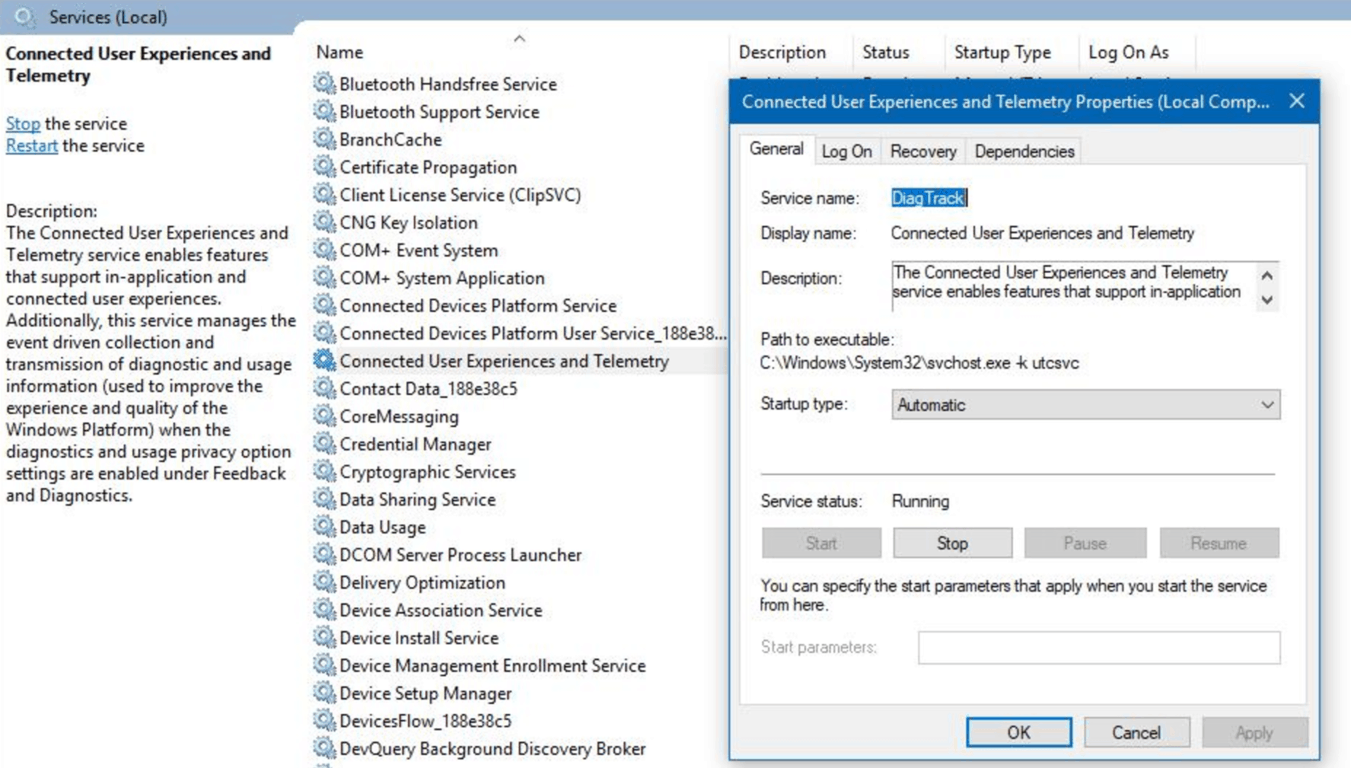 All of these services are here for a reason, and it's never recommended to turn off any of these off without being sure of what you're doing. For all other privacy-related settings, we invite you to check the Windows 10 Settings app and go to Privacy  > Feedback and Diagnostics. From there, you'll be able to choose how much telemetry data you want to send to Microsoft, with the "Basic" setting only sending data "necessary to keep Windows up to date and secure."
Share This Post: