Yesterday, the Bing Team took to their blog to highlight features added to the search engine in the month of October. New this month are some entertainment experiences and saved content.
Firstly, with the new entertainment experiences comes expanded carousel coverage, helping users find new types of entertainment content. New trending content on services like Netflix and Amazon Prime are now included in the carousel under the search box, as seen below.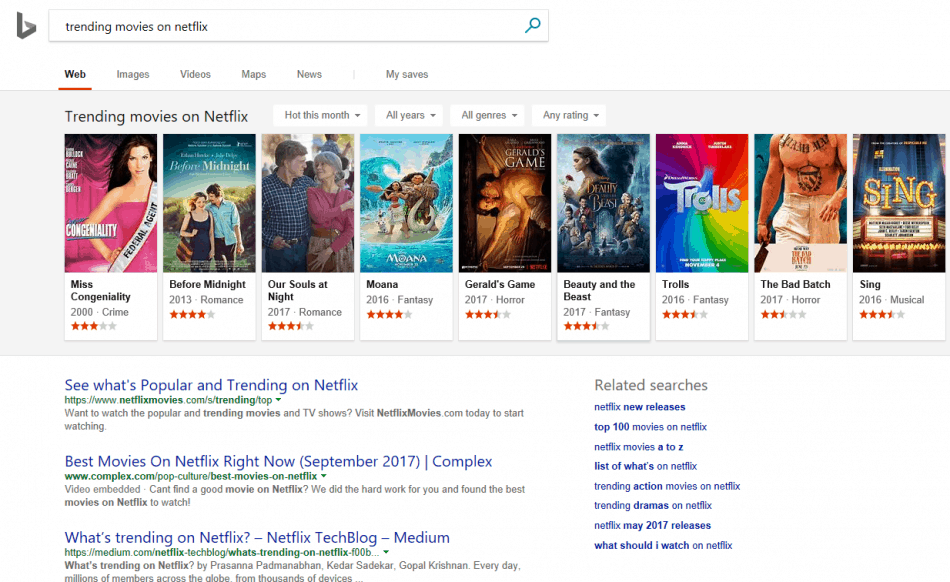 Also part of this change is a new tabbed experience when searching on mobile. This brings users more information on movies and artists, as well as rich visual content of what tab they're in.
Lastly, is the My Saves feature. This is designed to make it easier for users to find what they're looking for. Individual collections of videos and images on Bing can be created and saved for later by clicking on the plus sign at the bottom left of the content.
Users should be seeing these features now, so be sure to check it out. And remember, you also earn Microsoft Rewards for searching on Bing, which is a great way to score one of the new Microsoft Store gift cards for the purchase of devices and games.
Share This Post: