One of the coolest features of Microsoft's Xbox One console is the ability for users to broadcast live video of their gaming to followers on Twitch directly from within the console's operating system via the native Xbox One Twitch app. The integration of the Twitch service into the Xbox One experience has been fairly intuitive since it launched with live Twitch broadcasts being added to Store game pages and the ability to enable system notifications for when Xbox Live friends have begun a broadcast. Crystal Dynamics has just taken the streaming experience a step further this week with a special collaboration with Twitch that adds an entirely new level of interactivity to Twitch streaming.

By designing their new game, Rise of the Tomb Raider, around native Xbox One Twitch streaming, Crystal Dynamics has incorporated a variety of features that dramatically enhances the experience for both broadcasters and viewers. When streaming Rise of the Tomb Raider on the Xbox One from the Xbox One Twitch app, broadcasters can enable a special frame that advertises the game they're playing but also displays information such as their game progress and current status within the game.
Viewers of the Twitch stream can also vote on certain in-game boosts that affect the player's gameplay via entering text within the Twitch app's text chat window. Using the Twitch text chat to affect a game being played is something that users have experimented with before, most famously with the Twitch Plays Pokemon streams which allowed viewers to actually play Pokemon games by typing in gameplay commands in the chat, but this is the first time such functionality has been incorporated within the official Twitch app and has the potential to become something with massive influence if and when it's incorporated into future games.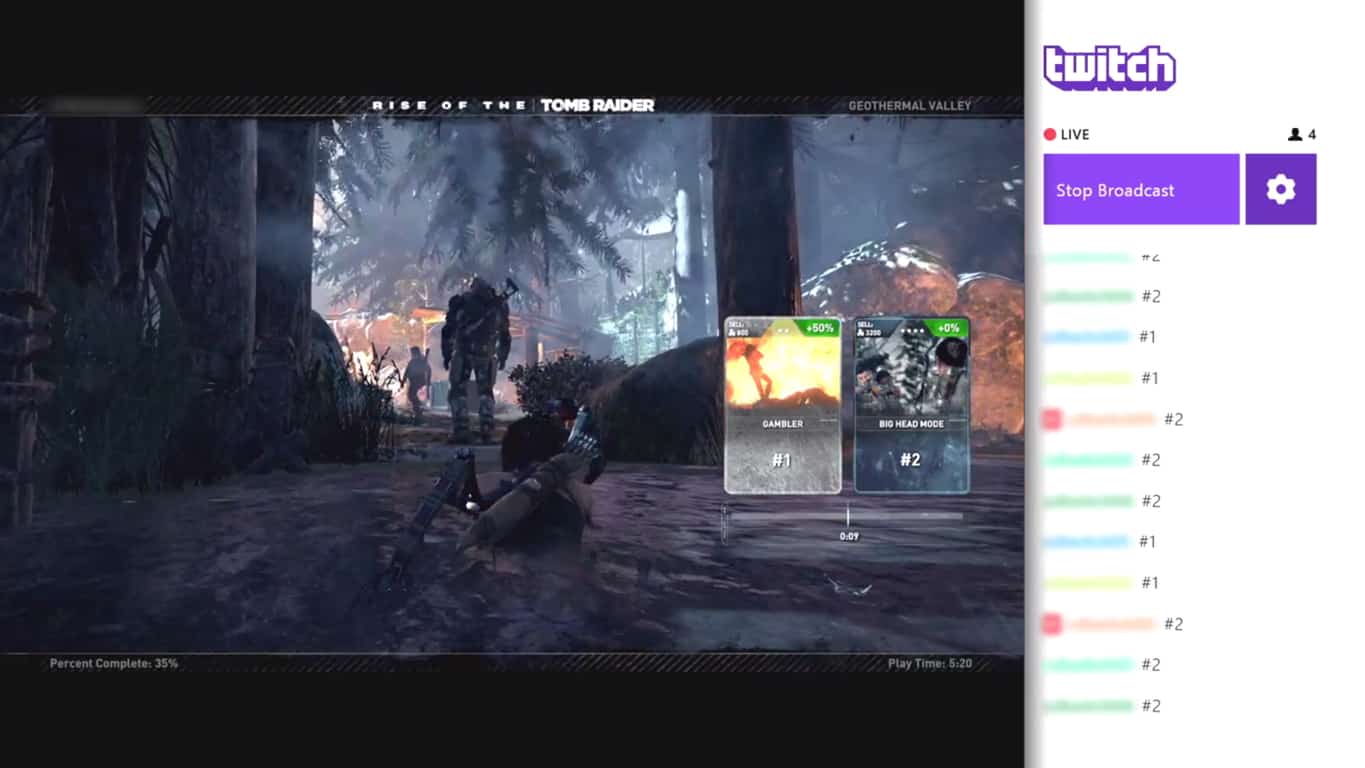 The most innovative Twitch feature added to Rise of the Tomb Raider is the ability for gamers to earn in-game currency for watching another user play the game on Twitch if the player achieves certain milestones. Viewers must naturally own a copy of Rise of the Tomb Raider to redeem the game-specific rewards and must also have linked their Xbox Live account to their Twitch account so the system can register their participation in the stream, but for many this will be a huge incentive to check out Twitch streams of the game and is a rather ingenious way to keep Xbox One owners engaged in the title when they're not playing it themselves.
There are currently no other Xbox One games that offer this level of Twitch streaming interactivity but those who would like to see these sort of features incorporated into future Xbox One titles are encouraged to post their enthusiasm and suggestions on the official Xbox Feedback website which is used by Microsoft to gauge what Xbox One owners want in future updates and product launches.
Have you tried out these new Twitch features in Rise of the Tomb Raider on Xbox One yet? Which aspect do you like the most? Are there any other Xbox One games you'd like to see get a similar degree of Twitch integration? Let us know in the comments below.
Share This Post: