If you use the Skype for Business integration currently available in Outlook on the web (for Office 365 customers), you may have noticed a message saying that Skype for Business has now been replaced by Microsoft Teams. SharePoint technical consultant Nico Martens shared a screenshot of the notification on his blog today, and you can see it below (via ZDNet):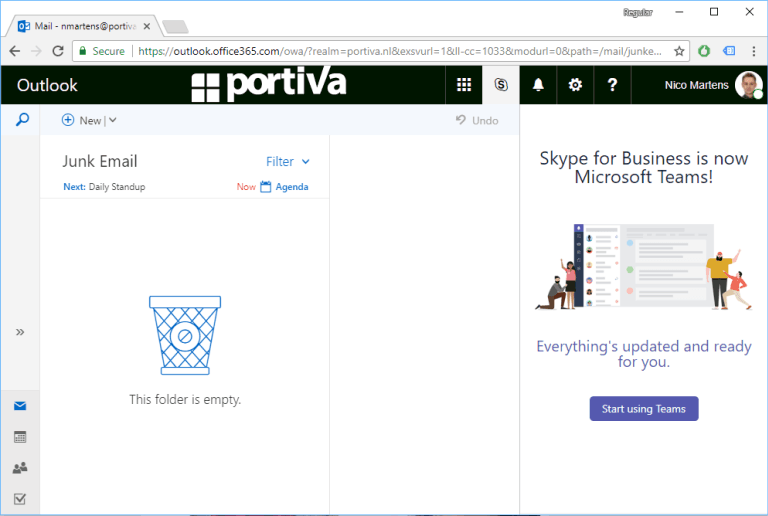 Martens noted that the "Start using Teams" button simply redirected him to teams.microsoft.com, which is the url of the Teams web app. The Teams notification disappeared from Martens' Office 365 inbox after he refreshed the page, but the consultant added that the message also appeared "even when Teams licenses are not activated for the user," causing an error in that case.
As Microsoft has yet to announce that Microsoft Teams will replace Skype for Business, it's not exactly clear if this was just a temporary bug or some A/B testing from the folks over at Redmond. As of today, Skype for Business and Microsoft Teams are still complementary products: the first one is still necessary for everything related to PSTN calling features, and it also interoperates with Salesforce, Cisco Meeting Service, and also consumer Skype.
However, it's true that both products have many similar features such as instant messaging, voice and video calls, group meetings and more. On the Microsoft Teams UserVoice website, "Complete Skype for Business integration in Microsoft Teams" is currently one of the top 5 five requests from users, and Microsoft said that is currently "under review."
Do you think Microsoft Teams and Skype for Business should be merged to create an all-in-one communication app for Office 365 users, or do you think both apps still have separate use cases? Let us know your thoughts in the comments below.
Update: As spotted by Twitter user @hoyty, Microsoft has confirmed that it's "upgrading Skype for Business to Microsoft Teams" in a post on the Office 365 Admin Portal. The company says that this will be an opt-in transition for now, as it continues to work on enhancing the Microsoft Teams experience.
Share This Post: