Despite Microsoft pulling its digital assistant service from most of its consumer-facing products over the last two years, it seems the company still has a soft spot for Cortana in Windows 10.
As of Windows 10 Insider preview build 18945, users are getting a taste of what's expected to be the new Cortana experience on desktops.
Introducing a new Cortana experience for Windows 10
We are beginning to roll out a new Cortana experience for Windows 10 as a Beta to Windows Insiders in the U.S. This new experience features a brand-new chat-based UI that gives you the ability to type or speak natural language queries.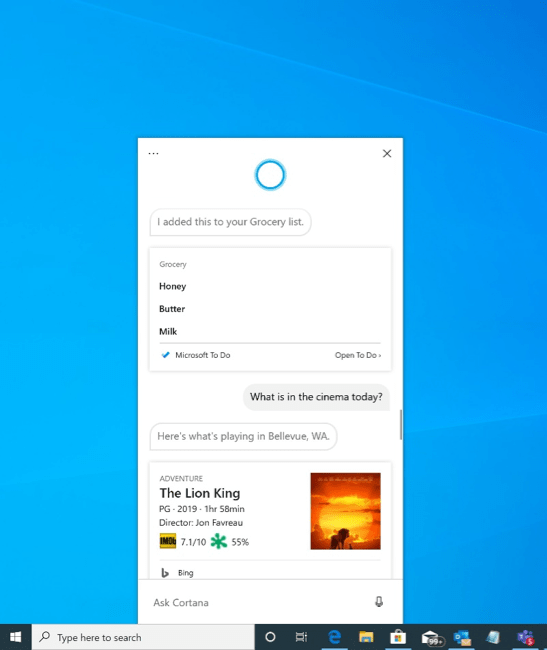 According to the release notes, the new Cortana experience will retain much of the functionality of the old service but also incorporate new features such as light and dark theme support, a minimized queries prompt and updated speech and language models for improved performance and reliability.
As this is a beta and seems to be a from-the-ground-up redesign, Microsoft notes that not all of the features from the original Cortana app will be present in this build.
Microsoft's seemingly recommitting itself to Cortana amid a handful of recent confusing moves regarding its digital assistant strategy as a whole.
Earlier this week, Microsoft acknowledged it has plans to remove Cortana from its Xbox One platform, the company has also, over the past year, been promoting cloud service provider rival Amazon's Alexa as a substitute on Windows 10 PCs with its OEM partners bundling software specifically designed to replace the company's efforts.
What Happened?
While Cortana had been previously promoted as the connective cloud-based digital tissue between Microsoft's now-defunct Windows Phone platform and Windows 10 and a vibrant competitor to Google Assistant and Apple's Siri, the reality is that it quickly became a me-too product without nearly the amount of bells and whistles as its competition.
Part of Cortana's shortcomings falls on Microsoft's lack of focus and overall conceptualization of how it would compete in the smartphone market where it originally intended to leverage devices that were becoming more personal than Personal Computers.
Before the bottom fell out for Windows Phone, Microsoft had already placed a huge bet on Cortana being big enough to carry its desktop and even gaming based users as well and baked it into its desktop and Xbox operating system, however, without the necessary "personal" information its smartphones weren't picking up, the Windows 10 Cortana experienced seemed gimped out of the gate and only got worse over time.
As with many consumer-facing products from Microsoft, a faint stench of death caught industry observers nose regarding's Cortana's long term viability and a continuous flow of "near-death" reports began to flood the news. During this time, Microsoft did its Cortana department no favors with executives continuously being cagey about how its digital assistant would keep up with the industry leader in Google and up and coming, Amazon Alexa.
Eventually, Microsoft read the writing on the wall and pivoted to nurfing Cortana's scope and seemingly transitioned it into its new role as an updated version of its Office Clippy assistant. Consumer-facing features began slowly disappearing from the app and its overall presence reduced both visually and functional synergies.
In a seemingly shrewd business decision, Microsoft began to favor the assistant that was making headway with its users in Alexa as Amazon's digital assistant devices began to proliferate in consumer spaces.
And now?
All of that leads back to Microsoft's decision to revamp and test a new Cortana experience in its latest Insider preview build. Microsoft has been signaling, that while Cortana may not be seen in new product commercials or have a significant marketing budget behind its product development, the company does intend for it to have a place in its ecosystem and today's beta app is just another sign that it plans to evolve the digital assistant.
While Microsoft does not have the same sort of mobile presence as Apple, Google or Samsung, it's apps and services continue to make significant gains on smartphones that include a dedicated launcher for Android as well as its Cortana app for both iOS and Android. In the case of Android, the Cortana experience is practically baked into the launcher which acts as its own sort of OS flow for end users.
There may not be the same sort of fanfare around for Cortana as there was at its launch, Microsoft has reorganized and seemingly refocused its efforts to make it a worthwhile tool for more specific tasks. It will be interesting to see what old features come back into the beta development as well as new skills that show up over time.
Share This Post: