Late last week, John Cable, the director of Program Managment, Windows Servicing and Delivery at Microsoft, took to the Windows Experience blog to explain that Microsoft is taking steps to ensure that all Windows 10 devices are up to date. As part of this, he detailed that users running older versions of Windows 10 will receive a prompt to update privacy settings, also part of the initial process of upgrading to the Windows 10 Creators Update via Windows Update.
According to Cable's post, Windows 10 Creators Update provides the latest security features, and as a result, the company wants to help update your device as soon as possible. With this so, users running older versions of Windows 10 will now receive the opportunity to review privacy settings before their devices become eligible to download the Creators Update. The prompt will appear automatically and can be postponed up to five times before it appears again.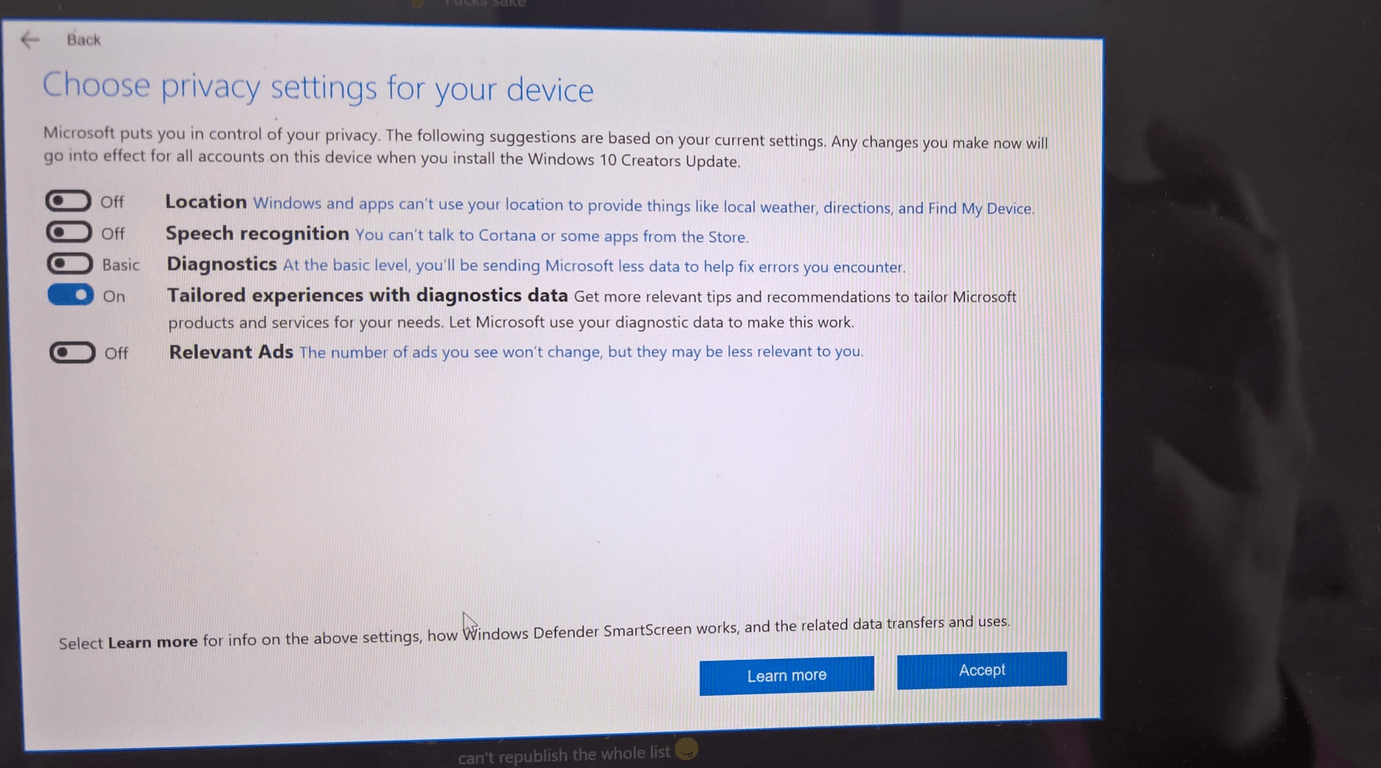 Though the upgrade experience itself is not changing, we previously detailed how the privacy prompt works. It's a multi-step process that involves choosing certain types of information that will be shared with Microsoft, such as location, speech recognition, diagnostics, tailored experiences, and relevant ads. Microsoft even highlights that "it will only take a few moments to "provide you with the best balance between privacy, security, and control."
By staying up to date on both the latest feature and quality updates, you're assured of being on the most secure version of Windows 10. If you want to double check that your system is up to date, simply visit the Windows Security page and scroll down to click "Verify you're updated." We'll let you know if you need to update your device to the Creators Update. And, if you are having trouble updating your device, see this helpful article.
Microsoft is also reminding users of the original version of Windows 10 that it has reached end-of-service. The company will be sending out notifications to users of devices with Windows 10 version 1507, notifying them that the device needs to be updated to the latest featured update. These users should click on "Update Now" on the prompt to receive the Creators Update, and ensure that they continue to receieve monthly security and quality updates that contain protection from the latest security threats.
Share This Post: