Back in August of 2016, Bing Rewards was replaced by Microsoft Rewards. As part of the switchover, a new points system took into effect where users could earn points for browsing on Microsft Edge, buying items from the Microsoft and Windows Store, or by doing the usual Bing searches and taking daily quizzes and quests. Since these points can be accumulated for rewards such as Amazon or Microsoft Store gift cards, I have been carefully amassing my Microsoft Rewards points over the last few months, and would like to share my tips on how you can do the same.
Bing Searches!
As you know, each search done on Bing can earn you a certain amount of points, with the amount sometimes being higher on select weekends when points are doubled.  While Microsoft suggests you to begin these Bing searches by searching for "US News," I have since learned that a great way to earn points on other searches is to click on Bing's trending searches as seen on the home page.
Clicking on the search box on Bing.com will open up a list of trending searches, and will keep you informed on what's popular in our culture, and will also give your Microsoft Rewards a much-needed boost.
For even more points, I suggest for you to click on the "Related Searches" section of Bing. After running a main search, this section can be seen alongside the right side of the screen, and clicking on these related searches will expand on what you already had searched for, while also adding in even more points to your Microsoft Rewards account.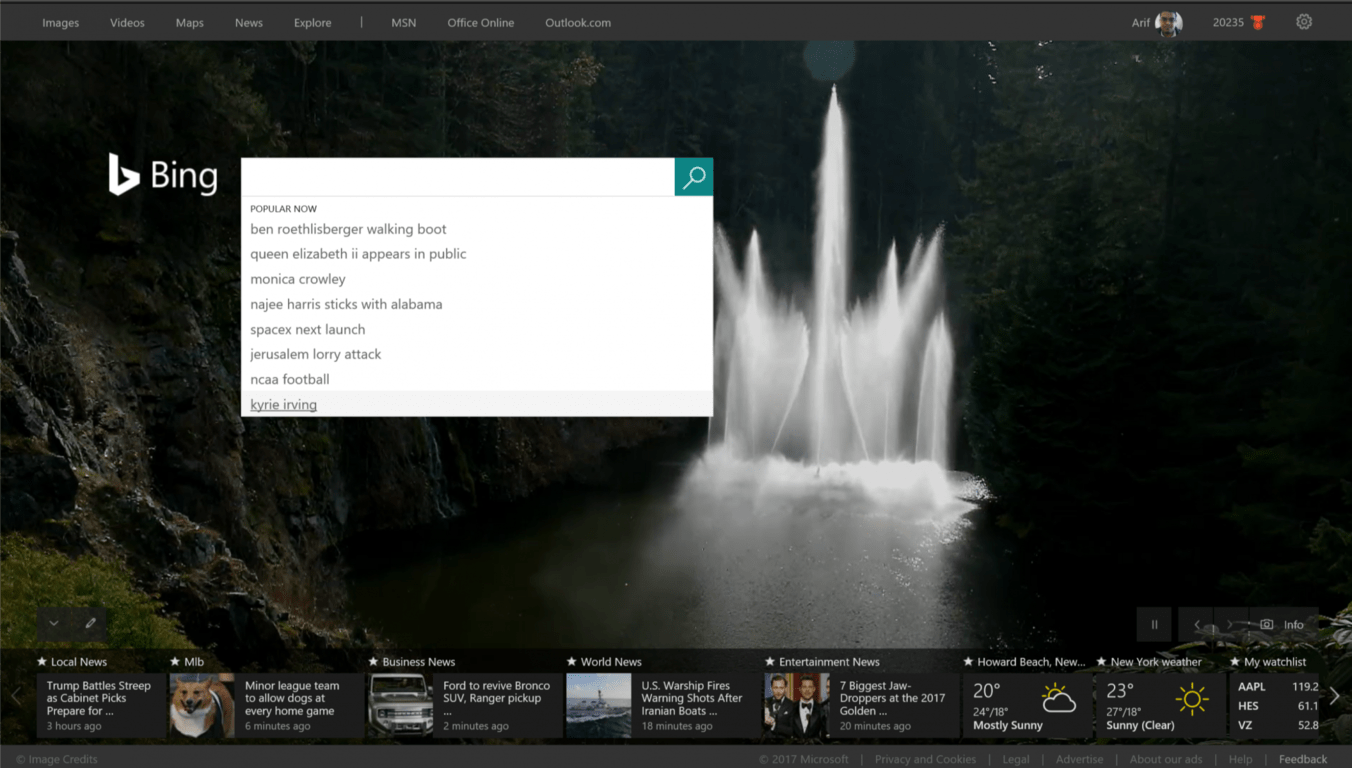 Bonus quizzes, quests, and offers!
Alongside standard Bing searches, another great way to earn points is to use the Microsoft Edge browser to take Bing's daily quizzes and quests. These Edge bonus quizzes are worth 30 points each, are sometimes fun, and the themes can vary along with the season. For instance, earlier in 2016 there was a Microsoft Rewards Quiz on all things Microsoft, and all things Star Trek.
Another great way to stay on top of these quizzes, and the other points you can earn, is to visit the Microsoft Rewards Dashboard. The main page of the dashboard will list all current points offers and show you how you can stock up on more points.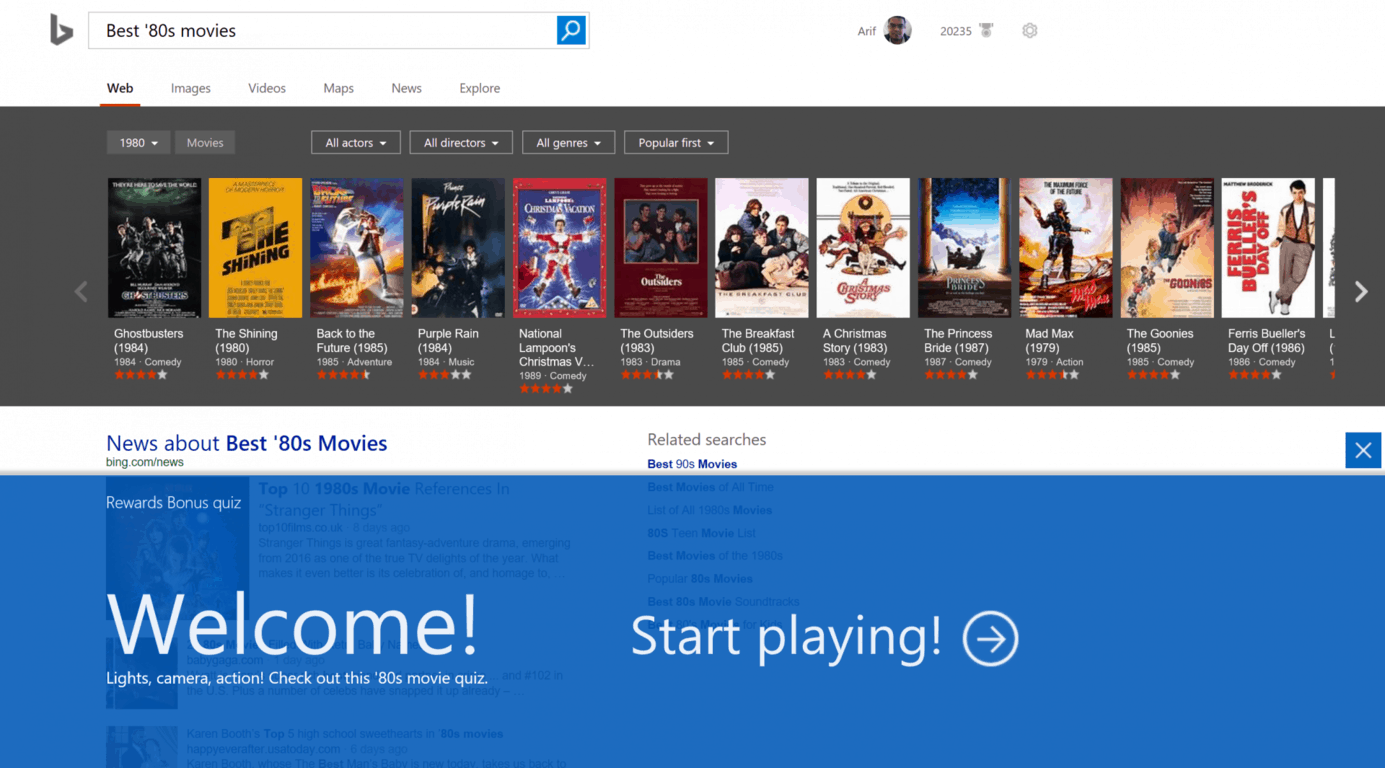 Using Microsoft Edge for points
If you're not a fan of using Bing for points, a third way to amass Microsoft Rewards points is to simply use the Microsoft Edge Browser. While actively using Edge, you can earn up to 1,500 points, and 25 points per hour of browsing. A great way to keep track of the amount of time and points you're earning from Microsoft Edge is to download the Microsoft Rewards Extention and sign into Windows 10 using your Microsoft account.
The extension will have a green checkmark to show you when you're actively browsing, and a yellow notification mark when you're not. Clicking on the extension will also bring up a drop down menu which will give you a quick glance on how you're earning points, and will offer a link to the main Rewards Dashboard page. As described by Microsoft, in case you were wondering, you can get started with earning points and Browsing on Edge by doing the following:
Sign into your Windows 10 device with the same Microsoft account used for your Microsoft Rewards membership. Click here to learn how to sign into your device using your Microsoft account. 
Check that your Diagnostic and usage data setting is set to either 'Enhanced' or 'Full'. This setting ensures that you earn points for browsing with Microsoft Edge
Launch the Microsoft Edge browser and earn when you're actively browsing.  Check your Rewards homepage for offer details.
Note: Bing must be set as your default search engine on Microsoft Edge to earn points for browsing.*
If you don't have the Microsoft Rewards Extention installed, you can check to see if you're browsing qualifies as active by following these guidelines:
Microsoft Edge browser is in view on your desktop and the icon is highlighted on the taskbar
You're actively engaging with the browser - whether that's checking your email, searching with Bing, or even watching a full-screen video.
According to Microsoft, Points earned today will be updated on your rewards dashboard the next day. The monthly earning cap is reset the last day of the calendar month at 11:59 PM your local time. The company also notes that the browse & earn program collects the total time spent actively browsing on Microsoft Edge in order to credit your account, and does not collect info on which websites you visit or sell your information to third parties.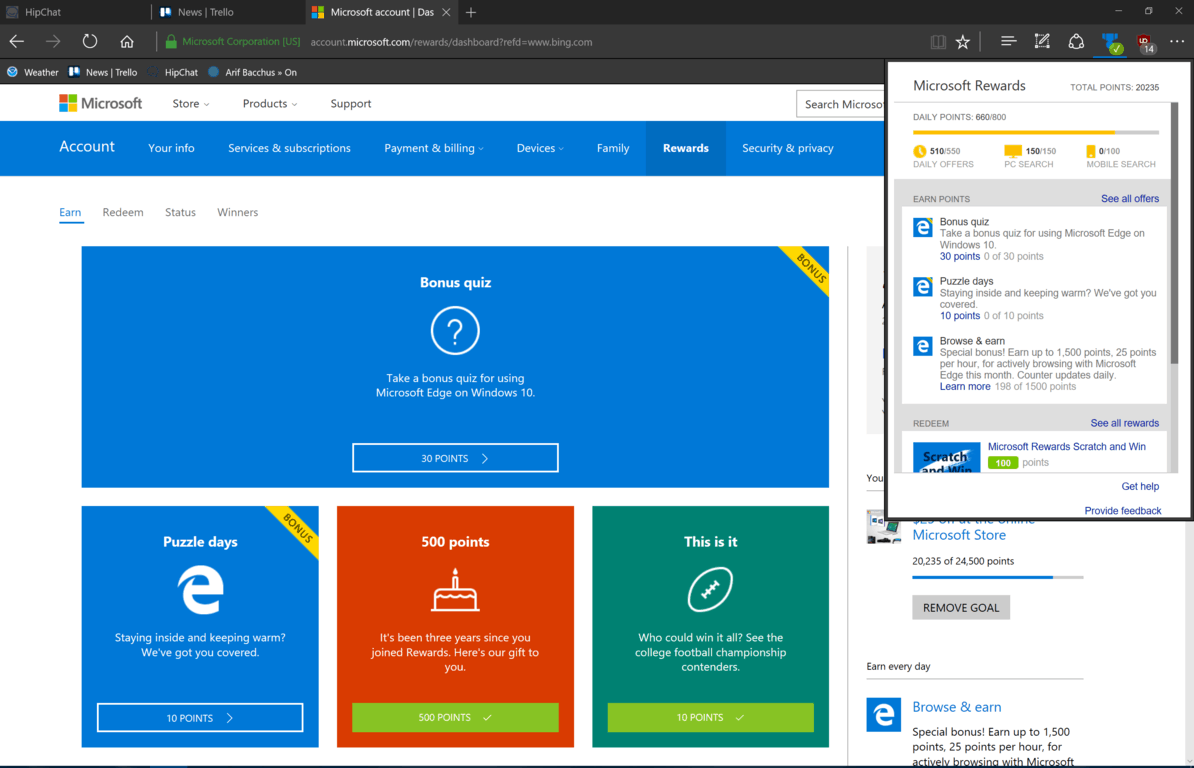 Buying stuff from the Windows and Microsoft Retail Stores
As part of the Microsoft Rewards Program, one can earn 1 point for every 1 dollar spent at the Windows and Microsoft Store. Since I am a gamer, I have found that buying digital games from the Windows Store is a great way to score points. I recently purchased a digital copy of Watch Dogs 2 from the Xbox Store, and was rewarded 50 points for doing so. While going this route may not give me the same satisfaction of owning a physical copy of the game, I eventually feel happy knowing that I will get back my rewards by way of points.
In a related fashion, you can also earn points for buying items from the Microsoft Retail store. I recently purchased the new Bluetooth Surface Keyboard and Surface Mouse, and I earned back about 150 points for both of these purchases. As a stunner, I even earned a whopping 1,000 points for my Surface Pro 4 purchase, and have since quickly put back those points for future Microsoft Store gift cards.
Microsoft mentions that in order to earn points in the physical retail store, you must give your primary email address associated with your Microsoft account to the store associate. After you do so, when you check out at the store, and your points will automatically be added to your account, typically within 2 weeks. Similarly, you must also be signed into the same account on the Windows Store as your Microsoft Account in order to earn points.
At the end of the day, by going this route, I have managed to amass over 20,000 points and easily stay a Level 2 member to enjoy a 10% discount on redemption prizes. These points can be redeemed for many rewards such as a Microsoft Store gift card, Amazon Giftcard, Xbox Live Subscription, or a Groove Music Pass. Have you been saving up your points? Let us know what you think by dropping us a comment below!
Share This Post: