Analyst firm IDC is predicting that augmented reality will overrun its preceding VR market by twice as much in the next four years. According to the report, total headset device shipments between the two could exceed over 99.4 million units by 2021, including Microsoft's contribution of the HoloLens.
Currently, nearly 10.1 million units are being shipped out for both AR and VR. Virtual reality headsets still lord over the market with $2.1 billion revenue. However, with augmented reality still new to the game, analysts have decided that it will become the more preferred of the two. The summary explains:
Although AR remains as the minority portion of the market in terms of shipments, these headsets are expected to bring in significantly more revenue over the course of the forecast as the value of AR headsets grows from $209 million in 2016 to $48.7 billion in 2021. Meanwhile, VR headsets grow from $2.1 billion in 2016 to $18.6 billion in 2021
That is, of course, considering the higher price of the AR headsets averaged over $1000 compared to the VR ones ranging through the hundreds. "This makes the technology far less accessible to consumers initially," research analyst Jitesh Ubrani explained, noting that social acceptance is still a few years away.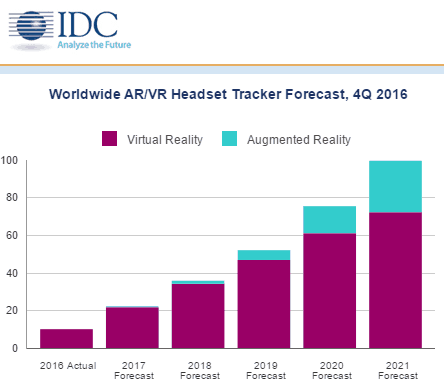 Microsoft's approach to HoloLens development seems to corroborate the idea that AR isn't ready for consumer use. Just a couple of months ago, commercial lead Roger Walkden confirmed that the tech giant has only sold 'thousands' of the HoloLens dev kit. "That's all we need," he explained to The Inquirer. Even though there are plans for a 'non-dev' kit for public consumption, the HoloLens has had extreme focus in enterprise, such as upgrading shopping experiences, mechanical training, educational use, and more.
It remains to be seen if the HoloLens and other AR devices will find a better price balance by the turn of the decade. But it is clear that IDC feels strongly that the overlay of digital on top of the real world will take priority over the more immersive virtual world, leading to a $50 billion opportunity for investments in the long run.
Share This Post: