Five years ago, PC manufacturers were still experimenting with hybrid PCs following the launch of Microsoft's first Surface devices. The Redmond giant managed get a few PC OEMs to launch Windows-RT based devices similar to its first Surface RT tablet , but consumers did not embrace the confusing and limited OS.
Actually, PC manufacturers had no reasons to create Windows RT devices as Intel's "Clover Trail" Atom chips, which launched in Q4 2012, were a response to the ARM mobile chips used on Windows RT machines. Indeed, these new Atom chips were more battery efficient, and they also supported new power states that provided longer standby battery life.
As a result, many PC OEMs such as HP, Samsung and Lenovo launched Windows 8 hybrid PCs with Intel's Clover Trail chips in early 2013, and all these devices could be upgraded to Windows 10 two years ago. However, ZDNet is reporting that consumers who still use these devices are apparently not able to install the Windows 10 Creators Update. According to multiple reports from users trying to install the update, the process will fail every time with an error message telling users that "Windows 10 is no longer supported on this PC"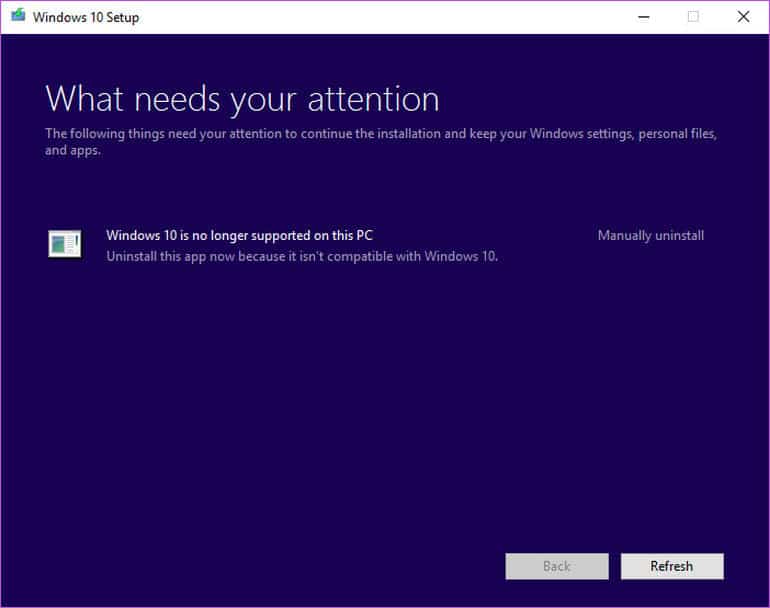 "The compatibility check that's part of the Windows Setup program gave this system a clean bill of health, but after downloading more than 3GB of setup files for the Creators Update, the upgrade failed, with the error message shown above," explains ZDNet reporter Ed Bott. For now, Acer seems to be the only company to have acknowledged the issue, and the company shared in a support note published in April that Microsoft is currently working on the issue with the Taiwanese manufacturer (and supposedly other OEMs as well) :
The following Intel Clover Trail processors are currently not supported on Windows 10 Creators Update:

Atom Z2760
Atom Z2520
Atom Z2560
Atom Z2580

Microsoft is working with us to help provide compatible drivers to address this incompatibility. If you install the Windows 10 creators update, icons and text may not appear at all, or may show up as solid color blocks or bars. If you have already installed Creators Update and are experiencing problems, you can use Windows 10 recovery options to restore your system to the previous build.
Following the end of the free upgrade offer to Windows 10 last year, Microsoft confirmed that "once a Windows device is upgraded to Windows 10, we will continue to keep it current via Windows Update for the supported lifetime of the device – at no cost." This commitment was certainly reassuring at the time, but the company never made it clear if some old devices that shipped with Windows 7 or Windows 8 could no longer be supported at some point.
Considering that major Windows 10 versions are only supported for 18 months after their initial release, Microsoft really needs to explain if it's working to support Clover Trail-based devices. We've reached out to the company for an official statement and we'll update this post accordingly.
Update: In a post on its community website in April, the company confirmed that the four Intel processors mentioned by Acer are currently not supported on Windows 10 Creators Update. "Microsoft is working with our partners to provide compatible drivers for these processors," the company added.
Share This Post: