Microsoft has just released the stable version of the new Microsoft Edge for Windows 10, which can be installed right now on Windows and macOS. Unlike the previous version Edge which was based off of the Universal Windows Platform and was powered by EdgeHTML as its rendering engine, the new browser is a traditional win32 app and is powered by Chromium.
Of course, existing Windows 10 users won't all get it automatically installed on their systems right off the bat. The company plans to roll it out gradually, just as it does with Windows 10 updates, although users can choose to download it from Microsoft's website now if they prefer.
Microsoft has also brought the browser to users of Windows 7, 8.1, and even macOS in more than 90 languages in hopes it can gain a larger slice of the  marketshare. Google Chrome still holds more than two-thirds of the desktop browser marketshare according to Netscape.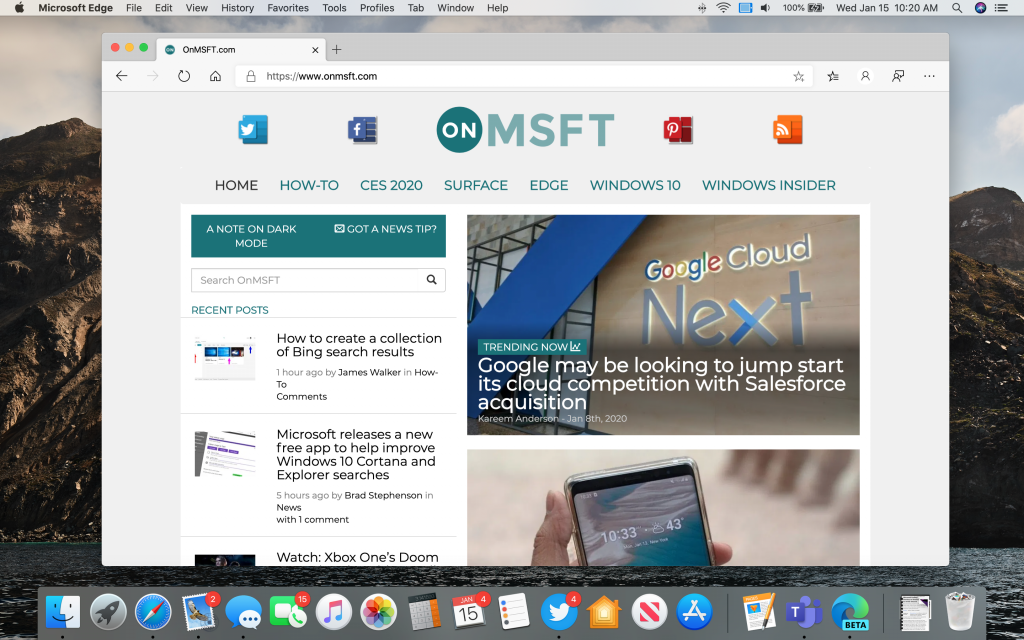 The move to the Chromium rendering engine to power the new browser means improved web compatibility when viewing pages, especially as developers tend to optimize web application for Google Chrome. By incorporating Chromium into Edge to allow it to follow the same web standards as Chrome, Microsoft hopes to give users one less reason for them to use its rivals.
New features: Chrome extensions, tracking prevention, and more
Although powered by Google's open source rendering engine, the new browser also incorporates several new features, as well. For starters, Microsoft has committed to a regular six-week update cycle (outside of emergency patches) for the browser, providing users with new features and security updates on a regular basis. By contrast, classic Edge was updated with Windows 10: which meant new features would only arrive twice a year.
Microsoft's new browser also incorporates numerous features for those concerned with privacy, and the new browser even comes with a Privacy Promise. Tracking prevention is definitely one that many users will be sure to appreciate, with option of Basic, Balanced, or Strict. While Edge isn't the first browser to incorporate this—Safari also offers cross-site tracking prevention in macOS and iOS—Microsoft is giving users a balanced option as opposed to a simple on/off switch.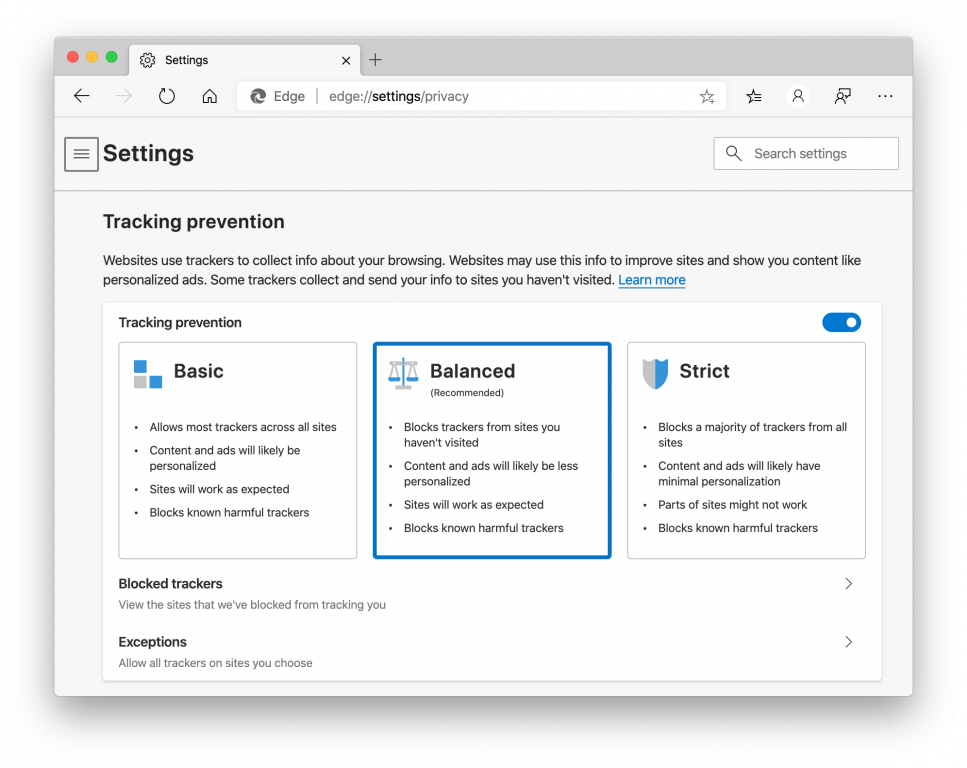 Microsoft also allows users to easily install websites such as Twitter as standalone applications, should anyone prefer to access them outside of the tabbed browser interface. This creates an icon in the Start Menu—or Launcher on macOS—where users can open the web app in its own clean window separate from Edge.
The new Edge also comes with its own set of customization options, including the ability to set the new tab page layout, including what kind of news is displayed on the homepage.
Another very important new feature for Edge is support for Chrome extensions. Microsoft's legacy browser had previously been slow to gain developer support for extensions, so the fact that the new one works with them will bring more options to the table. Extensions can even be downloaded straight from the Chrome Web Store if enabled, although there's go guarantee all of them work, particularly the ones that take advantage of the Google account for syncing or other Chrome-exclusive features. Of course, for best compatibility, extensions can still be downloaded from Microsoft, as well.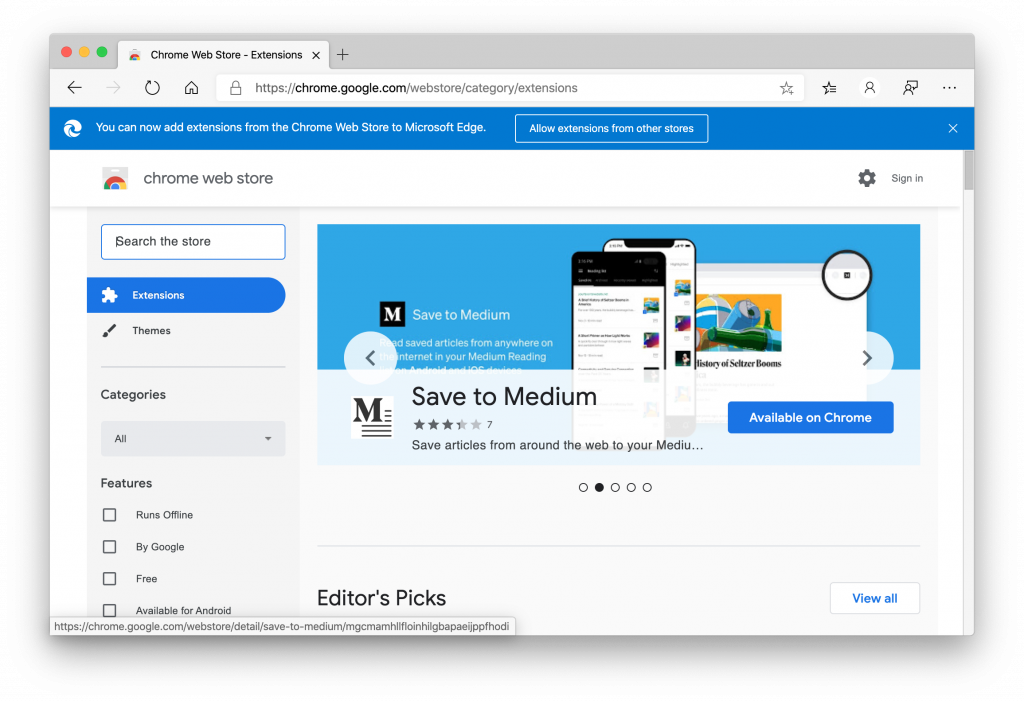 Microsoft is also going to continue to give users the opportunity to try new features for the browser before they're ready via its Insider programs. Users can choose the Beta channel to see what's in store for the browser's next release, as well as the weekly-updated Dev channel and the daily Canary for those who like to keep a close watch on development.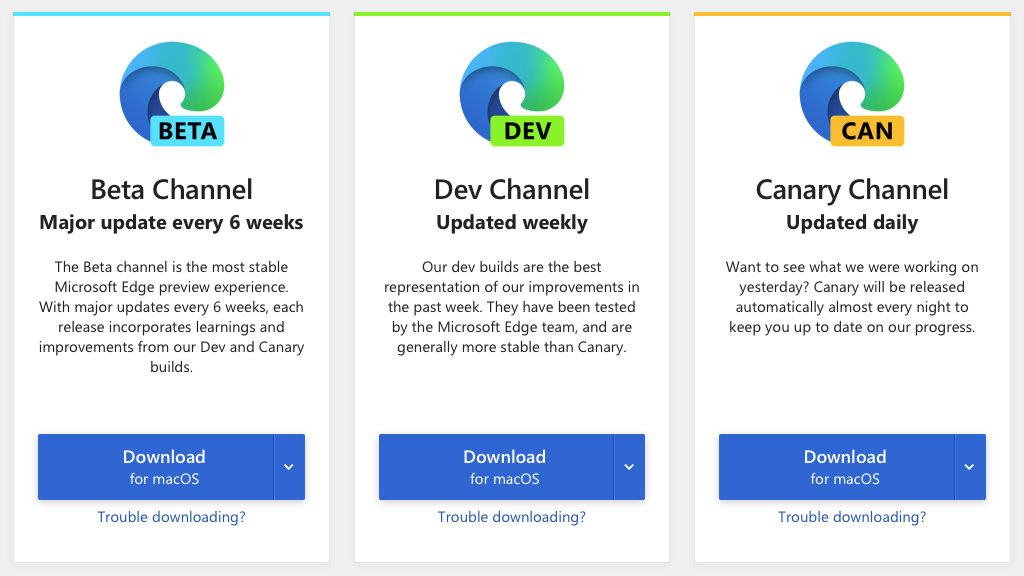 Several features will be missing on day one
While the new Microsoft Edge incorporates several useful features of its own, that's not to say it'll be without some, as well. For starters, while bookmark and password syncing will be available on the new browser, syncing browsing history, open tabs, and installed extensions will not. Microsoft does promise these are coming soon, however.
The fact that new Edge is launching today without history or extension syncing is pretty mesmerising to me. This is gonna be killer for anybody trying to switch to the new Edge on multiple devices lol pic.twitter.com/9grSM9D4i4

— Zac Bowden (@zacbowden) January 15, 2020
The browser also won't come with native support for ARM-based devices, either, including Microsoft's new Surface Pro X. This means, at least for now, the legacy version of Edge is the best bet for users running these types of mobile processors.
Additionally, one of the new Edge's exclusive features, which allows users to save web content for later easily into multiple organized Collections, also won't make it to the browser on day one. Users of the Dev and Canary channels can continue testing it before it eventually makes its way to Beta and then Stable users later.
Some legacy Edge features also won't be available. The classic browser's iconic webpage inking won't be available, so the best solution would be using the Snip and Sketch tool to draw on screenshots. Set-aside tabs also won't be available, and current set-aside tabs will be moved into bookmark folders after the upgrade. And Cortana integration will be missing, as well.
Business can deploy Edge at their own pace
Luckily for some, Microsoft won't push the new browser to every user all at once, instead aiming for a gradual rollout instead. Organizations will further benefit from the Blocker Toolkit that will prevent the installation of the browser in business environments with automatic updates.
On the flip side, Microsoft also has an offline deployment package available for IT admins who are interested in bringing Microsoft Edge to their commercial machines. The company also offers organizations tools such as FastTrack for simple deployment of the new browser, and App Assure to guarantee the compatibility of all web apps.
Of course, those who don't mind the missing features will be free able to get the upgrade over the next few weeks. If you manage to get the update and like it, and want to switch back from your third-party browser, that's also easy to do. And if you're especially eager, you can also download it straight from Microsoft.
It's certainly good to see that Microsoft's new browser will be able to hold to the same standards as the widely-used Chrome browser. And with the new privacy options, it should help get people away from Google, which is known to collect a lot of data from users.
Will you be installing the new Edge on you computer (which OS are you running)? Which features can you not live without? Be sure to leave a comment below.
Share This Post: