Last week, we learned that Xbox Live Rewards would soon transition to the Microsoft Rewards program in Canada. The same transition already happened in Australia earlier this year, and with this upcoming launch Microsoft Rewards will soon be available in six markets worldwide (US, UK, Australia, France, Germany and Canada).
Microsoft recently shared new details about the transition on this page, including the fact that former members of Xbox Live Rewards will be able to get some cool bonus points. Here is what you need to know:
The transition to the new program in Canada will be done by the end of October.
Any pending Xbox Live Rewards credits on September 30, 2017 will be converted into Canadian dollars and be added in your Microsoft account by October 31.
If you currently have a MyVIP Star Rank in Xbox Live Rewards, you will get automatic Level 2 status in Microsoft Rewards through December 31, 2018.
Moreover, people with a MyVIP Star Rank will earn bonus Microsoft Rewards points every time they purchase qualifying content from the Xbox Store and Windows Store (see table below). These special benefits will also end on December 31, 2018.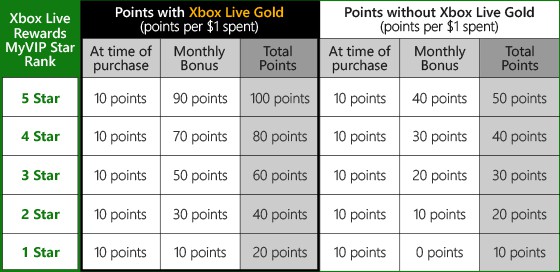 In a separate FAQ, Microsoft confirmed that this transition will only occur in the Canadian market. "The existing Xbox Live Rewards program continues in its other markets," the company added. It's not clear why Microsoft chose to maintain the Xbox Live Rewards program in other markets where Microsoft Rewards already launched (Australia and Canada are the only exceptions for now), but the company's new loyalty program is much more consumer friendly: you have more ways to earn points, and you can spend them on a bigger variety of content.
Do you use both rewards programs, and if so do you have a favorite? Let us know your thoughts in the comments below.
Share This Post: