About a month ago, the Microsoft Authenticator app added the ability to sign into your Microsoft account with just a phone. It was called a 'soft launch' of the feature, live testing the phone sign-ins with limited availability. Now, the Enterprise Mobility and Security team over at Microsoft have announced that the phone sign-in is globally available for iOS and Android.
Instead of entering your password when signing into your Microsoft account, the process will send a notification to your phone. Tapping approved lets you into your account, essentially removing the need for passwords at all. That is unless you keep your phone locked behind a pin.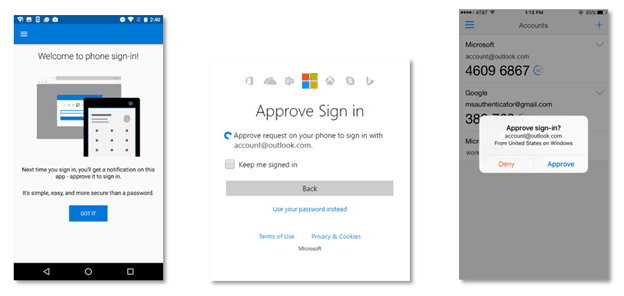 Furthermore, the option to sign in automatically with your phone will be remembered by the account. To set it up:
If you already use the Microsoft Authenticator for your personal account, select the dropdown button on your account tile, and choose Enable phone sign-in.
If you are adding a new account on an Android phone, we'll automatically prompt you to set it up.
If you are adding a new account on an iPhone, and we'll automatically set it up for you by default.
Once set up, you'll get a notification every time you sign into your account. Don't worry if you lose your phone (or it is dead) because below account sign -ins, you can also click 'Use Password instead'.
The feature is available for both Android and iOS Microsoft Authenticator apps, so download it and try out signing in with your phone.
Share This Post: