Earlier this year, it was hinted that one of the most-requested features by Edge users is in the works. Mouse gesture is a neat feature designed to enhance navigation, thus allowing users to make quick movements using the mouse.
And as it now seems, the feature has quietly shipped to the browser in Edge's preview channels. The feature ships with several customization options like right, up, down, right then up, and more as illustrated below: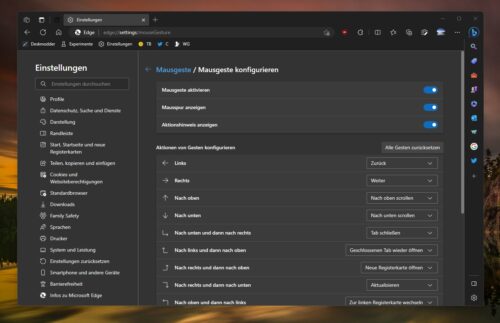 The feature should be available for everyone to try out as part of the next update shipping to the Stable channel. However, if you're in any of the preview channels, you can access the feature right now. Here's what you'll need to do:
Note: You must ensure that you're running on Microsoft Edge 114 or later before proceeding to apply these steps.
Navigate through the following path, click on the Microsoft Edge shortcut, and select Properties: edge://settings/help
Click on the Microsoft Edge app on your Taskbar, right-click Microsoft Edge in the context menu, and select Properties.
Select the Target field in the window that pops up and press the Space key followed by this command: –enable-features=msEdgeMouseGestureDefaultEnabled,msEdgeMouseGestureSupported
Next, click OK to save the changes made and launch the browser once again using the modified shortcut.
At this point, you should be able to use the mouse gesture feature by moving your mouse while holding the right-click button on your mouse. Microsoft Edge will highlight your mouse gesture movements coupled with text. For more customization options, navigate through Menu > Settings > Appearance > Mouse Gesture.
In related news, Microsoft is currently working on a feature that will let users detach the Edge Sidebar and move it to the Windows desktop. Users will be able to access apps and sites pinned on the tool even if the Edge browser is closed.