Like most Windows fans and Microsoft enthusiasts, I have plenty of PCs around my house. So one day after learning about the ability to install Windows 10 S, I dug up an old HP ENVY dv7 laptop out of my closet so I could try out the "new" Microsoft operating system.
Since the age old 500GB HDD and the not too powerful AMD A8 processor on the ENVY dv7 were not doing much for me, I recently decided to revisit this device, open it up and transform the old laptop into a modern Windows 10 S work machine. Here is more on the upgrade process and the story of Windows 10 S in my life.
Upgrading the Laptop:
Of all things, it is important to note that my HP Envy dv7 comes equipped with a dual HDD bay. If you're bold enough, you can also consider removing a HDD from your laptop for a newer SSD to see system wide performance enhancements. The process may be similar to what I experienced, although you may need to look at your laptop manufacturer's documentation to find the proper steps for HDD removal.
Since I knew I would only be using Windows 10 S to download small sized apps from the Windows Store, and saving large files to my OneDrive for cloud storage, storage space was not important to me in the upgrade process. I opted for a $10 custom HDD Caddy and a $30 32 GB SSD which could be used for my new install of Windows 10 S.
To begin the upgrade process, I cracked open the back of the laptop and unplugged the main HDD cable from the motherboard. Next up, I placed the SSD into its caddy in the secondary bay and guided and plugged that data cable for the SSD into the main HDD connector on the motherboard.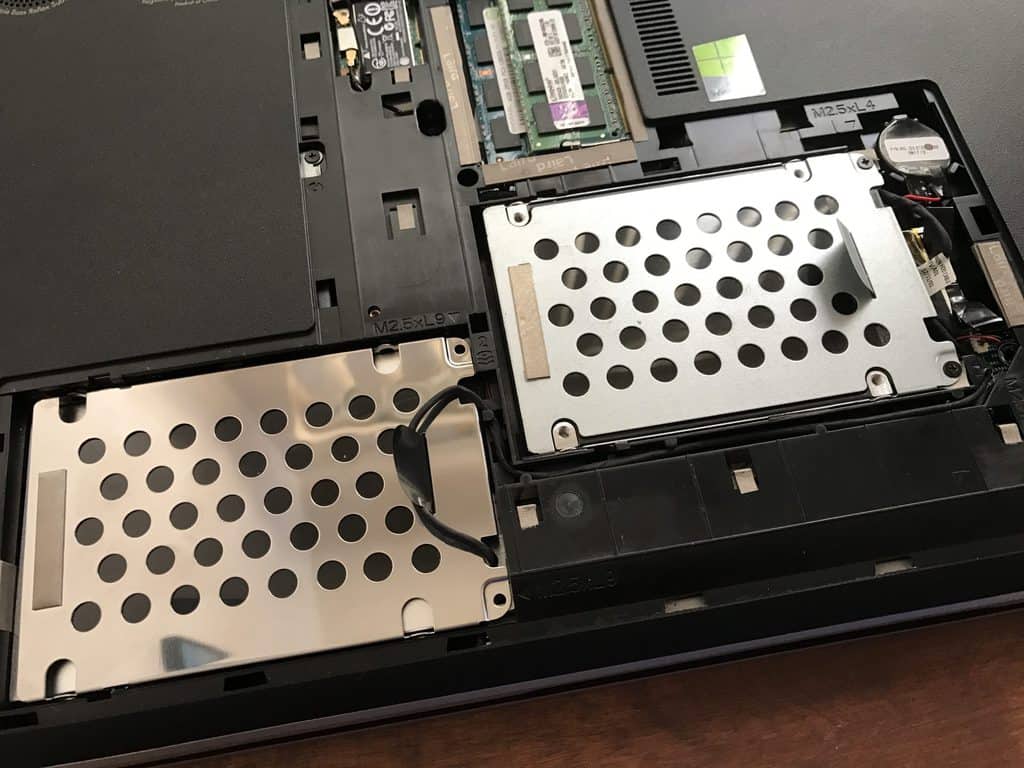 As a side note, I later learned that I needed to do this because the Windows 10 Installer would not let me install Windows 10 to the SSD unless it is plugged in as the main drive. The installer also uses the Windows 8 product key built into the motherboard to activate the fresh install on the SSD, and I needed to change it later by using another key so I could be able to dual boot both Windows 10 Home and Windows 10 S without any issue. If you're planning to clean install and just replace your HDD with an SSD, you can just skip this, but since I wanted to dual boot, it was important for me to do so.
Anyway, with everything closed up and in place, I went into the BIOS and put the right settings into place for a fresh Windows 10 Install. Using my Windows 10 Install USB drive, I then installed Windows 10 to the SSD. I did have to "clean" the drive before I proceeded, though, and I accomplished this by opening CMD Prompt from the Install screen (Shift+F10) Running DiskPart, listing the Disks, and running the "clean" prompt.
With the install done and all drivers installed, I headed back under the laptop and switched the cables back into their original place. I plugged the SSD back into the drive 2 bay on the motherboard and the HDD into the drive Bay 1 on the motherboard. This allows me to dual boot and select the Windows 10 S drive as the second boot, which I preferred since I had plans to remove it again later.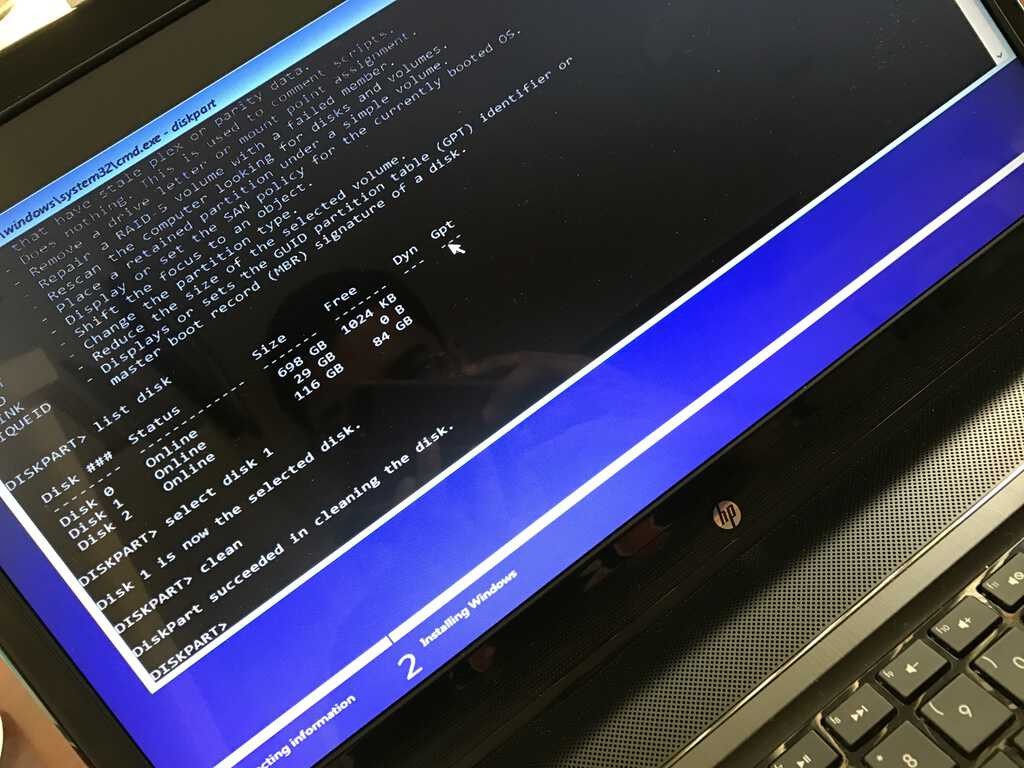 The first impressions and Windows 10 S:
After the clean install of Windows 10 I ran the Windows 10 S installer and "upgraded" the OS on the SSD to Windows 10 S. I specifically choose to install Windows 10 S over Windows 10 Home or Pro since I wanted to see how the light weight OS would handle my workload on an older processor and a not so modern laptop.
Anyway, all drivers were working correctly (network, sound, webcam, etc) from a fresh install of Windows 10 S. With that making me happy, my first instinct was to try out my accessories and peripherals. Windows 10 S recognized my iPhone, my Nokia 6, and many of my other USB accessories and devices without any issue. It even recognized my printer, installing the drivers for it without any lag. I was a bit worried that Windows 10 S would not let me use my laptop plugged into an external monitor, but that too worked without issues!
Within the first days, Windows 10 S initially performed for me in just the same way that a similar install of Windows 10 Home on an SSD would. The laptop was much snappier than before and I felt as though I suddenly had a new PC. Even with the older AMD A8 processor, I noticed no issues with the OS itself. Just as I hoped, everything was smooth and running just as they would on a PC with an Intel CPU. After all, Windows 10 S is just the same old Windows 10, but without the ability to install .exe Win 32 applications.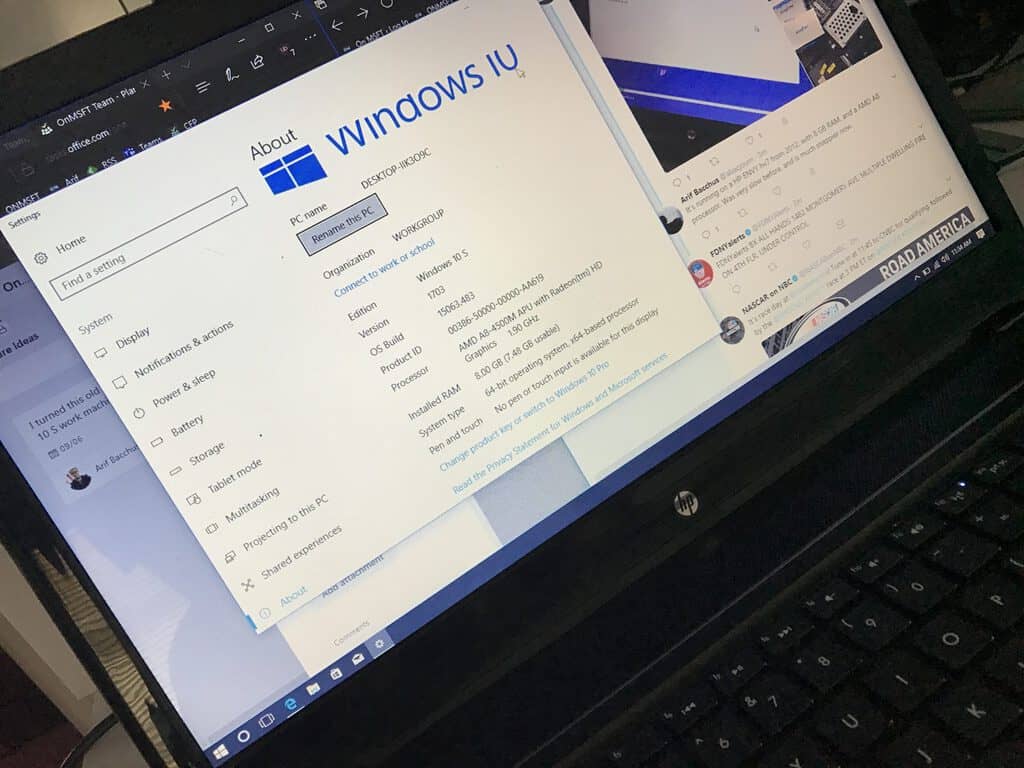 Day to Day Use:
In the long run, coming from using regular Windows 10 and mainly Firefox or Chrome as my web browser of choice, I felt a bit trapped with Windows 10 S and Microsoft Edge. Edge is still a very good browser, but after more than a week using Windows 10 S, I felt as though it was just slightly holding me back from my job and writing duties here at OnMSFT. Of all things, I especially missed having access to Grammarly, which is a browser extension that is important for my writing (but not yet available for Microsoft Edge.)
Yes, I was still was able to turn the laptop into a work machine and multitask with multiple other tabs open, but the performance did not feel the same. It could just be the older processor, or the web browser itself, but web pages sometimes felt as though they were taking longer to load in Edge than they would in Firefox or Chrome. I never experienced any reloading issues with web pages, but some pages didn't load correctly. I had many issues with Feedly, which threw a weird error code at me whenever I tried to load up an RSS feed.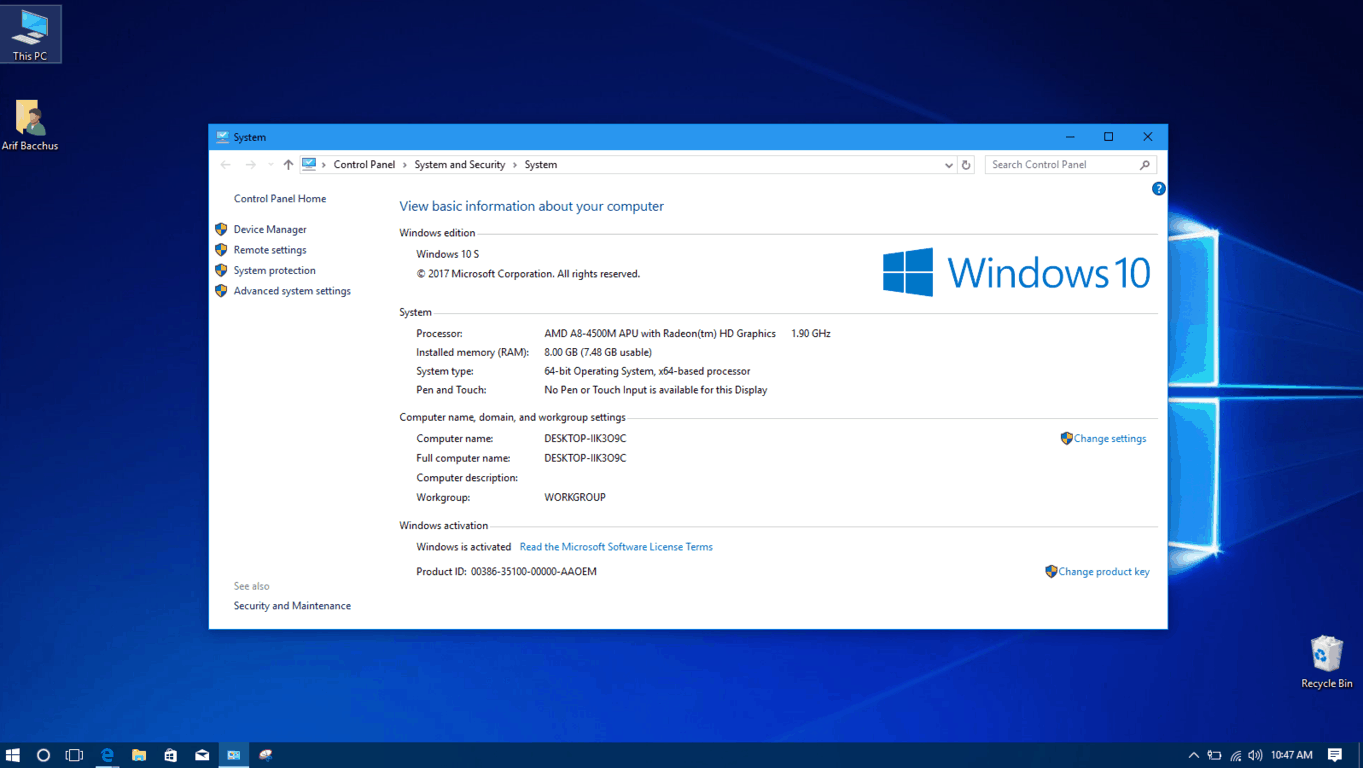 Fortunately, Windows 10 S still includes Internet Explorer, which is rather weird given that Microsoft is pushing Edge as the next generation browser. I found the multitasking experience to be the same on Internet Explorer, but I did feel as though more sites loaded without issue. This is a good thing for Windows 10 S, as IE is a good backup to have when Edge fails.
But it's not to say that Windows 10 S or Microsoft Edge are bad things. My favorite websites such as Twitter, Facebook, Reddit, and other popular websites like YouTube still loaded very quickly and without issue in Edge. Windows 10 S and Microsoft Edge are speedy and more than capable of handling regular casual use, but I feel as though multitasking is not something that this older PC could have handled.
At the end of the day, though, everything was snappy and efficient. Microsoft advertises that login times are faster with Windows 10 S, and indeed this is true, as with the SSD, a cold boot to desktop took me less than 30 seconds. While things across the OS such as menus and other areas of the interface were quicker and felt light on the processor, Edge remained the Achilles heel for me.
Apps and Performance:
The good thing about Windows 10 S is the Windows Store and the way apps work on an older device like my HP Dv7. Compared to Windows RT (Microsoft's last venture with a Windows Store only OS,) there are plenty of modern apps which allowed me to fill the gap when Edge would not cooperate. For instance, when Feedly gave me problems in Edge, I downloaded NextGen reader, and when I felt frustrated with Instagram or Twitter from the web, I downloaded the Instagram and Twitter apps
All in all, apps in Windows 10 S don't take up very much space, and are speedy fast and load up quickly on an SSD with Windows 10 S. Since SSDs are optimized for speed, and Windows 10 S eliminates background tasks which may bog the system down, everything is streamlined and fast, and the average user will notice this over time. Oh, and there's also the added benefit of having OneDrive built right into the OS, which allows the user to save files directly to the cloud without taking up space on the SSD.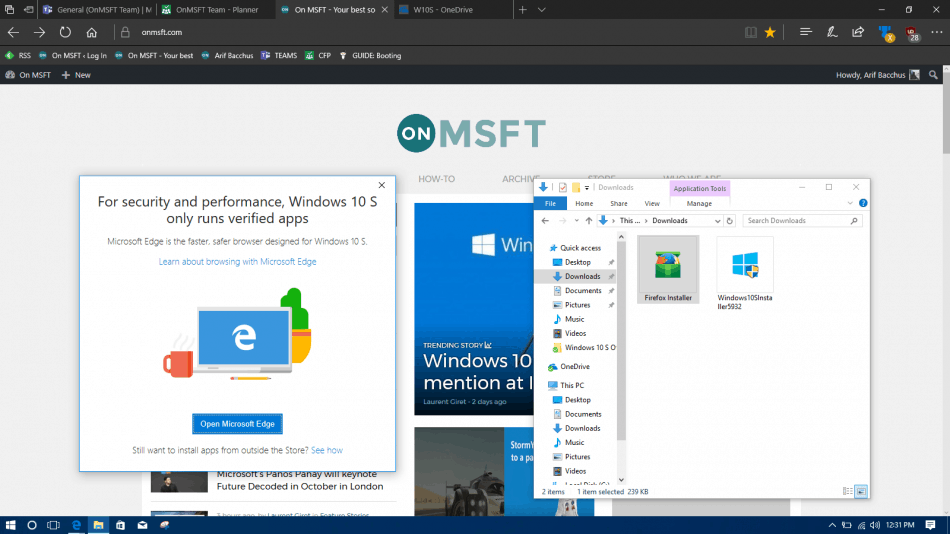 At the end of the day, I feel as though installing Windows 10 S to this older HP ENVY Dv7 was not a mistake for me. I was always curious about the Windows 10 S operating system, and I am glad to have had the chance to try it out. Although Edge may be a bit slower on older hardware, installing Windows 10 S to an SSD is a great option for older laptops, and it will definitely breathe new life into a device which is otherwise gathering dust. With Microsoft now allowing Windows Insiders to try out the Office Apps in the Windows Store, I'm sure Windows 10 S will be more mainstream in the future. But for now, I'm just keeping it on this test machine.
Share This Post: