Earlier today, we reported that AT&T had announced that the Microsoft Lumia 950 will be available to order online on November 17, and that it will be available at AT&T Stores on November 20. Now the Microsoft store shows that both the unlocked Lumia 950 and Lumia 950 XL will ship by November 25.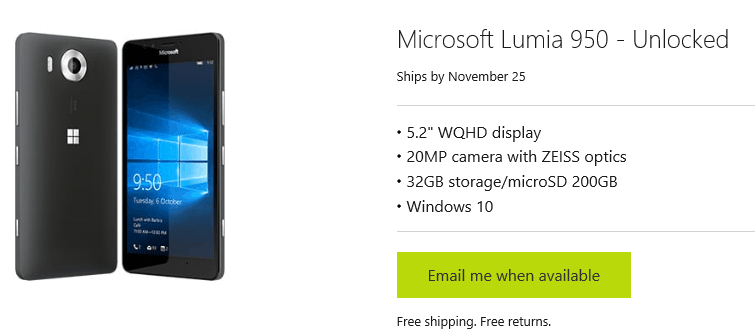 The Lumia 950 isn't available for pre-order as of yet, however the 950 XL just became available for pre-order earlier today, so it wouldn't be surprising if Microsoft did the same for the 950 over the next few days.
In the meantime, you can check out the Lumia 950 and 950 XL on the Microsoft Store and see if you'd be interested in grabbing one of Microsoft's shiny new flagship phones.
Will you be buying the Lumia 950 and 950 XL when it becomes available? If so, what is the feature of the phone that most excites you? Let us know what you think in the comments below.
Share This Post: