If you often use Microsoft's cloud storage service to share content with others, you'll be happy to learn that Microsoft recently updated its Onedrive.com service to make the sharing experience more straightforward. To test its new sharing feature, Microsoft did an A/B test with a pool of 28,000 users to compare its performance with the old design, and the company realized that users utilizing the new feature shared more often than did others.
According to Microsoft's Omar Shahine, the better user experience explains everything:
Previously, when you clicked "Share," we presented you with the option to either "Invite people" or "Get a link." The majority of people just wanted to get a link, but that wasn't the default choice. When you selected "Get a link," we also offered a number of ways to customize that link and restrict access. This resulted in a lot of confusion and broken links, and most of these options were used less than 0.01% of the time. We wanted to do better.

The new experience is, in a word, simple. We show the two most popular options for sharing right up front with big blue buttons that are easy to see and easy to hit. We use terms that are understandable to a wider range of users. We optimized for the common cases and present the rarely used options in less distracting ways. Basically, it's not as messy.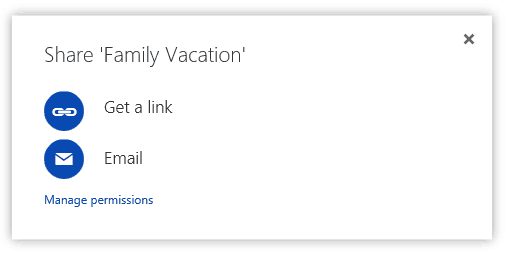 As Microsoft is currently rolling out its new Outlook.com experience to all users, it's nice to see the company also polishing its Onedrive.com property. If the company can get more people to use its Onedrive cloud service to share things with others, then even more people are likely to pay for Office 365 subscriptions in the future. Please tell us in the comments what you think about this improved sharing experience on Onedrive.
Share This Post: