Just a couple of days after Microsoft shut down its Groove Music Pass subscription service, it appears that the company has quietly dropped Cortana's song recognition feature. Jason Deakins, a Microsoft software engineer working on Cortana and search has acknowledged the removal in a tweet yesterday (via Windows Central):
Hi @faltermayer, that is correct: due to the shutdown of the Groove music service, Cortana's music recognition functionality has been retired.

— Jason Deakins (@JasonDeakins) January 3, 2018
The built-in Shazam feature was quite handy, especially on Windows phones.  It was accessible from a dedicated icon in the main Cortana UI: Once Cortana had recognized some music, it would provide a link to the track on the Microsoft Store in case you wanted to buy it.
This music icon is still present in the Cortana UI on the Fall Creators Update and older versions of Windows 10 and Windows 10 Mobile (it's gone in the latest Redstone 4 build 17063), but it no longer works: When trying to recognize music, Cortana will now give you a "Song unrecognized" result, with a more explicit "this service is retired" message below.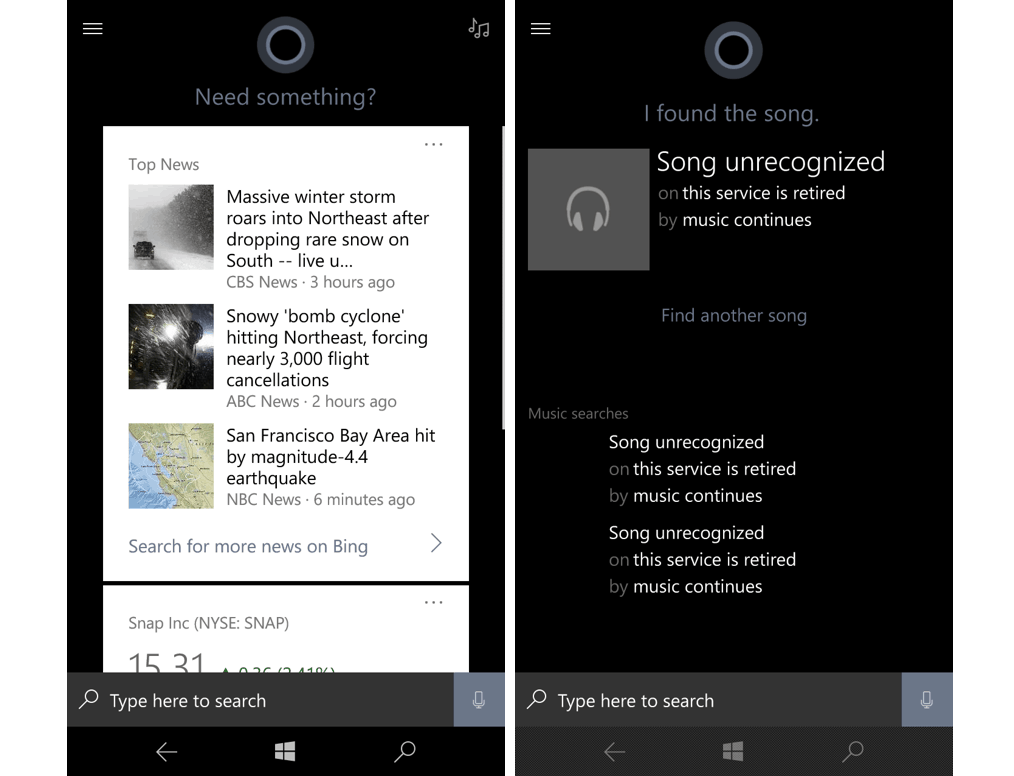 This removal suddenly makes Cortana less capable than competing digital assistants. It's also quite surprising considering the recent launch of the Harman Kardon Invoke, the first Cortana-powered speaker which is also a great product for music lovers.
Unfortunately, there are not many alternatives to Cortana's music recognition feature on Windows 10 right now. Shazam, which Apple recently acquired, killed off its Windows 10 and Windows Phone apps last year. On Windows Phone, the SoundHound app offers unlimited music recognition, but it hasn't been updated in a while and may well be retired at some point.
Did you often use Cortana to identify songs playing in the background, and will you miss this feature now that it's gone? Let us know in the comments below.
Share This Post: