Microsoft has introduced a new tracking prevention feature in the latest Microsoft Edge Canary build (version 77.0.203.0) on Windows. The feature can now enabled in edge://flags, along with other experimental features for the new Chromium-based browser.
Microsoft first announced this new privacy feature at its Build developer conference last month, and the company says that this early implementation is likely to get changes based on Insider feedback.
"Tracking prevention is designed to protect you from being tracked by websites that you aren't accessing directly. Whenever a website is visited, trackers from other sites may save information in the browser using cookies and other storage mechanisms. This information may include the sites you've visited and the content you're interested in, building a digital profile which can be accessed by organizations to offer personalized content when visiting other sites," the company explained.
You can access tracking prevention by entering edge://flags#edge-tracking-prevention in the browser's address bar. Once it's enabled, you'll notice that tracking prevention will now have a dedicated section in Edge's privacy settings. By default, the "Balanced" level will block known malicious trackers and some third-party trackers, but you can also choose the "Strict" level that will block the majority of third-party trackers, a setting that can potentially block some websites (this will be default level of protection when you launch an InPrivate window). A "basic" setting is also available for blocking some malicious trackers, while still letting relevant ads go through.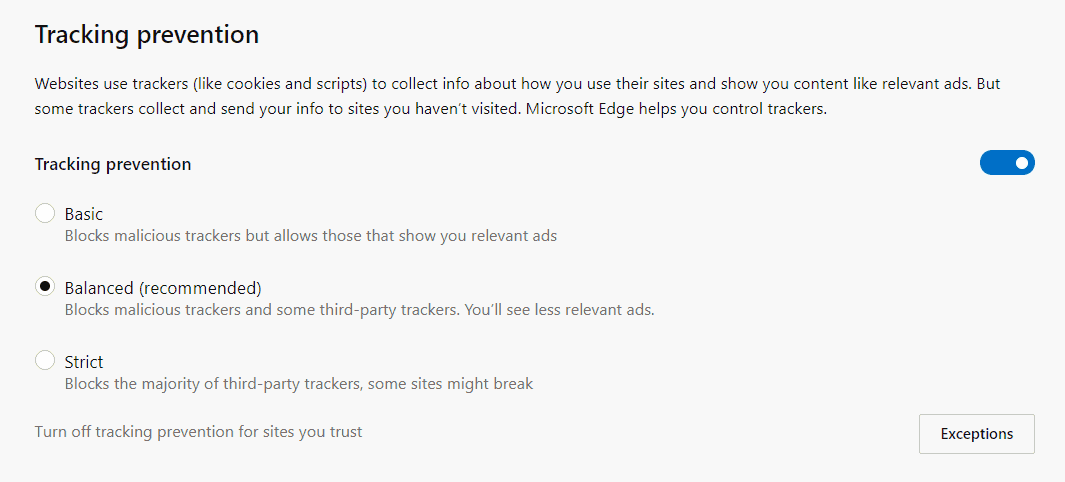 To make tracking prevention work, Microsoft says that it has added Trust Protection Lists to Edge that contain the latest information about online trackers. "This component allows us to be flexible with where we source details on what a tracker is and when we deliver updated lists to our users," the Edge team explained, adding that trackers are classified into different categories (fingerprinting trackers, crypto mining scripts, etc.)
If you're a Mac user, you'll have to wait for the next update to the Canary channel on macOS to try this new tracking prevention feature. It will come later to the Dev channel, and Microsoft is counting on feedback from Edge Insiders to improve tracking protection over the coming weeks.
Share This Post: