Since Microsoft announced last year a new version of its Edge browser based on the Chromium open source project, the team behind it has been pretty open about its development so far. The new Microsoft is a company that listens to its customers, and this is exactly what the Edge team did during a Reddit AMA session yesterday.
Microsoft shared a lot of details about its roadmap for Microsoft Edge back at Build last month, but Edge Insiders still had a lot of interrogations about the new browsers. We tried to compile the best questions (and answers) from yesterday's Reddit AMA, with topics going from upcoming features to Linux support as well as ad blockers.
First of all, the team is still hard at work on new features such as Collections, additional privacy controls and a new IE mode, but there are still some EdgeHTML features to bring over as well. "We're in the process of adding Reading List, integration with Cortana, and many of the other Edge features you know and love," the team said yesterday.
Support for other platforms
For now, the Edge Insider browser is officially available on Windows 10 and macOS, but team answered an important question about support for other platforms such as Xbox, HoloLens, and Surface Hub. "Our goal is to get the next version of Microsoft Edge working on all of our Microsoft devices. So Edge will eventually be coming to those platforms but we can't make any promises around when that will be," the team answered. "Our goal is to ship a browser at such high quality that it could eventually become the default browser for all Microsoft devices," the Edge developers said in another reply.
The new Microsoft Edge will also be available on supported versions of Windows Server, and the Edge team is also keeping an open mind about a potential Linux release. "We don't have any technical blockers to keep us from creating Linux binaries, and it's definitely something we'd like to do down the road. That being said, there is still work to make them "customer ready" (installer, updaters, user sync, bug fixes, etc.) and something we are proud to give to you, so we aren't quite ready to commit to the work just yet."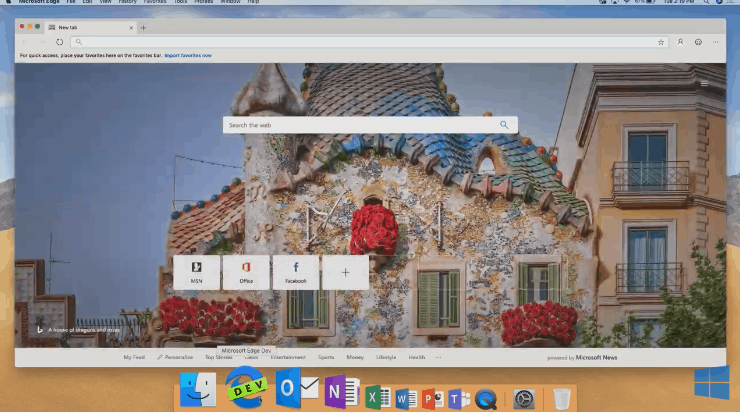 Ad blockers
Even though the new Edge is based on Chromium, Microsoft would like its browser to stand out from the rest by investing in tracking protection. There were many questions yesterday about Google's intention to restrict some APIs used by adblockers, and how this could impact Microsoft Edge in the near future. "We're still evaluating the adblock Manifest V3 changes, so we're not quite ready to commit to a statement one way or another on that issue," the team said yesterday, before adding that "we will not artificially restrict ad blocking for business reasons related to advertising."
The developers also reiterated yesterday that Microsoft is a member of the Coalition for Better Ads, and as a result the company plans to "start enforcing these standards by blocking ads on sites which do not comply with CBA guidelines by default." As you may know, Edge on iOS and Android comes with a built-in ad blocker, and the Edge team will also listen to feedback to see if this something users would also like to have built-in on the desktop.
Future of Internet Explorer 11 and Chakra
With Edge soon getting an IE mode to run legacy Internet Explorer-based apps, there were some questions about Internet Explorer support on Windows 10. "IE11 will continue to be supported on the life cycle of the OS and won't be removed," the team clarified, adding that "IE mode will work where IE11 is currently supported, so all supported versions of Windows."
As for Chakra, the JavaScript engine that Microsoft developed for its EdgeHTML browser, it's also not going away. "With the shift to Chromium, the next version of Microsoft Edge will use V8. That being said, various projects outside of the browser rely on ChakraCore so our team will absolutely continue supporting it. ChakraCore is open source and we welcome any and all contributions," the team explained.
It's pretty great that the Edge team is being so open about the new web browser, but according to the developers it's not possible to build such an ambitious project behind closed doors. "We don't have all the answers on our own; we need to understand our customers' needs, and these customers include consumers, web developers, and enterprises. We're hungry and excited to get people to use our new browser, and that necessitates changing the way we've worked," the developers said.
Share This Post: