In June, Microsoft launched both Visual Search on Bing. That was a great feature which helped make searching and shopping easier, but there are now even bigger things in store for this month. From a Math Solver, text transcription on iOS, or the Bing Education Carousel, here's what is new in September for Bing.
First off, with the Math Solver, you can tackle those tough math problems and equations by using the Bing app and tapping on the "Math button." The Bing app will then provide you a step-by-step explanation and link you to the appropriate online videos to help you avoid running into further issues. Have a look at this below, and keep in mind that this is now available on iOS, and coming soon to Android.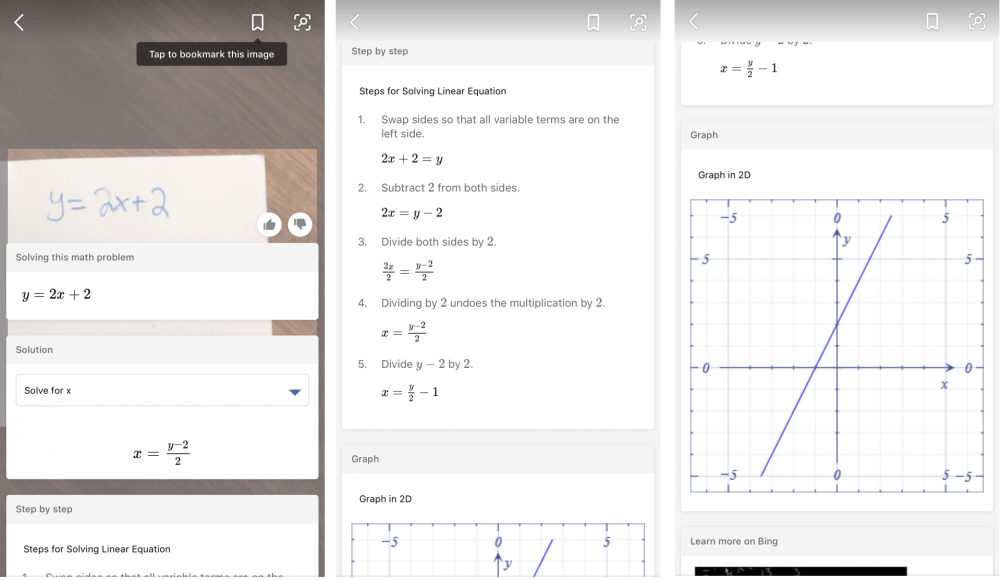 Also new in September is Text Transcription feature for Bing Visual Search. When using your camera with the Bing app, you can now take a picture of a phone number, or other important information and then paste or add it to your contacts list, email. This will be rolling out to iOS in the next few weeks, so be on the lookout for it soon.
As for Bing on the web, that has picked up a series of new features. The first of those is a new Education Carousel which will help you find information like Fractions, the Solar System, and Language. Bing also now features a Sign Language experience which included 159 videos of words and 13 phrases in American Sign Language. And, for NFL season, Bing now reasons over NFL statistics and analyze your NFL related questions.
These are some cool features, but we'd like to remind you that you can get early peeks at new Bing stuff by joining the Bing Insider Program. Bing Insiders have access to cool events, conference calls with Bing engineers, and more. Feel free to sign up now, and let us know in the comments below what your favorite part of the Bing experience is.
Share This Post: