Perhaps, right behind accessibility and integration lays the concern of security for the burgeoning landscape of IoT. As more IoT devices find themselves in people's clothing, washer and dryers, fridges, speakers, vehicles and even farming equipment, the notion that these mostly untested devices with access to millions of personal data points are becoming a bit of concern for privacy advocates.
Fortunately, Microsoft and others are attempting to get ahead of the security fears that await the new world of IoT devices. For Microsoft's part, the company is introducing its Azure IoT Hub IP Filter as part of the company's ongoing security efforts to protect users and businesses exploring the wide open expanses of the Internet of Things.
Sam George, the partner director of Azure's Internet of Things division, writes a brief tutorial post about the company's new Hub IP Filter on the Microsoft Azure blog.
IP filtering enables customers to instruct IoT Hub to only accept connections from certain IP addresses, to reject certain IP addresses or a combination of both. We've made it easy for administrators to configure these IP filtering rules for their IoT Hub. These rules apply any time a device or a back-end application is connecting on any supported protocols (currently AMQP, MQTT, AMQP/WS, MQTT/WS, HTTP/1). Any application from an IPv4 address that matches a rejecting IP rule receives an unauthorized 401 status code without specific mention of the IP rule in the message.
The IP filter allows maximum 10 rules each rejecting or accepting an individual IPv4 address or a subnet using the CIDR-notation format. The following two examples demonstrate how to blacklist an IP address and whitelist a certain subnet.
Accompanying George's write-up of the new IP Filter is a walkthrough of how customers can Blacklist IP addresses, Whitelisting a Subnet and exploring the use of Azure's Express Route.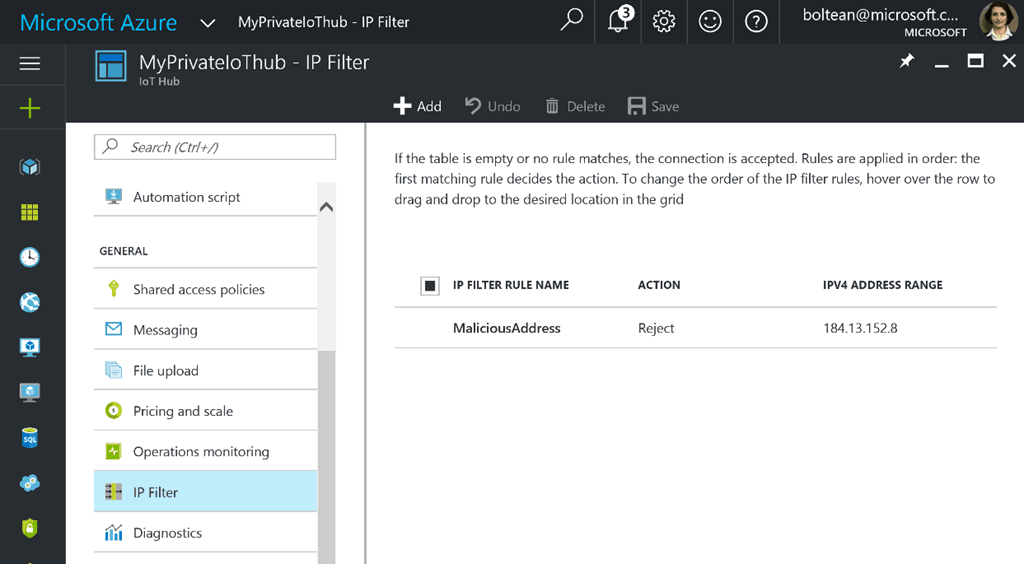 For any customer or business concerned with securing IoT devices, give Microsoft's Azure blog a gander because several of the company's top executives working on the future of cloud leveraging sensors and do-dah's are offering a treasure chest of information every day.
Share This Post: