The Windows 10 Creators Update introduced a useful new setting that helps to make your displays easier on your eyes. When it's getting later in the day, Night Light adjusts the color temperature of your monitors to reduce the level of blue light they emit. This makes it easier for you to get to sleep at night and can be less tiring to your eyes.
The basics
Getting started with Night Light really is a case of clicking one button. Once you've got the Creators Update installed, you can turn the feature on by opening Action Center and clicking the "Night light" toggle. You'll see your displays appear to get warmer in colour. Although it's noticeable at first, you'll quickly get used to the revised white balance once it's been turned on for a little while.
Set Night Light automatically
Night Light is at its best when synchronised to the times of sunrise and sunset. When you're outdoors, the body sets its clock by the rise and fall of the sun, based on the changing temperatures of light over the course of the day. Night Light can emulate this by warming the tint of the screens towards the end of the day, telling your body it's time to rest.
To set this feature up, you'll need to open Windows 10's Settings app and head to System>Display. Under the "Color" heading, you'll see the option to toggle Night Light on and off. Clicking "Night light settings" will take you to the feature's configuration page.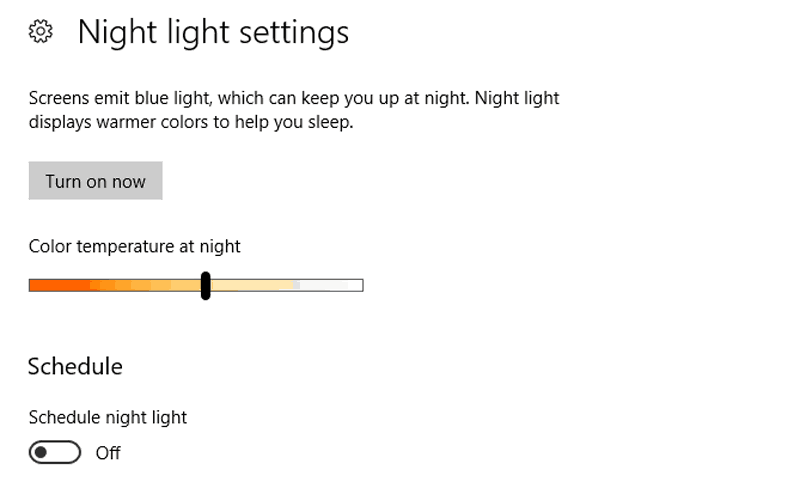 Here, you can use the "Schedule" feature to automatically enable Night Light between the hours of sunset to sunrise. If you'd rather use your own schedule, you can set one up by clicking "Set hours" and choosing the hours to use.
Night Light will adjust itself according to the schedule. You can still force it to turn on or off at any point using the toggles in Action Center or the Settings app.
Change the colour temperature
If you're not happy with the tint of the display, you can adjust it to make it warmer or slightly cooler using the slider at the top of the settings page. The options vary from a level that's not much warmer than your monitor's defaults through to a deep orange colour. You'll probably be best off leaving it somewhere towards the middle but you might want to consider moving it to the warmer end of the spectrum to eliminate more blue light.
That's all there is to it! Night Light is a simple but potentially very useful feature of the Creators Update that could let you sleep easier at night and reduce the burden on your eyes. It's not yet available on Windows 10 Mobile, although Windows Insider lead Donar Sarkar has said it will arrive "when the time is right."
Share This Post: