Just like when it comes to buying a laptop, you can find all sorts of Android phones. Some of the most common are flagships like the Samsung Galaxy S21, or even the Pixel 5. But for those on smaller budgets, there are options like the Samsung Galaxy A series or the newly announced Pixel 5A.
Yet the Chinese smartphone maker ZTE also wants to get into this market with the ZTE Axon 30 5G. After the launch of the Azon 30 Ultra 5G, the phone maker is back with another device for a September 8 release in the United States (despite some high-profile legal troubles.)
With what ZTE calls a "next-generation under-display camera," and also features like a 120 Hz display and a quad-camera setup, this phone has a lot of flagship-level qualities. But for the price of $500, is it worth it? We were sent a review unit, and are here to help in your potential purchasing decision.
Specs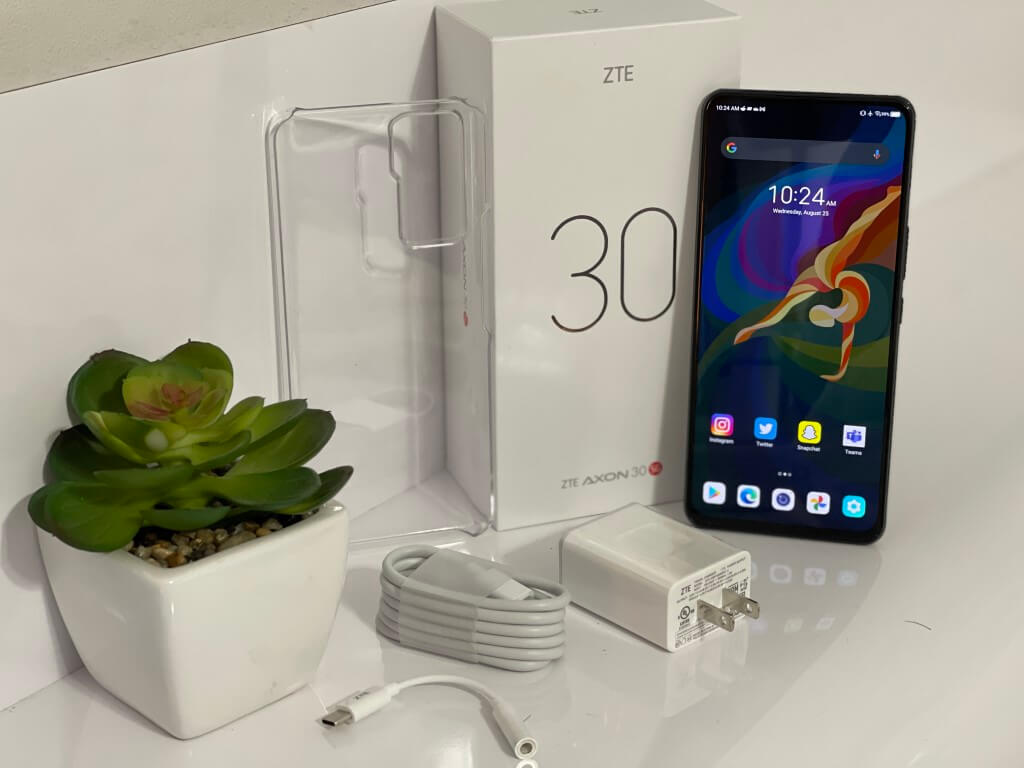 For $500, there's a lot to the ZTE Axon 30 under the hood. Our review unit comes with the Qualcomm Snapdragon 870 5G processor, 128GB of storage, and a total of 8GB of RAM. Also, included in the box is a 65W fast charger, a USB-C to 3.5mm headphone adapter, and a snap-on case. Other notable specs are below.
USB-C connectivity (Gen-1)
In-display fingerprint sensor
4200 mAH battery
6.92" FHD+(1080 x 2460 resolution), 120Hz, 20.5:9, AMOLED display
64MP + 8MP + 5MP + 2MP rear-facing cameras
16MP front-facing under display camera
170.2x77.8x7.8mm dimensions and 189g weight
NFC support
DTS:X Ultra, Hi-Fi audio
802.11 a/b/g/n/ac/ax, Wi-Fi, Bluetooth 5.1
Accelerometer, Proximity & Ambient, Compass, Gyroscope
Powered by MYOS 11 (based on Android 11)
5G bands:

n78(3.4~3.7GHz)/n1/n28/n3/n41/n66(NSA/SA)

WCDMA bands: B1/2/5/8;
GSM bands: B2/3/5/8;
If you follow ZTE closely for some odd reason, compared to last year's ZTE Axon 20, there's a couple of changes. Mainly it's the 400PPI display, the new Snapdragon processor, 120 Hz screen, Eyecare certifications, and improved in-display camera. Also new are more support for 5G bands, a faster charger, reduced thickness, and the new MyOS operating system.
These specs should not be too surprising for a Chinese-branded phone. Not many American phones have this Snapdragon 870 chip yet but the amount of storage and RAM is consistent with other American devices for the price. It's even close to some flagships, as we get into later.
Samsung's $500 A52 5G has a 750 5G processor and similar camera lenses with the same 128GB and 6GB RAM. The Pixel 5A, meanwhile, has the 765G 5G processor and far superior cameras but the same RAM and storage. In most tests, the 870 is close in performance to both the 750G as well as the 765G.
Design & ports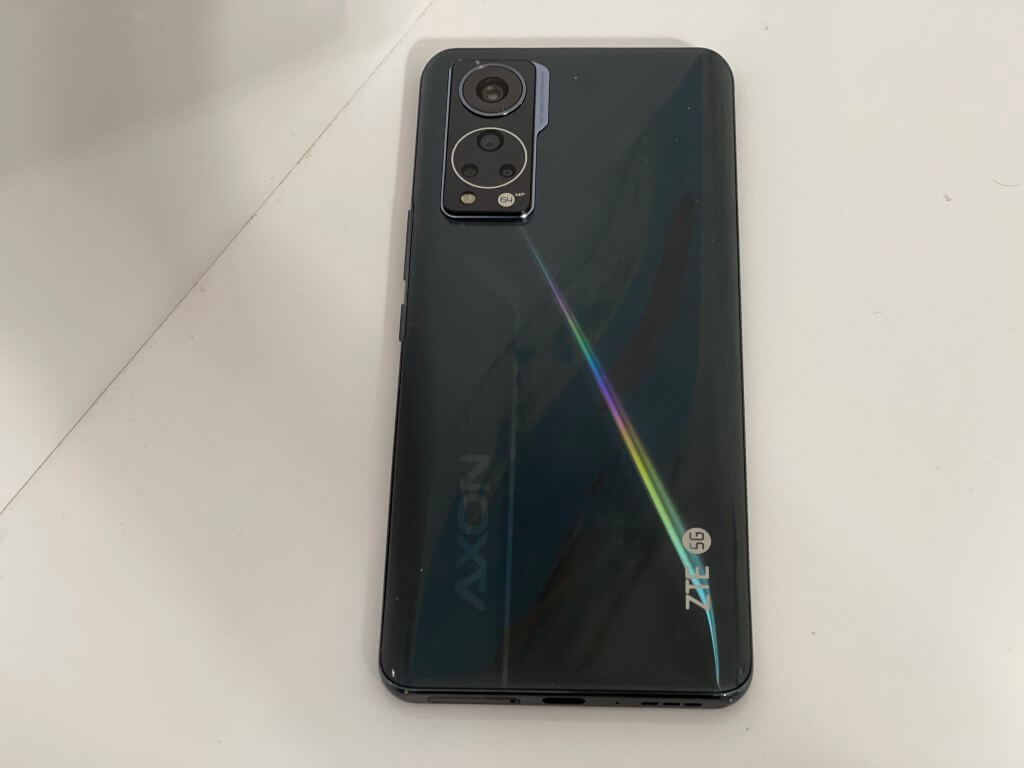 Flagship phones usually come with all-glass designs and feel very premium. And, on the mid-range side, you end up with a mix of premium materials and plastics. To no surprise, that's what you get with the ZTE Axon 30. It's a sleek device, with a slim build.
ZTE tells me that the elements used in this phone are a "nanoscale micro-beam" material. It feels like metal, but it also feels like plastic, giving the phone a decent weight in the hands. It's not too heavy, nor is it too light. The glossy back, however, is really annoying, as it picks up a lot of fingerprints. I'm reviewing the black model, but there's also an aqua model which might pick up fewer fingerprints.
The camera hump is one of the most noticeable features when it comes to the design of the phone. It's laughably large and also stops the phone from sitting flat on the table. Interestingly, the display is also curved at the edges of the Axon 30, like the old-school Galaxy S7 phones.
It's a subtle curve with a waterfall effect where it meets the body of the phone. Software features let you configure how sensitive the curve can be when you hold the phone in your hands. I really like how ZTE finished out the curve so that it's not too intense as you slip your fingers through the side.
The only metal parts of the phone come at the bottom, where you'll find the USB-C port and the SIM card tray as well as the single speaker. Note that you can either put in a second sim into the phone or a microSD card for expansion. There is no headphone jack.
Oh, and let me not forget to mention the in-display fingerprint sensor. This sensor is near the bottom of the screen. It works very well and picked up my fingerprints 99% of the time. It's not noticeable in day-to-day use either and hides perfectly under the display.
Display & audio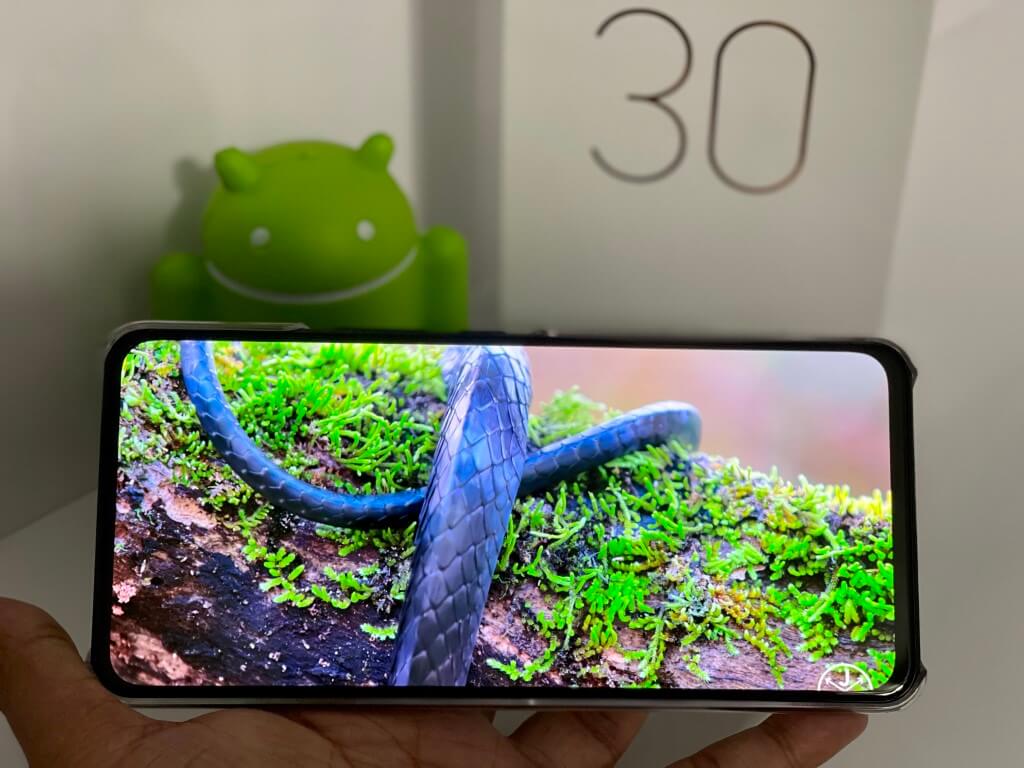 A display is everything on a phone and you won't be let down by the one on the Axon 30. Like its more expensive sibling the Axon 30 5G Ultra, you're getting a premium setup. The 6.92" FHD+(1080 x 2460 resolution), 120Hz, 20.5:9, AMOLED display will wow you for a mid-range device thanks to its 100% DCI-P3 coverage. (And yes, this does have an always-on display!)
ZTE is using a display panel with 440PPI this year, and a special pixel matrix technology. It says that this can record the time and temperature of each pixel and adjust it in real-time to keep brightness constant to hide that under-display camera. A multi-drive ACE Circuit also ensures that better transitions of both areas of display for a more natural look.
Technical jargon aside, I watched some YouTube nature videos with the brightness turned to 80%, and the Axon 30 really brought out the colors in a blue frog and the oranges of the sunsets. Even scrolling through images on Twitter looked natural. Paired with the 120Hz refresh rate, everything on this phone is smooth and beautiful.
It's really great to see a 120Hz panel, too, as this is something you'd only find on $1,000 flagship phones like the Samsung Galaxy S21/S20+ & Galaxy S21 Ultra, but ZTE gives you this for $500.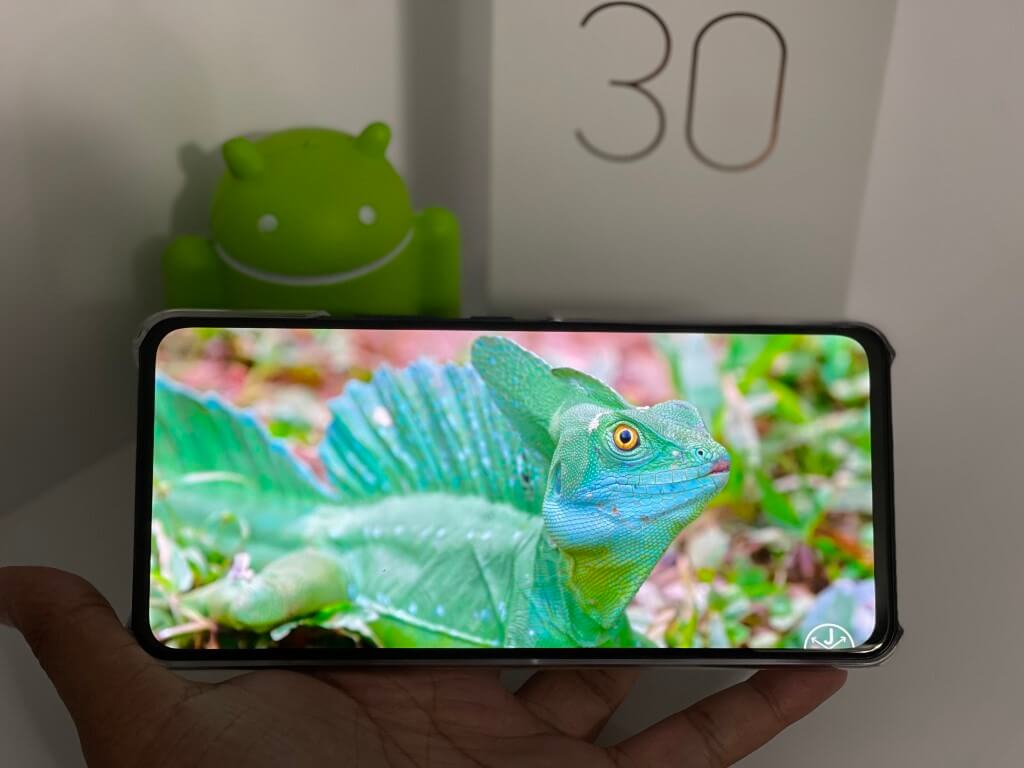 Everything else (resolution and even size) is similar to other devices like the mid-range Samsungs or Google Pixels. Just note that you'll also find the 120Hz screen on the Galaxy A52 5G, so there is that.
As for audio, the ZTE Axon 30 has speakers and Audio tuned by DTSX Ultra. This isn't as impressive as the speakers on an iPhone or a Google Pixel, but it gets the job done. I watched NASCAR replays on my devices, and the sounds of cars buzzing around the track shook my desk and felt quite immersive.
The top speaker is also tucked well into the display and is barely noticeable. I didn't have issues hearing my friends when I hopped on WhatsApp voice calls.
Front-facing camera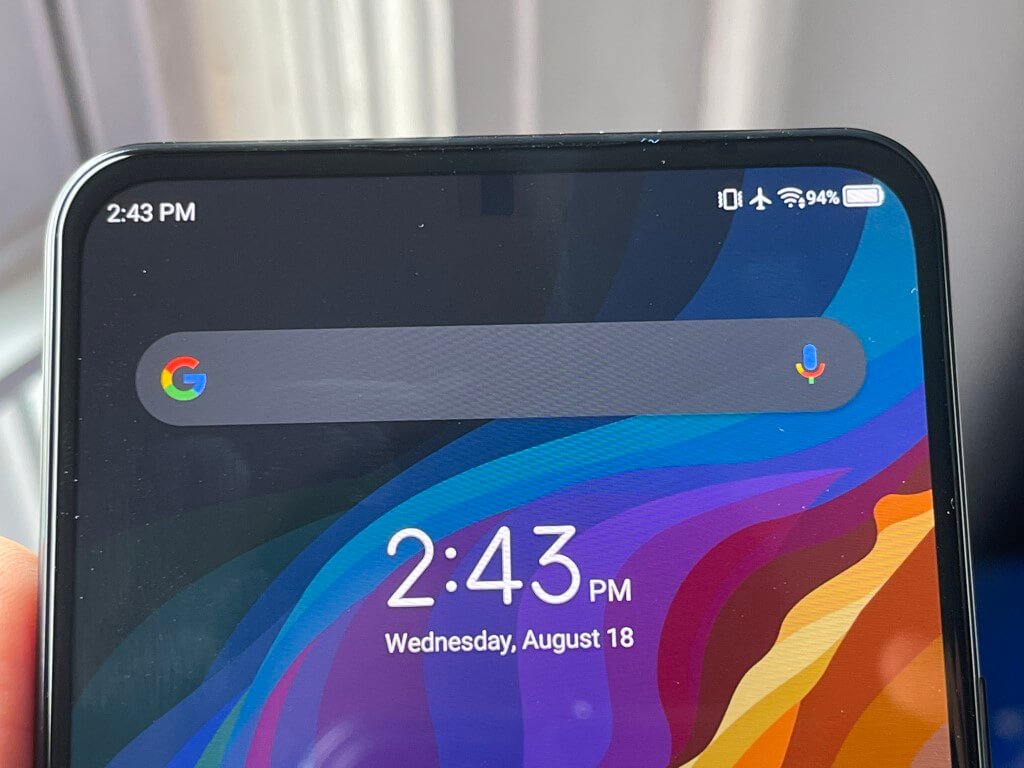 The special part of the ZTE Axon 30 is the in-display front-facing camera. This is a tricky task to accomplish. Samsung has this in the latest Galaxy ZFold 3, but ZTE was one of the first phone makers to introduce the technology with last year's Axon 20.
In this phone, and like on the Fold 3, the front-facing camera is barely visible to the naked eye. This is because the section of the display that houses the under-display camera adopts a Special OLED and more transparent cathode so the 7-layers of the screen are more transmissive to create better conditions for selfies.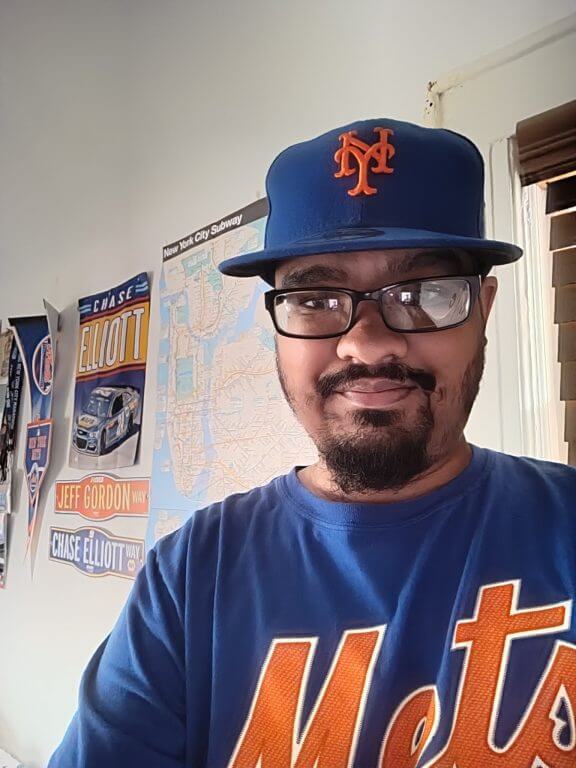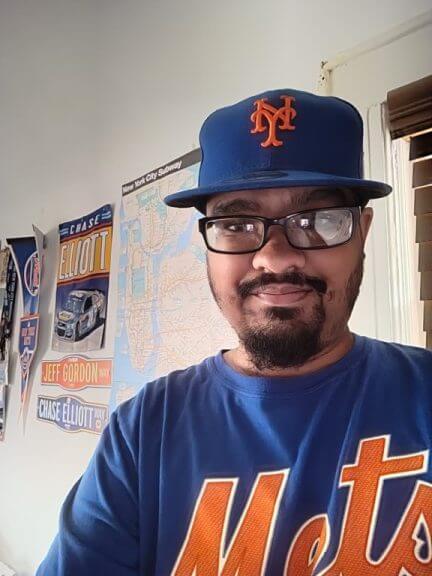 The front-facing camera sports a large 2.24μm pixel sensor. It allows for larger light sensitivity for better photos. I tried out the camera, and it's pretty decent. The sensor overblows some light and can cause some objects to look blurry, but when in the right conditions, images come out clear. See the sample image above.
ZTE tells me it uses an advanced algorithm to automatic adjustments enhance the contrast, image clarity, and transparency to meet a variety of everyday situations. That's basically post-image processing, but I wish it could be a lot better.
Rear camera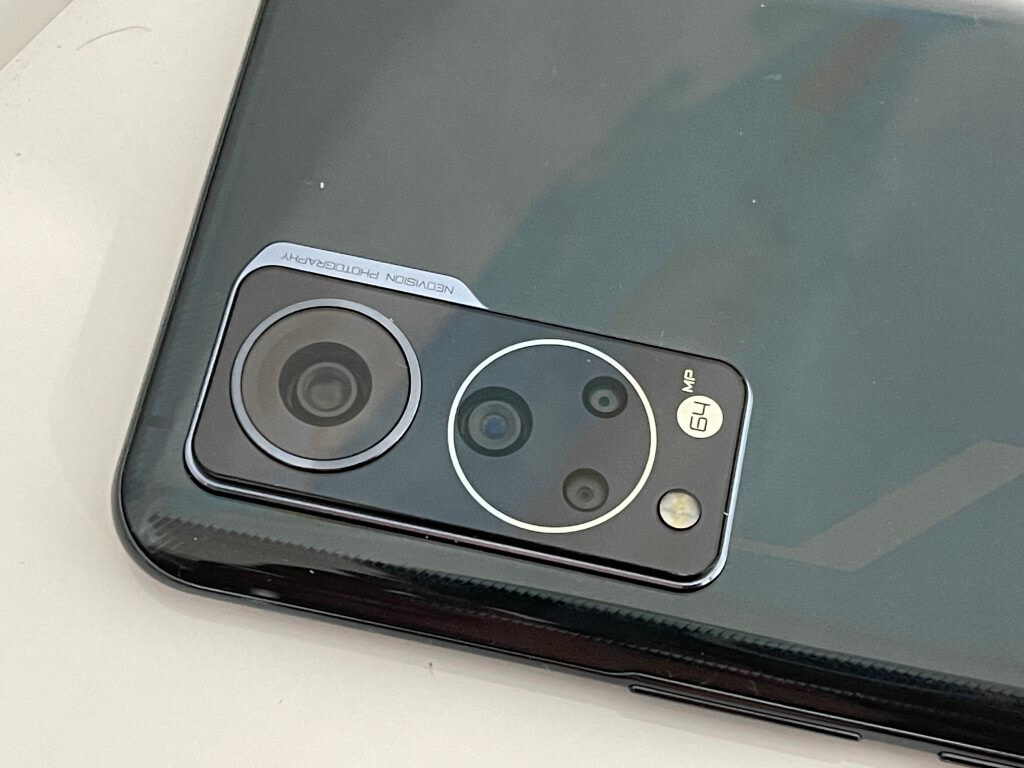 On the back of the ZTE Axon 30 is a quad camera setup. The main camera sports a 64MP Sony IMX662 sensor with an f1.8 aperture. That's then supported by an 8MP 120-degree wide-angle lens, a 5MP macro lens, and a 2 MP depth lens. Together, the lenses can output some really impressive photos in well-lit scenarios and poor photos in dark situations. (That's despite the camera saying "night mode" enabled.)
I used the camera to take photos of my front garden, and I was happy with the results. The macro lens really captures close-up details in the flowers (like pollen) that my iPhone or Pixel never could do. The wide-angle lens lets me capture more of the scene. And the raw 64MP mode lets me zoom in on the photo see all the raw details.
Overall. all photos come out very well exposed, with lots of details thanks to the depth sensor. You can see sample photos in the gallery above, at various zoom levels. Note that once you go past 5x zoom, you'll lose a lot of detail. It's best to keep the photos basic with this camera.
ZTE also has a multi-camera mode, which lets you take different shots in one exposure. It's quite fun to use. The only bad thing about the camera app has to be the poor English translations, and common settings for timer, aspect ratio, resolution, and live photos being burned in a hamburger menu.
In video recording, the phone supports up to 4K 60 frames per second video recording, and also 1080p 30 frames per second video recording. The software even offers templates for filming (say slow motion, reverse, micro, dolly zoom so you can stay creative.
Performance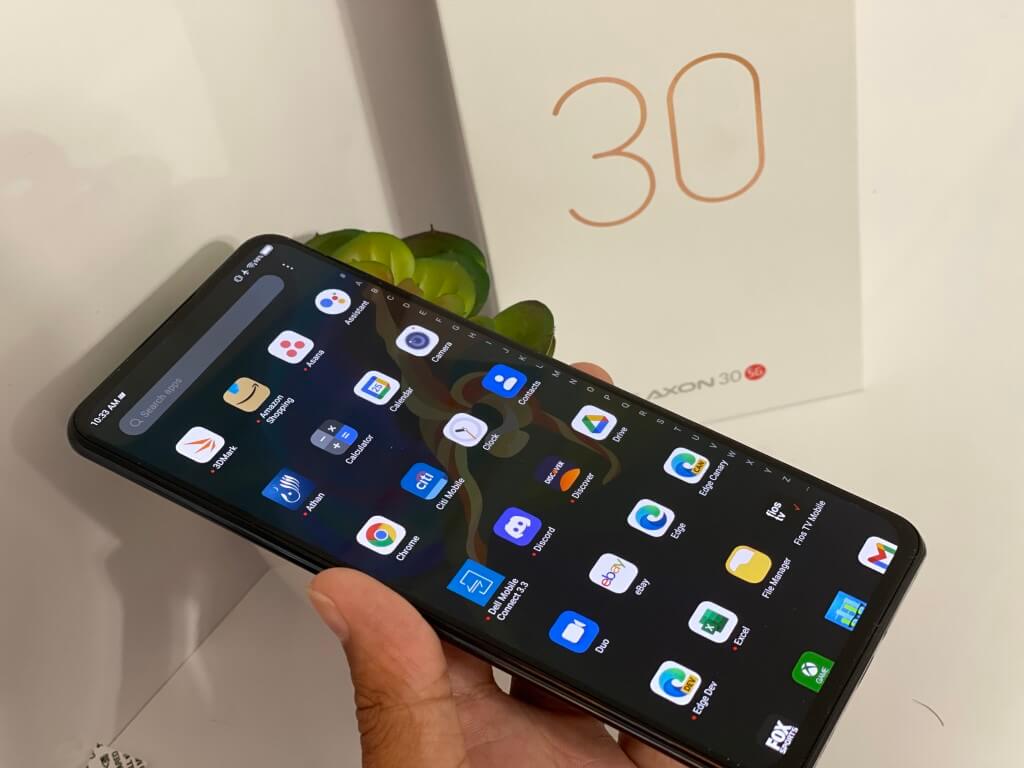 Since this is a Chinese-branded phone, you'd think that the Snapdragon 870 inside the ZTE Axon 30 isn't well-performing, but you might want to think again. Paired with the 6GB total RAM, this processor can keep the phone chugging along, with little hangups.
For a mid-range phone, the results are surprising, and almost pushing close to the flagship-level performance of Pixels and Samsungs. Tests in Geekbench 5 can back that up.
We got a 932 Single-Core Score and a 3039 Multi-Core score. That's better than previous flagships like the Galaxy Note 20 Ultra (Snapdragon 865+) which scored 894 on the Single-Core results, and 2628 on the Multi-Core results. It's even close to the current flagship, the Galaxy S21 Ultra (Qualcomm's Snapdragon 888,) which nets a 3404 multi-core score, and 1123 single-core score.
When it comes to mid-range devices, meanwhile, the phone edges out the competition with ease. The Galaxy A52 scored 642 on Single-Core testing, and 1905 on Multi-Core testing. Google's Pixel 5a, meanwhile, netted a 674 Single-Core score and a 1966 Multi-Core score. The ZTE Axon 30 is in a league of its own when it comes to performance on a mid-range device.
Those are just numbers though, and I put the phone through my daily grind to back the results up. In multitasking with two apps open side by side, the phone never once missed a beat. Scrolling in Edge with 4+ tabs open also didn't slow down the phone.
And, in gaming Call of Duty: Mobile was super smooth, with no skipped frames or lag. The 3D Mark tests can back that up, averaging at 33 to 66 frames in the 3D Mark Slingshot test, and 18 frames in the more demanding Wild Life test.
Operating System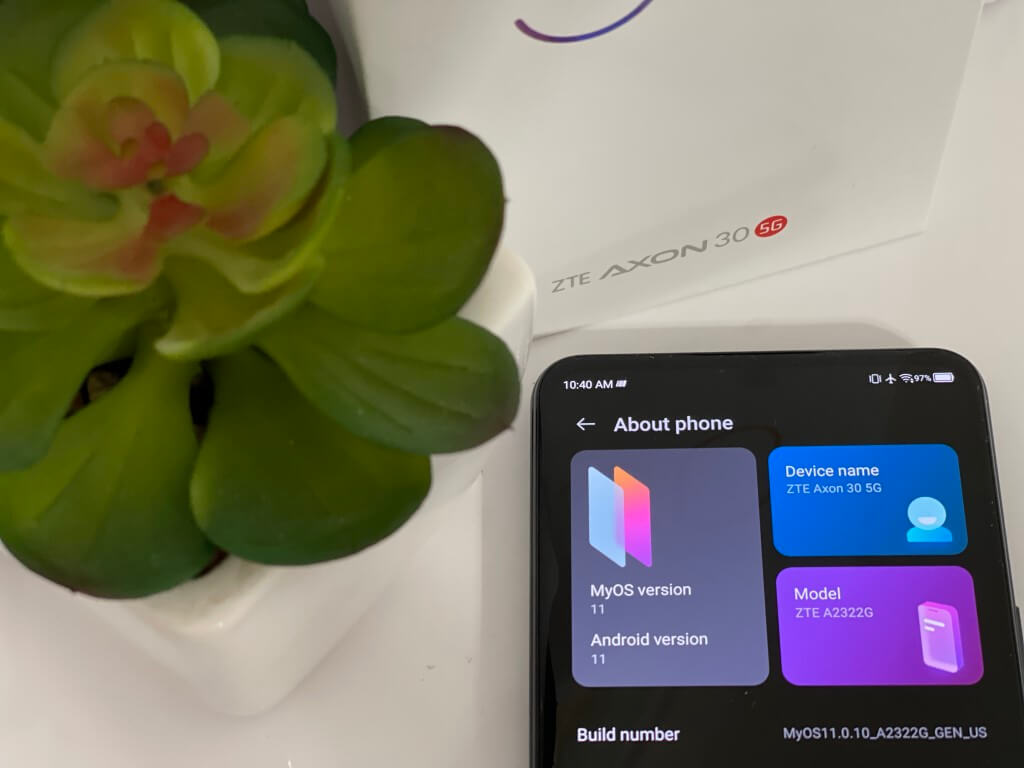 This phone is powered by ZTE's own MyOS 11. It's basically a skin of Android 11. It gets monthly security updates like any other Android phone, but I'm not certain about ZTE's Android upgrade cycle. Granted the legal troubles ZTE is facing in the US (it was deemed a national security threat,) I don't think that the phone might get the 2+ years of Android updates that Pixels or Samsung phones do, especially after the FCC voted to ban ZTE gear.
Nonetheless, that's politics. ZTE's MYOS 11 is a clean version of Android. You get stock Google apps and no bloatware. There aren't doubles of system apps (photos, calendar, notes) like you get on Samsung phones. Some menus and such might be poorly translated into English, but overall, it's close to stock Android as you can get.
Network performance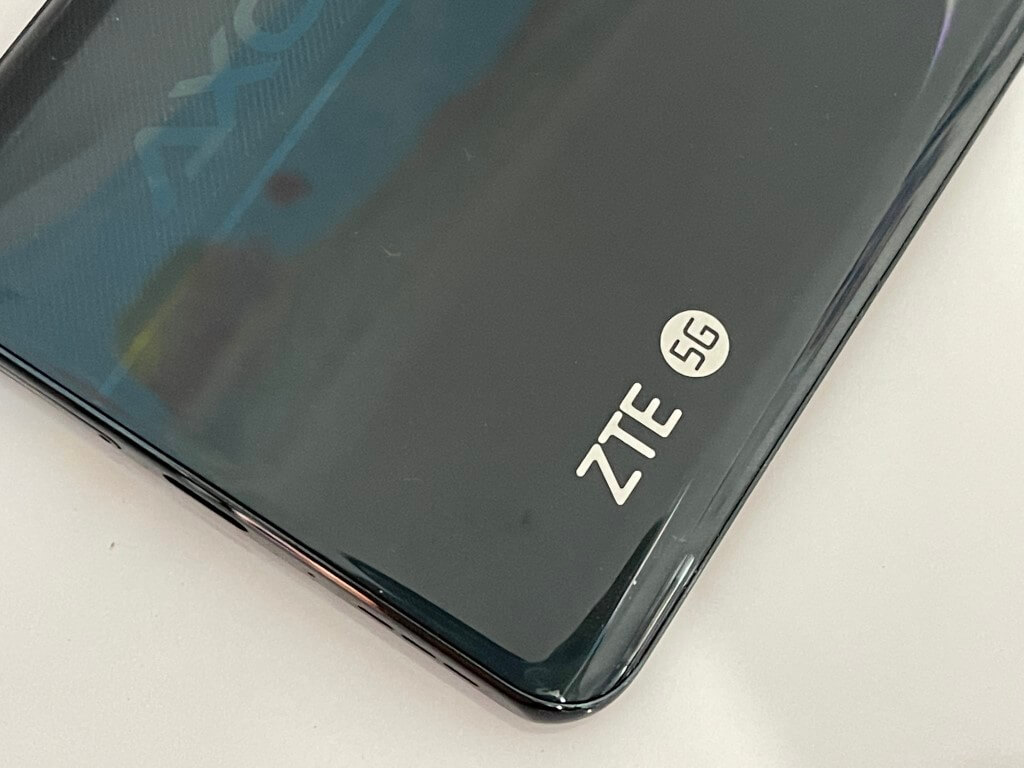 I used the Axon 30 on my T-Mobile plan. It worked fine, and I got speeds closer to LTE rather than 5G of around 25 Mbps down and 39 Mbps up in Queens, New York City. I assume this is because the phone doesn't support T-Mobile's band 71, which is more widespread across the US. Calls and texts also worked fine, with no dropped calls, or no issues sending texts.
I included the supported cellphone bands at the top of this review, so you might want to check if this phone supports your carrier before you buy it, as it is catered to more of a European audience rather than the US.
Battery Life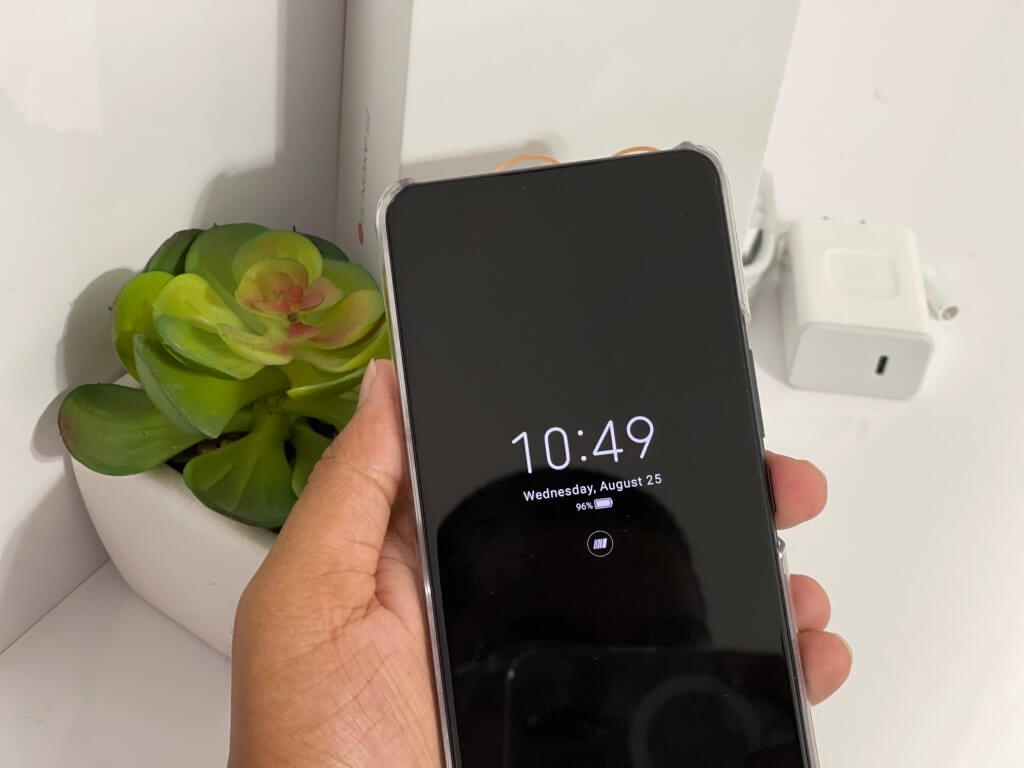 Battery Life on the Axon 30 is great. With my moderate day-to-day use, I easily got around a day and a half worth of battery before I needed to recharge. I also binge-watched NBC Peacock's Departure on the phone, and it lasted me through 5 episodes before it had to recharge. I'd say you'd easily get 11 hours of battery life out of this phone, which shouldn't be too much worry since the 65W fast charger can boost the juice up to100% in less than an hour.
A mid-range Android phone that's almost flagship level
Overall, the ZTE Axon 30 is a mid-range Android phone that's almost to the flagship level. The device has some great specs, that can help you speed through your tasks, and its 120Hz AMOLED panel is amazing. The operating system is also clean, and all the cameras can get most jobs done right. You can buy the ZTE Axon 30 yourself come September 8 starting at $500.
Share This Post: