Hands on with Microsoft Flight Simulator 2020 in VR: So real, you might need a pilot's license
I recently got my hands-on with the Samsung Odyssey HMD+ Windows Mixed Reality headset so I could try out the VR experience in Microsoft Flight Simulator 2020, and it was truly a breathtaking experience.
Towards the end of last year, Microsoft Flight Simulator 2020 was updated to make it compatible with the most popular VR headsets. Oculus, Valve, HTC, and even Windows Mixed Reality headsets all now allow you to experience the simulator from an entirely new perspective.
I recently got my hands on a Samsung Odyssey HMD+ Windows Mixed Reality headset so I could try out the experience, and it was truly breathtaking. I took the skies over my hometown of New York City and playing Flight Simulator 2020 in Virtual Reality really felt like piloting an actual airplane.
But just my words won't do justice as to how real it felt. Watch the video above to see for a hands-on look at the experience, and why it's so real that you might need a pilot's license.
Editor's Note: You might notice a "black bar" effect and some slight lag as I turn my head in certain parts of this video. This black bar isn't noticeable to me when I had the headset on, it's just the hardware limit, and the effect of recording the preview of the Windows Mixed Reality feed in the background for this video so you can get the same view that I have through the headset.
The Specs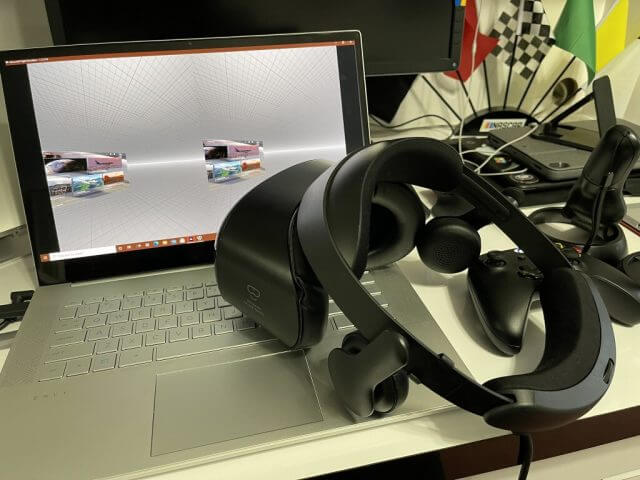 Before getting into anything, I'll mention the minimum specs for VR in Microsoft Flight Simulator 2020. You'll need to have a PC with at least an Nvidia GTX 1080 or equivalent, 16GB of RAM, 150 GB of free space on an SSD or HDD, as well as Direct X11 installed.
I played on my HP Envy 15, which I previously reviewed. I'm able to get *decent* framerates at 30-40 frames per second on high settings, and beyond that on medium, but your experience might depend on your hardware.
My specs include the following — Nvidia GeForce RTX 2060 Max-Q GPU with 6GB GDDR6 VRAM. 16GB DDR4-2933 SDRAM. and the 6-core Intel Core i7-10750H processor. If you're hoping to run Flight Sim in Virtual Reality, I suggest you open and run the Windows Mixed Reality Portal to see if your PC is compatible. It will give you a checklist of things, and suggestions on how to improve your PC for maximum VR compatibility. You also can check out the Flight Simulator forums, where people are posting about their setups and what's working and what's not.
The initial setup
ARVE Error: No oembed src detected

ARVE Error: No oembed src detected

ARVE Error: Need Provider and ID to build iframe src.

Launching Microsoft Flight Simulator 2020 in virtual reality is a multi-step process. First, I needed to set up my headset through the Windows Mixed Reality portal. From there, once everything is set up, I took my headset off and booted up Microsoft Flight Simulator on my desktop. With the game fully loaded at the menu, I needed to press CTRL+TAB to toggle the simulator into VR mode. This caused my headset to "reboot" and open Flight Sim as an application.
When this happens, I put the headset on, and see the menus in a virtual space. It's suggested to press the spacebar key on the keyboard to center the headset and the images for the best possible experience. Once in VR, I also suggest pausing the simulator, heading into the graphics settings menu, and going to VR graphics options, and tweaking the settings for your graphics card and your PC. Don't overload the settings if you know your PC can't handle VR that well.
Note that Windows Mixed Reality controllers currently aren't supported by Simulator 2020. I needed to connect my Xbox controller to my PC via Bluetooth and use it for navigation, as well as controlling the airplane. You can also use a flight stick, too, if you have one.
The pre-flight-checks and initial experience
ARVE Error: No oembed src detected

ARVE Error: No oembed src detected

ARVE Error: Need Provider and ID to build iframe src.

The first time I booted into Flight Simulator in Virtual Reality, my mind was instantly blown away. I felt like I was standing on the runway next to an actual airplane. The Robin Cap10 I was sitting in front of me before my eyes on one of the shorter runways at JFK International Airport. I moved my head left and right, and it was like I was standing on the tarmac next to the airplane getting ready to board it.
But that was just the start. Right away, I switched views to the cockpit mode. I moved my head forward, and back, the simulator moved with me in the game. It knew I was looking closer at the dashboard and it zoomed in for me. I was able to perform pre-flight checks, move forward to check all my gauges, look outside the window at the wings, and even turn my head back and check out the tail of the airplane. The tracking in Windows Mixed Reality headsets is spot-on, despite only using sensors built-in on the headset itself.
As a side note, I want to mention that you can use a keyboard and mouse to touch these gauges and tweak certain settings if need be, too. It would have been great to see support for the WMR controllers, but I can see the technical issues of making that happen.
Anyway, it's not like the gauges were blurry. The closer I moved my head to the dashboard of the airplane, the more real the gauges looked. I was able to spot the carbon emissions sticker, check the mileage on the airplane, check the buttons, look at the frequency on the radio, and explore the cockpit in all its glory.
The takeoff and flying experience
ARVE Error: No oembed src detected

ARVE Error: No oembed src detected

ARVE Error: Need Provider and ID to build iframe src.

I thought that seeing the gauges and looking at the airplane on the ground was amazing, but as soon as I started my takeoff roll down the runway at JFK, it got even better. Thanks to spatial audio and the built-in speakers in the Samsung HMD Odyssey + my ears were blessed with the greatness of aviation that is usually only reserved for real pilots.
I heard the tires screeching as they lifted off the runway. I heard the gears in the engine start to turn up as I pumped up the throttle, and I even heard and saw tiny dirt particles hit the windshield as I started climbing. It's truly a breathtaking experience.
What was even more breathtaking was turning my head and looking out the window. As I slowly pulled back on the analog stick to gain altitude, I felt the sense of speed as the airport was getting smaller under me. I even could see a departing airplane taxi on the runway, too. Even the radio on the dashboard reflected my change in altitudes, and the switch in radio frequencies as my flight got handed off from Kennedy Ground to Kennedy Departure. It doesn't get more real than this!
The exterior views, and the flight
ARVE Error: No oembed src detected

ARVE Error: No oembed src detected

ARVE Error: Need Provider and ID to build iframe src.

Just like the main game, Microsoft Flight Simulator 2020 in VR isn't just limited to the cockpit view. Once in flight, I switched to the exterior view as I approached some of the tourist sites in New York City after I departed JFK Airport. This experience itself is also something that's quite unique, too.
In the exterior view, you'll be placed behind your plane in the flight, and are free to look around by turning your head. You can get a "birds-eye view" of anywhere you're flying, and look down on the world as if you were in a glass helicopter. I did this when I was playing over New York City's Central Park, the trees and the water looked so realistic. Even looking down at the West Side and East Side of Manhattan looked real, especially when approaching the MetLife building. It's like I was a bird flying over my own city. I could make made out the smallest of details.
A great simulator, that shows Windows Mixed Reality at its best
After spending more than a week doing virtual flights in Microsoft Flight Simulator, I must say that this should be the new hallmark game for virtual reality. The way Flight Sim pulls from Bing Maps and the high level of details in the airplanes and environments and the head tracking make for a truly realistic experience. I've tried other titles such as Project Cars 2, and Starwars Squadrons, but flight Simulator has the perfect combination of everything to equate for realism.
If your laptop or desktop is capable, I highly suggest you download the game, invest in a Windows Mixed Reality headset or other VR headset, and give the game a go. You won't regret it, and you won't need a pilot's license.
Share This Post: