The general April 11th rollout of the Windows 10 Creators Update via Windows Update is still about 6 days away, but if you're eager to have the latest version of Windows on your Windows 10 device, you can now download using the Upgrade Assistant.
As we have highlighted before, to get started with the installation process, you first need to head to this official Microsoft web page and download the latest version of Windows 10 Upgrade Assistant. After you do so by clicking on the blue "Update Now," button you should navigate to the folder where the download was saved and click to run the assistant. If all goes well, you should be greeted with the same message as seen above.
Then, once the assistant begins running, it will perform compatibility checks on your CPU, and for disk space, then it will ping Microsoft servers and begin the download processes of the Windows 10 Creators Update. You should be aware that by going this route your files will be right where you left them, and you can go back to a prior version of Windows 10 if you don't like it. It's also worth noting the download and install might take a while, so it's best to minimize, and sit back and relax.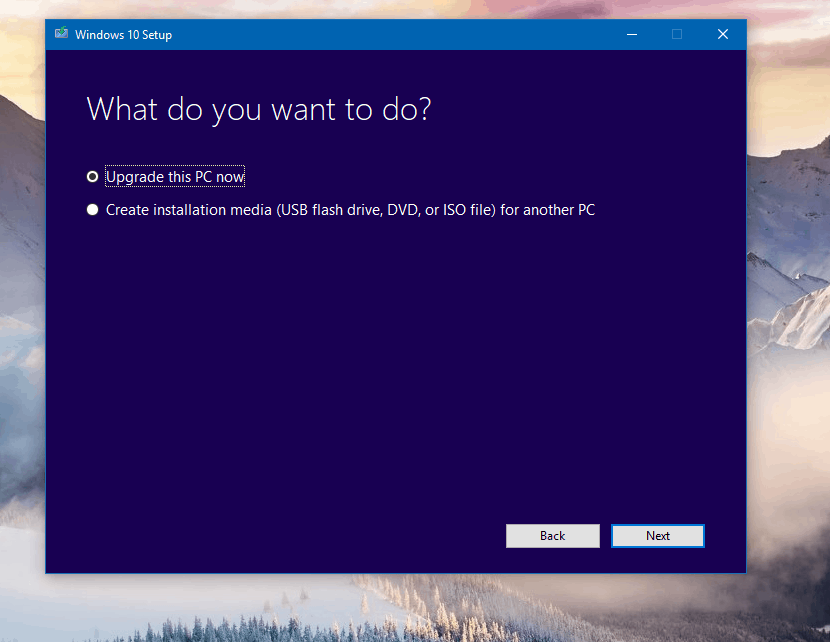 As an alternate route, you also can upgrade to the Creators Update by using Microsoft's Media Creation Tool. You can visit this page to download the tool, and click on "Download Tool Now." With the too, you can accomplish the same install as the Upgrade Assistant by pressing on "Upgrade this PC Now." The Media Creation tool is also perfect for advanced users and will allow you create an ISO file if you would want to do a clean update and remove your files, settings, and accounts. If you have multiple Windows 10 Licenses and multiple computers, you also can use the tool to create installation media for another PC and upgrade.
While you wait for the install to complete we invite you to check out our extensive coverage of the Windows 10 Creators Update. We've detailed the updates to the User Interface, Cortana, what's new for Gaming, and we even highlighted the top five features we are excited for. As always, once you've got the Creators Update running, we invite you to drop us a comment and let us know how the new experience is going for you!
Share This Post: