The July 2019 Update is now available for Xbox One consoles, bringing improvements for the Xbox Game Pass tab on the Xbox One dashboard as well as the Xbox skill for Alexa. This new release follows the June 2019 update released last month, which was a minor release with no new features.
The first addition in the July 2019 Update for the Xbox One is a "Play Later" list for Xbox Game Pass. This list can be seen on the Xbox Game Pass tab, and it will allow you to curate games from the catalog you want to play later. Managing this list will also be possible form the Xbox Game Pass mobile app, Microsoft said today.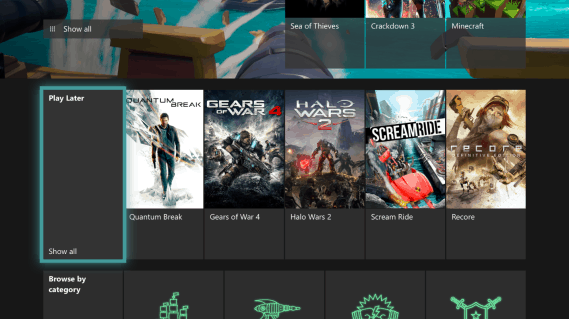 The Xbox skill for Alexa has also been updated with new voice commands for Xbox Game Pass and more. You can now ask the digital assistant about the latest games that have been added to the catalog, but Alexa can also tell you which of your friends are online and the games they're currently playing. You can check out the full list of voice commands for Alexa on this page.
Alexa on Xbox One launched first in the US and the UK last Fall, but the July 2019 Update finally brings it to more markets including Australia, Canada, France, Germany, Italy, Mexico, and Spain. We remind you that you can set up the digital assistant in System > Settings > Kinect & devices > Digital assistants, and the process will require you to add the Xbox Skill in the Alexa app.
That's it for the July 2019 Update, but the Xbox One will get more new features before the end of the year. Microsoft is already testing the October 2019 Update with select Xbox Insiders, though the new console streaming feature that Microsoft announced back at E3 2019 is still missing from the latest preview builds. You can keep up with everything related to Xbox One Preview builds on the Xbox Insider blog.
Share This Post: