Welcome to our weekly Xbox news recap series, where we go over the top stories of the past week in the world of Xbox. Let's get started.
Xbox One X pre-orders available soon
Xbox One X pre-orders will soon be available, according to Phil Spencer. Not long ago, we reported that the Xbox One X was still having some of its parts approved by the FCC, which resulted in a somewhat delayed pre-order window. A tweet from Xbox boss Phil Spencer let us all know that "all approvals are done," and Microsoft's plan for pre-orders is set in stone. It shouldn't be too much longer until you can reserve your console.
Our plan is set for this.  All approvals are done so now just landing the announce with all the info, won't be too much longer.

— Phil Spencer (@XboxP3) July 24, 2017
Spambots begin targeting Xbox Live users
It's very likely that, at some point this week, you had one, two, or more strange Xbox Live accounts contact you with friend requests and some strange messages. These accounts, as many savvy computer-users will have noticed - are spambots. Rocking absurd amounts of numbers in their gamertags and completely lacking gamerscore, the accounts will ask you about your personal information, like your name, address, and more. Be sure to report these to Microsoft as soon as you can.
Xbox One backwards compatibility list hits 400
It seems like just yesterday that Backwards Compatibility came to the Xbox One, but the laundry list of games supported by the feature is growing longer than anyone could have expected. With the addition of Raiden IV, Red Faction: Armageddon, and GYRUSS, the list of games supported by Backwards Compatibility has grown over 400. It's a huge achievement for the program, and gets us all thinking about the console's launch, where the lack of any backward compatibility got everybody lambasting both consoles on the internet.
GYRUSS, Raiden IV and Red Faction: Armageddon are coming to Xbox One Backward Compatibility today https://t.co/qPMRNrLoTQ pic.twitter.com/LQfvqswmwM

— Larry Hryb 🏡🎮☁ (@majornelson) July 25, 2017
Xbox Game Pass getting 7 new games in August
Xbox Game Pass, a service dubbed by Phil Spencer as "Netflix for single player games," has been off to a great start. Never one to let its new features lie dormant for too long, Microsoft is pumping 7 new titles into the service to help expand the library for people who have already played all of what they're interested in. Dead Rising 3, DiRT Rally, Limbo, Ultratron, So Many Me, Pharaonic, and Metal Slug XX are all going to be added to the library this August - get ready for them!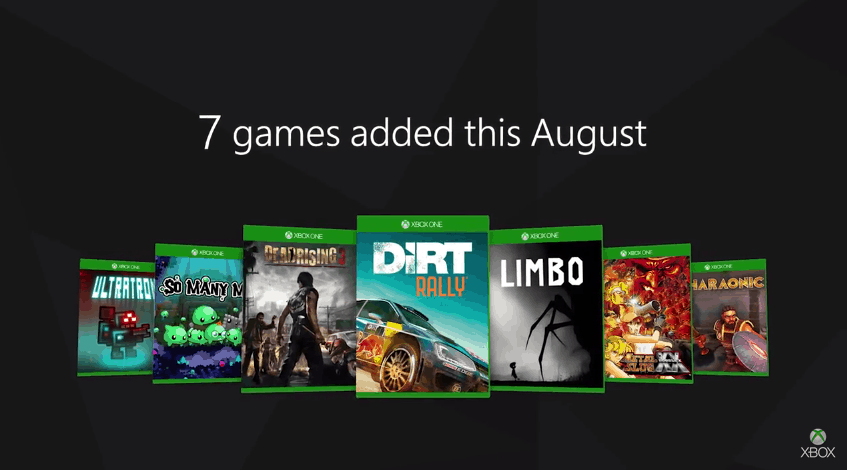 Thanks for joining us. To keep up to date with all the latest Xbox news, keep a close eye on our Xbox One tag.
Share This Post: