Microsoft is further enhancing its Xbox One experience by updating and tweaking its Xbox Wireless controllers and headsets for gamers. Aside from introducing the Xbox One S with its new ability to play 4K UHD Blu-ray, 4K streaming, HDR gaming and multiple storage options, gamers can now look forward to testing out a new featured-enabled Xbox Wireless Controller as well as new designs and a new Xbox Stereo Headset.
The new Xbox Wireless Controller design comes alongside the recently announced Xbox Design Lab launch that offers granular design choice for the most expressive of Xbox gamers. Instead of being able to change the color casing, button, handles, and knobs, the new Xbox Wireless Controller design comes in a pre-designed "metallic magenta that fades into a matte black finish." There is a secondary option that comes in blue which apparently was an Xbox Design Lab favorite among fans.
Other details of the new Xbox Wireless Controller designs include:
Textured grip for enhanced comfort, and Bluetooth technology for gaming on Windows 10 PCs, laptops and tablets*. The new Dawn Shadow controller will be available in the U.S., Canada, U.K. and other Xbox regions October 4 for $69.99 USD. The blue controller will be available in select regions starting September 27 for $64.99 USD, and will hit the shelves at Microsoft Stores and Best Buy first in the U.S.

We're also updating the black Xbox Wireless Controller to include the new controller features announced at E3. This includes updating the controllers in our PC controller bundles with the Xbox Wireless Adapter for Windows, and with the USB Charging Cable."
For gamers interested in the updated wireless controller in black, the controller will be arriving alongside PC bundles in Microsoft Stores and other stores worldwide September and October for $59.99 USD.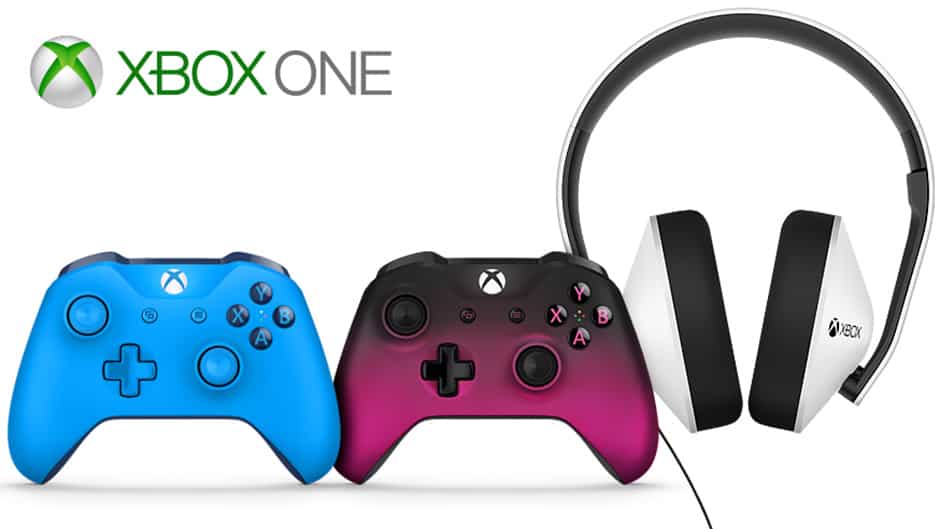 The other big news of the day also includes a new stereo headset that should help improve communicating over the Xbox Live community. The new headset appears to be several steps ahead of the pre-packaged headset that comes with the Xbox One and offers a more comfortable over-ear experience with a better mic.
The headset is also perfect for listening to TV or movies on your Xbox in rich, stereo sound.  Plus, the white color is the perfect complement to the white Xbox One S console and matching controller. You can get the Xbox Stereo Headset – Special Edition at Microsoft Stores and GameStop in the U.S. for $64.99 USD and at participating retailers in all Xbox regions around the world starting in late October."
For more details, gamers can check the Xbox website or head into their local Microsoft Store, Best Buy, retail store or Amazon website for offers and availability. Let us know in the comments if you plan to pick up any of this new Xbox One gear.
Share This Post: