In the span of 15 years, Xbox gamers played over 100 billion hours of games on the original Xbox, Xbox 360, and Xbox One (S). The November 15, 2001 release of the Xbox in North America was a major moment for Microsoft. With the evolution of Halo and Forza Motorsport, the original Xbox also brought us Xbox Live.
Xbox Wire posted some stats on what the last 15 years has looked like for Xbox.
Number of players: 222,468,423
Number of total gaming hours: 100,539,390,670
Number of total multiplayer hours: 29,000,304,183
Number of Achievements unlocked: 32,667,582,157
Gamerscore racked up: 572,605,554,587
Highest Gamerscore: 1,416,465
Number of Xbox Live friendships made: 4,233,891,482
Xbox Wire provides several ways to help Microsoft celebrate the last 15 years of Xbox; share your favorite Xbox memories using the hashtag, #15YearsOfXbox, on Twitter, Facebook, and Instagram. You can also play against someone on the Xbox team for a quick mulitplayer match by joining the "Celebrate 15 Years of Xbox" Club on Xbox Live. You can also join the "Halo" Club to go head-to-head with Halo developers!
If you can't participate in gaming on Xbox Live, here's a list of some Xbox game live streams on Beam and Twitch:
Forza livestream on Beam, starting today at 1PM PT or starting at 3:43 PT, there are Halo live streams on Beam and Twitch. The Halo live streams will feature various special videos sharing Halo memories, contributed by members of the 343 Industries and Bungie teams.
Microsoft will have "Game With" game sessions by special appearances with members from the Killer Instinct Team, Back Compat Team, Beam Team, Ambassadors Team, and a surprise executive "Game With!" Check out Xbox on Beam and Twitch for more details.
Here's a look at the Xbox in-game giveaways for the 15 year celebration:
A few of our teams are working on special giveaways and in-game events in honor of our 15 year celebration. First up, the Forza team is gifting a 2017 Ford F-150 Raptor complete with a custom livery celebrating Xbox's 15th anniversary. All players will receive this livery for free and Forza Horizon 3 VIPs will receive a bonus truck with an alternative Xbox 15th anniversary livery as well.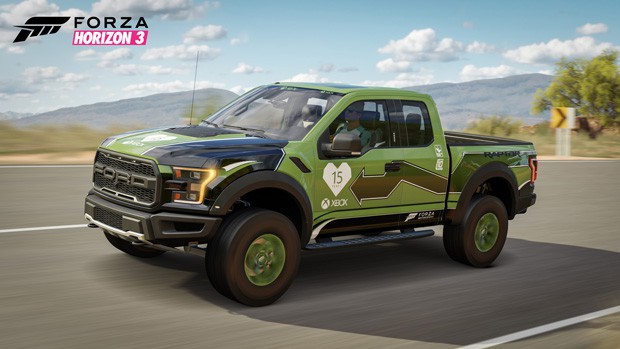 There will be two Rivals events created as well, with one in Forza Motorsport 6 and the other in Forza Horizon 3. In addition, there will be a special Bucket List Challenge in Forza Horizon 3 (TITLE: Celebrate #15YearsofXbox), which players can find by traveling to the Pink Lakes Bucket List point in the game.

If you're a Halo fan, if you simply log in to Halo 5: Guardians between November 15 at 10AM PT and November 22 at 10AM PT, you will receive a free "15th Anniversary REQ Pack", which contains consumable items for use in Warzone game modes and the legendary Mark IV Gen 1 armor set, worn by Spartan IIs in the darkest hours of the Covenant War!
Microsoft and Xbox are holding all these events and prizes because they know Xbox would not be where it is today without the support of the Xbox fans. Share your favorite Xbox memories using the #15YearsOfXbox hashtag on whichever social media outlet you choose, and here's to another 15 years of Xbox!
Share This Post: