On Xbox Wire, Xbox and The Coalition announced the first-ever Gears Pro Circuit Atlantic City Open to take place at Caesars Atlantic City, in association with Ultimate Gaming Championship (UGC). This $200,000 Gears of War 4 Open LAN event will take place from March 31 to April 2, 2017, and feature the top Gears of War 4 players in more than 48 teams from around the world.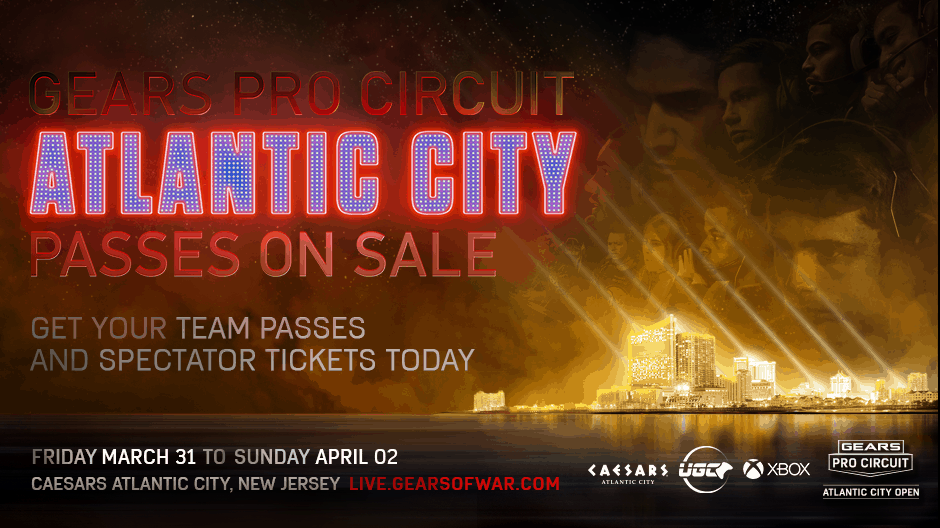 The top teams from North America, Latin America, and Europe are eligible for pool play and travel coverage with the opportunity to receive accommodations at Caesars Atlantic City Hotel & Casino. The non-refundable tickets to the weekend event are $20 for spectators and $200 for team passes. The $200 team pass price allows for five players and one coach.
Here are the prize money for the top three finalists:
1st = $70,000
2nd = $45,000
3rd = $30,000
The Gears Pro Circuit Atlantic City live stream starts Friday at 4 PM ET, Saturday at 10 AM ET, Sunday at 10 AM ET.
Buy your Gears Pro Circuit Atlantic City spectator tickets and team passes today.
Share This Post: