Yesterday it was announced that Windows 10 Mobile build 15025 was delayed due to a blocking bug. While this had upset many fans of the mobile OS, the folks over at Aggiornamenti Lumia managed to install a leaked version of the latest internal build, and have revealed that it brings improvements to Windows Update and much more.
According to a rough translation of the original report, the latest mobile internal build is in the finishing stages, and will bring "no outstanding changes." The build, however, does bring improvements to Windows Update, and removes the "Advanced Options" portion of the Windows Update settings page.
Microsoft will use this update to introduce the ability "to enable or disable the notification that will alert you that the phone is about to restart in order to complete the installation of the update." Lastly, other new areas under Windows Update settings include the option to plan the installation of new updates by choosing the hour, minute and day.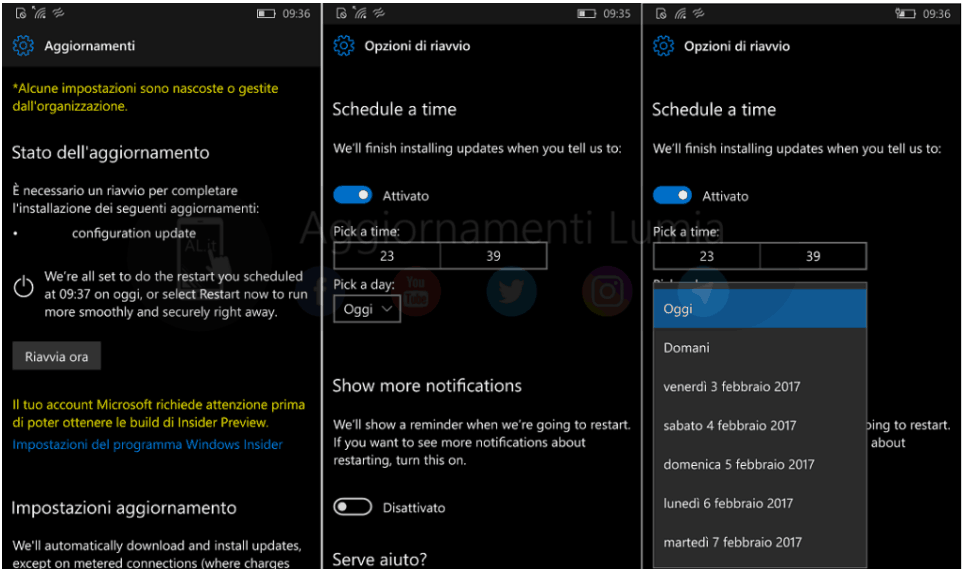 Next up for changes are accessibility settings. By rough translation of the original report, Windows 10 Mobile build 15025 brings new features under "the sounds you hear." section of settings. These new features range from new options under  "Amount of contextual reading for controls and buttons" and "Order of contextual reading for controls and buttons ."
It also would appear that accessibility and Windows Update are the only portions of Windows 10 Mobile that see major changes in this new build, but there are also hints at smaller improvements across the OS.
As one of our readers pointed out yesterday, Microsoft has indicated via the Feedback Hub that the bug that blocked 15025 has been "fixed in 15027," so we may well see a newer build, with these same features minus the bug, coming soon.
Be sure to keep it tuned to OnMSFT, as we will be here to cover all your Windows 10 Mobile news and information.
Share This Post: