In a recent comparison from AV-Test, Microsoft's popular and free antivirus program, Security Essentials, scored second to last in a test that tested 22 different anti-virus programs. In fact, BitDefender's Internet Security Suite 2011 won the test and came in at number one. We are giving away one full license of BitDefender ISS 2011 to one lucky winner!

BitDefender has long been a good security company with a great antivirus and security suite. It is no wonder that BitDefender's Internet Security Suite 2011 won in a recent test comparing 22 different antivirus programs.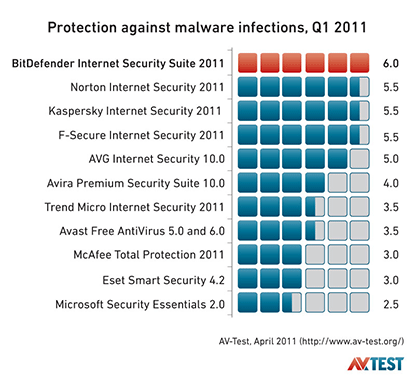 BitDefender Internet Security 2011 provides the user with a top-notch Antivirus program, with the added security of Parental Controls, Internet Firewall, Anti Spyware, and Antispam. This suite adds a few cool features such as Gaming or Laptop Mode that allows the user to minimize interruptions and prolong the battery life. In fact, this feature also reduces the system load which as a result allows for a more seamless computing.
BitDefender Internet Security 2011 provides the user with a proactive antivirus protection which stops new viruses and malware. In fact, BitDefender will catch viruses that other antivirus products will miss.
Another cool feature is in-cloud technology that hunts for viruses using minimal system resources. Users can also monitor their kids by keeping an eye on their online activities using an iPhone, smartphone, or PC.
The suite also provides the user with a Search Advisor that advises users of risky and potentially unsafe websites during search engine results.
The firewall is pretty useful as well. It allows the user to monitor their internet security and prevent unauthorized access to a personal Wi-Fi network, all with just a few clicks.
BitDefender's Internet Security 2011 also received praises from ConsumerSearch.com for its solid protection against malware, phishing attacks, and spam.
The bottom line? This is an excellent product that provides total security for the user. In fact, one thing that we loved the most was the ability to "change views." You can choose between Basic, Intermediate, and Expert views which all offer settings tailored to your computing knowledge. We are offering this great product to one lucky winner.
To enter this giveaway, you must:
1) Create an account on WinBeta. or Login via Facebook
2) Reply to this post to show your interest.
3) Like us on Facebook (Hit the LIKE button above) or Tweet this post (Hit the Tweet button above)
TIP: Posting more comments on any news post or forum topic will grant you an additional entry in this giveaway (up to 5 extra entries). Comments must be more than the typical "w00t" or "count me in", they must be at least a sentence or longer.
One winner will be chosen by June 30th and will receive a private message informing them of their win. Good luck to all!
Congrats to Shaun Warburton for winning!