The week of Xbox One Bundle announcements is almost over, but today's announcement by Major Nelson includes not just one, but two new bundles that will be available in time for the holiday season.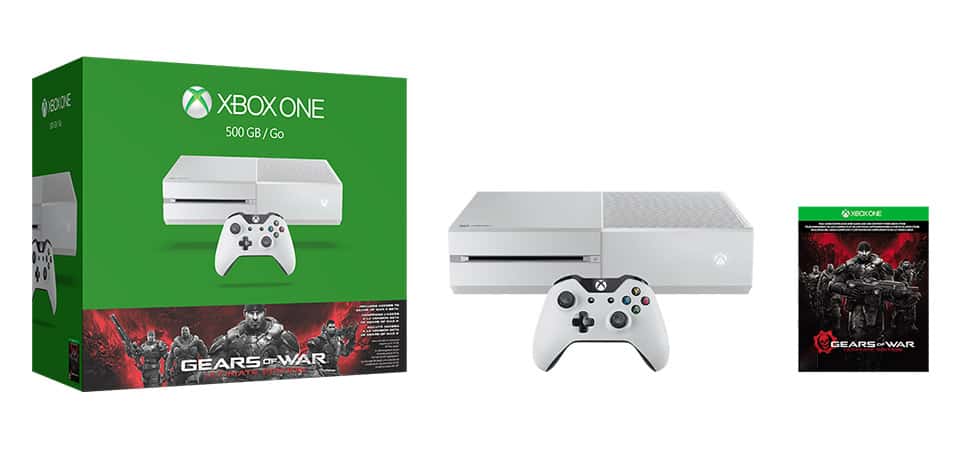 The first new bundle is the Xbox One Special Edition Gears of War Bundle. As the name suggests this bundle comes with the recently released Gears of War: Ultimate Edition which brought the original Gears of War to the Xbox One with remastered 1080p 60 FPS graphics. It also comes with a matching Cirrus White console and controller. The console comes only in the 500 GB variety and will be available exclusively at Walmart in the US this November for $349.
Also of note, your copy of Gears of War: Ultimate Edition will enable you to access the Gears of War 4 Beta coming up this spring, and for a limited time you will get the entire Xbox 360 Gears of War collection for Xbox One.


The second bundle announced today is the Xbox One with Kinect Bundle. With this Bundle you get a regular 500GB Xbox console, the Kinect sensor, one controller, and three games that all feature Kinect enabled gameplay. The three games include Dance Central Spotlight, Kinect Sports Rival, and Zoo Tycoon. This bundle will be available starting this October for $499 with local retailers and Microsoft Stores.
Major Nelson says tomorrow's bundle "might be the best one yet", so stay tuned to WinBeta for more Xbox news as this week of new bundles comes to an end.
Share This Post: