Microsoft's new Chromium Edge browser has come a long way since the stable version was introduced to start last year. We've seen many new features like Sidebar search, vertical tabs, collections, profiles, and even support for Apple's new M1 devices and the Surface Pro X.
However, as an owner of a Surface Go 2, I think Microsoft forgot about one important thing. The new Microsoft Edge is missing a tablet mode, but does anyone care? Here's my take.
Edge needs a touch-friendly UI like Safari
In looking at the lack of a tablet mode in Microsoft Edge, I'll go looking at iPadOS first for comparison. Right now, Apple's Safari web browser is heavily optimized for iPad tablets. While it is true that iPadOS is a completely different operating system from the desktop-based macOS, Apple has taken the time to ensure that its own web browser works well on its tablets. In other words, Safari on iPads simply isn't just a ported version of a desktop web browser.
Let's compare that to Edge on Windows 10. If you toggle a Surface into tablet mode, the browser doesn't change at all. It just gives you the same desktop version that you use with a keyboard and mouse. Microsoft could learn a few things from Apple.
I'll start with some of the obvious stuff. In Safari on iPads, you get a centered address bar, allowing you room to leave your hands on the screen when you want to tap in an address. In Edge on Windows tablet mode, the address bar is the same as the desktop version when toggled into tablet mode. It's off-centered, leaving room for menu buttons, favorites, as well as extensions, which all get in the way of navigation when holding a device in tablet posture.
Then, there are the navigation buttons. In Safari on iPads, there's leftover space between the back and forward keys, letting you click them easily. The navigation buttons for a new tab, sharing, and all open tabs are also larger, letting you access them easier. In Edge on Windows, the navigation tabs are almost tiny, designed for keyboard and mouse, rather than touch.
And let me not forget the scroll bar and window navigation. While some UWP apps in Windows are able to go full-screen and "drop" the title bar, Edge in its current state does not. You'll always see the title bar unless you go full screen. The same also goes for the scroll bar, too. It's not necessarily needed in a tablet mode, which is why iPadOS hides it and makes it small on Safari, but Edge in Windows 10 keeps the same "large" scrollbar. This all adds up for wasted space, especially on small tablets like the Surface Go 2.
It is true that you can browse "full screen" on Edge on Windows 10 in tablet mode to improve your browsing experience, but the point is that simple user interface elements could use an overhaul. I get this is something that can not easily be done, as it would require code changes, but it is annoying in day to day use of a Surface, Microsoft's flagship PC.
Many have pointed out that old Edge had a better tablet mode, and I do hope it's something Microsoft can go back on. Especially with lightweight Windows 10X tablets and PCs rumored to be on the way, this is a change that Edge could really use. I get that not *everyone* owns a Windows 10 tablet, but for the small minority, a change would be appreciated.
A problem for Google, and other web browsers, too
Part of the problems that I am describing is not really on Microsoft, but rather on Google. Since Edge is based on Chromium, Google itself has struggled to make its Chrome browser optimized for its own tablets, and even Windows 10. Using Chrome on a Windows 10 tablet like the Surface Go 2 is almost the same experience as using Edge.
But Google has shown interest in tweaking Chrome for ChromeOS tablets. We couldn't say the same for Microsoft with its own tablet mode in Windows 10. Let me dive a bit deeper.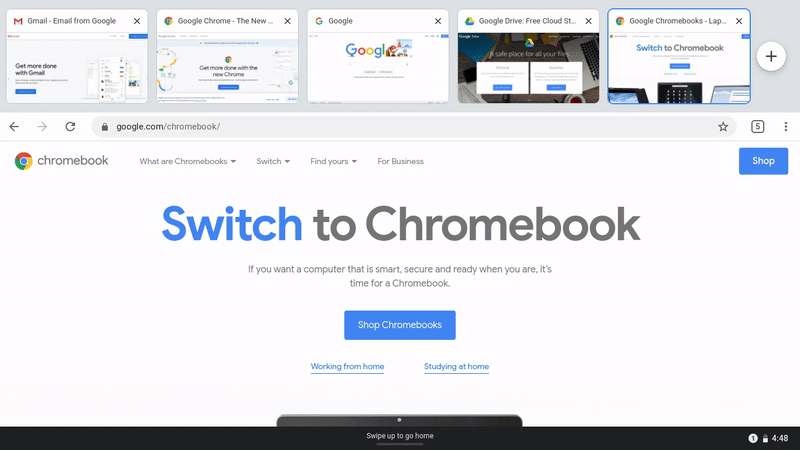 A few months ago, Google introduced some changes to Chrome specifically for ChromeOS 2-in-1's and tablets which I'd love to see in Edge, too. It recently became possible to open tabs with a big plus button, reorder tabs by dragging, and even close tabs when dragging up. There even was a "tab strip" which Google introduced, to show a preview of tabs, too. How I'd love to see this on my Surface Go 2!
Elsewhere in ChromeOS, Google also introduced some more touch-friendly gestures, too. Recently introduced was the ability. to navigate tablet mode with gestures, such as swiping up to see all apps, and swiping up and holding to see open apps. It's these small things that Windows 10's tablet mode needs.
Other issues with Edge and I am not alone
So far I've explained the bulk of my issues with Edge, but I am not alone in my thoughts. Over on the Microsoft Tech community, a thread was started in June of last year about "Edge dev team completely forget about Tablet mode." The thread discussed a lot of the issues I have mentioned here, but also some more, too.
Microsoft officially responded to the post and mentioned that they've passed the feedback along to the mobile team, so it does look as though they're aware of these issues. Knowing how the Edge browser on iOS, Android, and even iPads are heavily optimized for touch in the same way that Safari is, I do hope that one day, Edge on Windows 10 finally gets the tablet mode it deserves.