When Spotify launched in the Microsoft Store earlier this year, it was ported using Microsoft's Desktop Bridge tool. Though still a solid option for fans of the service who also own a Windows 10 PC, the app did not include support for some of Windows 10's unique features such as Live Tiles or notifications.
Well, Spotify has finally delivered, and a recent update to the app finally introduces support for Live Tiles (via Windows Central.) The Live Tile support is still a minor addition, but it's appreciated nonetheless. Turned on by default, it is available in three tile sizes (medium, wide, large) but will only show suggested playlists and songs, and not what is currently playing. As usual, the user can also turn the Live Tile off by right-clicking and choosing "Turn live tile off." from the "more" sub-menu.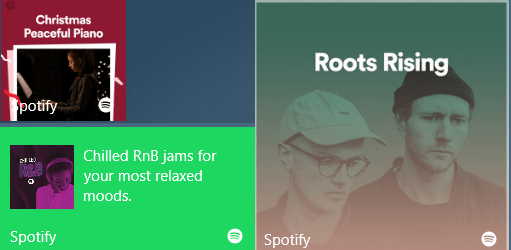 This is still a very far way from the native Groove Music app, but also a small step forward, opening up hope for additional features in later updates to come. You should be seeing this update now in the Microsoft Store. If you're not seeing it, you can manually trigger the update by clicking the link below and opening the Microsoft Store on your PC.
Share This Post: