Gaming website Product-Reviews.net has stumbled on a rather fun leak from Amazon. Xbox One's The Division had an extremely impressive launch, breaking sales records for Ubisoft in the first 24 hours of release. Now the much anticipated DLC could be just on the horizon for Tom Clancy fans.
Product-Reviews captured a screenshot revealing that the DLC could be releasing on Tuesday, June 28th for Xbox One users. Not only that, but a pre-download could be available three days prior.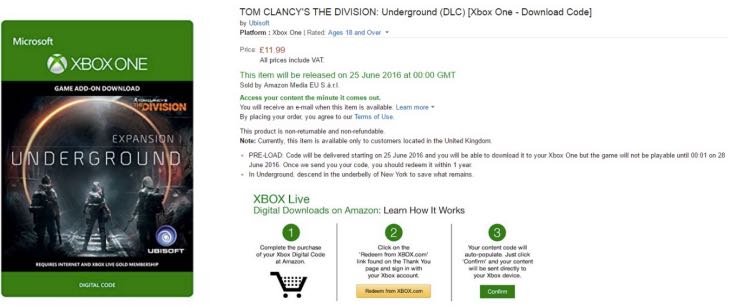 For those not aware, Ubisoft released a blog post two months ago sharing that the upcoming DLCs would be available on Xbox One exclusively before Playstation 4 and PC. This means that Xbox One players will have a whole thirty day period to play The Division: Underground before any other console and PC gamers.
Following up on the chaotic dystopian shooter, Underground's plotline stays true to the title of the DLC. The first paid expansion content focuses on tracking down enemies through New York's massive underground labyrinth of tunnels and subway systems. The June DLC release date isn't the only rumor that is orbiting around Tom Clancy's The Division. Last week, it was discovered that Ubisoft could be working on a movie adaptation of the video game.
The leaked Amazon page reveals that the DLC price could be an approximate $15 USD price tag. Both rumors have yet to be confirmed officially by Ubisoft, and unfortunately, the Amazon page has been updated to give away a lot less information for the new content pack. And so, the obligatory grain of salt is even more recommended.
Haven't had a chance to play The Division yet? Check out our review and first impressions on WinBeta and see why the game has set new records in sales.
Share This Post: