What a difference a month makes. It was only a few weeks ago that Microsoft Gaming CEO Phil Spencer went on an apology tour of sorts following the disastrous launch of Redfall—a game that supposed to be one of the biggest first-party Xbox releases of recent years.
That news, of course, came on the heels of the CMA's decision to block the Activision Blizzard deal in the U.K. The move presents a serious obstacle to Microsoft's endeavor to merge with game publishing giant. Needless to say, it was a rough month of May for Xbox fans as far as the gaming news went.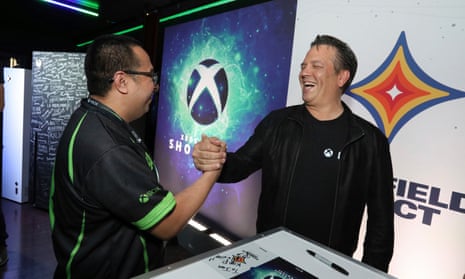 But now the Xbox Games Showcase 2023 has come and gone. And to the delight of Xbox fans and gamers in general (or at least most of them, anyways) the showcase was the huge hit that Xbox so badly needed. And now that the showcase is in the rearview, Spencer's renewed optimism regarding the Xbox platform is obvious, Especially when compared to his rather subdued appearance on the Kinda Funny Xcast podcast.
This could be seen when Spencer recently did an interview with The Guardian in which he spoke about the impressive game lineup unveiled at the showcase.
We knew the flow coming out of both Bethesda and Xbox Game Studios was gonna hit. I'll be honest, I always feel like we have a lot to live up to. The expectation of our customers is high. We know we didn't hit that bar in 2022 and we wanted to make sure we had a great show."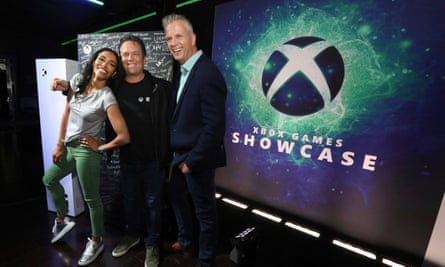 And boy, did they. It's been the general consensus that this year's showcase was exceptionally good—one of the best Xbox has put on so far, according to many. What was particularly exciting was the sheer number of the 25 or so games showcased that were coming to Xbox Game Pass. Spencer also touched on this in the interview.
The number of games that are in Game Pass relative to unique videos on Netflix is vastly, vastly different. I think we're somewhere between 300 and 400 games. It's still a lot, but we're not trying to inundate you. When I get negative feedback on Game Pass, it's when quality isn't what people expected. But then there's a marginal cost for them in trying something they would've never tried before. If there's any signal, it's how are our players feeling – how's the subscriber number going, and are creators coming back?

Our business right now, from a revenue standpoint, is about twice the size as it was in the Xbox 360 generation. And we're millions of consoles ahead of where we would've been compared to 360. We've never had more Xbox players than we have right now."
That last bit of info is especially eye-opening, and is in stark contrast with the commonly held perception that the brand is in trouble. Spencer has also stated elsewhere since the showcase that Xbox will generate $1 billion this year in PC-related sales alone.
No one can say for certain where Xbox will ultimately be by the end of the current hardware cycle. But one thing is for sure: the next few years will be interesting ones for Xbox fans.