Microsoft's push into cloud-connected services is paying off with more than just consumer Office 365 subscriptions. In a new report discussed by CSM Wire and published by Gartner, Microsoft ranks as the top cloud provider for email services to big businesses.
In a report by Gartner titled: Microsoft Dominates Cloud Email in Large Public Companies, the firm claims that Microsoft now holds 8.5 percent of the cloud-connected email market. Runner up to Microsoft's top position is predictably Google with a 5 percent stake in what amounts to a nascent market for most companies.
The numbers come from Gartner's research of roughly 40,000 participating companies who are presumably using some form of cloud-connected email solutions, be it private, hybrid, Microsoft Office 365 or Google Apps for Work.
While Microsoft takes top billing in the cloud-connected email market, Gartner is quick to point out that it leads a relatively niche market with only 13 percent of publicly listed companies even bothering to dip their toes into it.
Despite the size of the market, Microsoft's cloud email solutions continue to post impressive numbers when compared to the admirable competition from Google. While both Office 365 and Google for work are gaining adoption rates, Microsoft's Office suite and cloud email are controlling the market of large companies and enterprises with an 80 percent stake in companies with revenues of $10 billion or more. Meanwhile, Google has found its niche with controlling close to 50 percent of businesses with $50 million or less.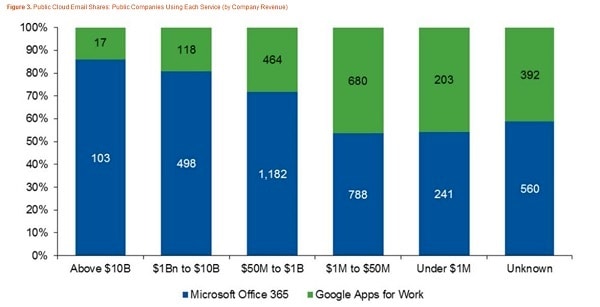 A continued breakdown of adoption shows that Microsoft's Office 365 is relatively popular among larger scaled businesses housing larger employee counts in higher end markets. Aside from the admittedly growing Asia/Pacific market where Google has become a top provider, Microsoft's Office 365 has a strong foothold in most industries and regions across the globe.
As the market for cloud-connected email continues to evolve and mature, it'll be interesting to see how Microsoft and Google adapt and encroach on territories. Current trends are showing that both Microsoft and Google are wrangling the market, but at different ends. Microsoft's offerings are adjusting for scale and growth while Google's are price conscious and excellent options for startups. As it stands, Microsoft's switch to a subscription model for Office 365 backed by its Azure cloud support is proving to be a pivotal and successful transition for the company.
Share This Post: