Microsoft's Quick Resume feature on Xbox Series X|S consoles is about to get much better in the coming months. Indeed, the latest Xbox OS update for Insiders in the Alpha and Alpha Skip Ahead rings will automatically create a group for games that are currently in a Quick Resume State.
As of today, gamers on Series X|S consoles have no easy way to see which recently played games can be resumed almost instantly thanks to Quick Resume, but that's finally changing with this new Quick Resume Group. Games in a Quick Resume State will appear in that group automatically, and the group will be visible in My Games & Apps, the Xbox Guide, and it can also be added to the Home Dashboard for convenience.
Alpha and Alpha Skip Ahead Insiders: in case you were wondering why I shared that tip on reordering groups!

See what's stored in Quick Resume from your groups list (Guide, Home and My games & apps) and see if your running game supports Quick Resume in the Guide: pic.twitter.com/AnPEP4JSae

— Eden Marie (@neonepiphany) April 19, 2021
Moreover, opening the Xbox Guide will now indicate if the game that's currently running on Xbox Series X|S consoles supports Quick Resume. A dedicated "Quick Resume" label will appear on the top right corner of the screen to indicate when a game supports Quick Resume. Most Xbox games are currently compatibles with the new features, but there are still some exceptions for multiplayer games.
From the new Quick Resume group, Xbox Insiders will also be able remove games from the Quick Resume pool to leave room for other titles. Overall, these improvements are important new steps in giving Xbox gamers more control over Quick Resume, a feature that's probably not very easy to understand for newcomers.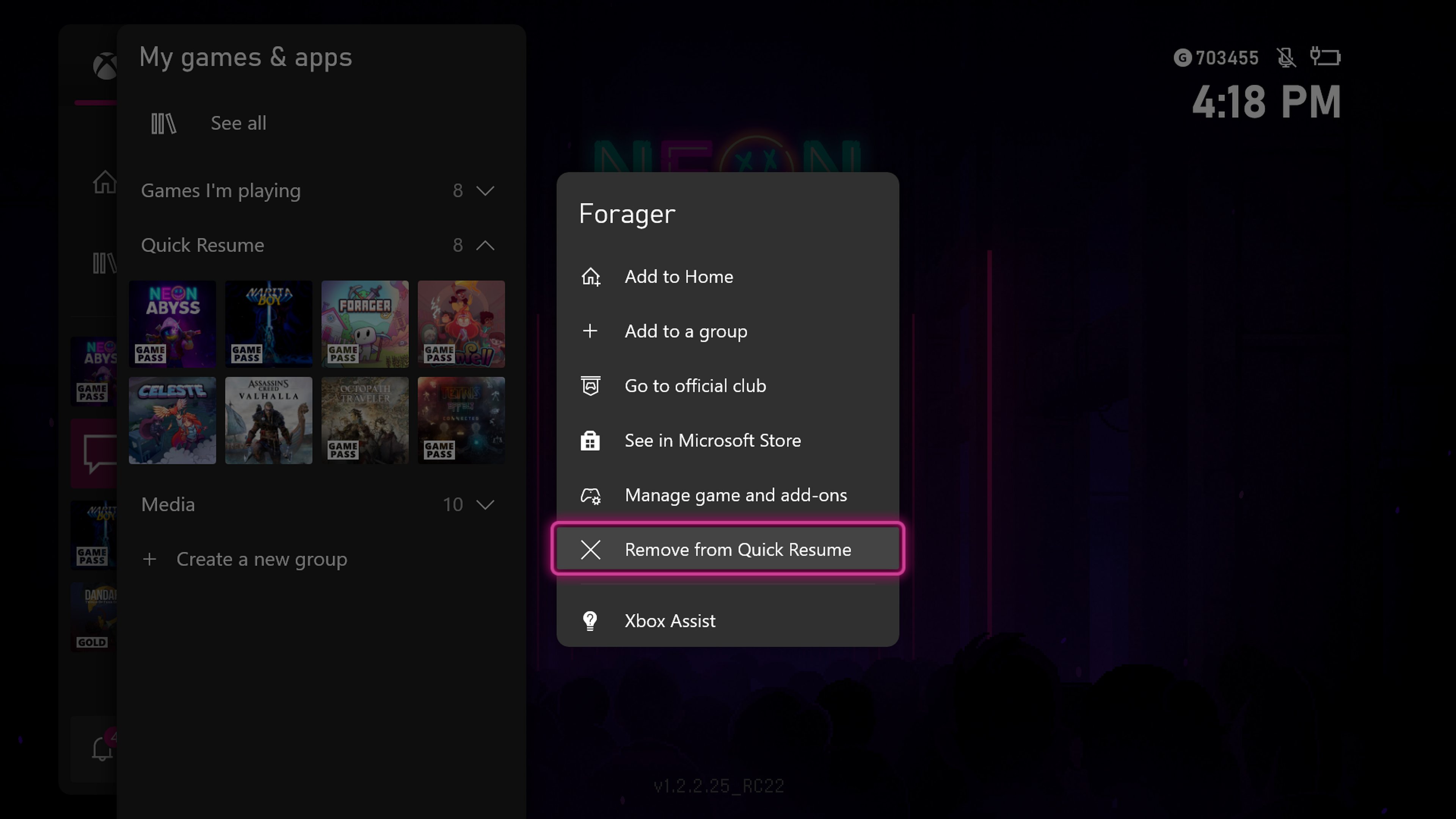 In addition to these Quick Resume improvements, the new Insider builds also add a new option to enable audio passthrough for media apps on Xbox consoles. When enabled, audio coming from media apps like Netflix will directly pass onto a receiver, skipping all the audio processing that usually happens on the console. This can help reduce audio delay for users with complex audio systems connected to their Xbox.