Seems as though Microsoft is inching closer to making good on the rumors that the company will have some sort of foldable device to showcase at some point in the not-too-distant future.
Earlier this week, news broke that somewhere deep within the halls of Redmond that a select few employees had a chance to view the company's early prototyped dual-screen device, presumably running a dummy OS or a version of the long-awaited Windows Core OS (WCOS).
In addition to having 3rd party confirmation of the existence of the device, we're also finding new patents that identify additional display technology that may come with the new foldable or an iterative release later on.
The Windows Latest team appear to be the first to spot the patent "MOVABLE DISPLAY SUPPORTS, COMPUTING DEVICES USING SAME, AND METHODS OF USE," despite the patent being roughly two years old.
The patent's focus appears to be assisting the rigidity of foldable screen technology per Microsoft's description.
"As shown, the support elements 260 limit bending about the back of the surface 214 of the display 210 to an infinite bend radius (e.g. planar). Howeve, the supprot elements are not capable of limiting movement of the display 210 beyond the radius of curvature 221...Specifically, as the display 210, retain their same individual gemoetry in both the planar and bent configurations. In other words, the first support element 260-1 (and/or any other support elements 260) does not change in length  (in the direction of the bending). This while capable of limiting motion of the display 210 to prevent exceeding a first bend radius (e.g., the infinite bend radius), the implementation of a moveable display support 220 is not capable of limiting motion of the display 210 to prevent exceeding a second bend radius."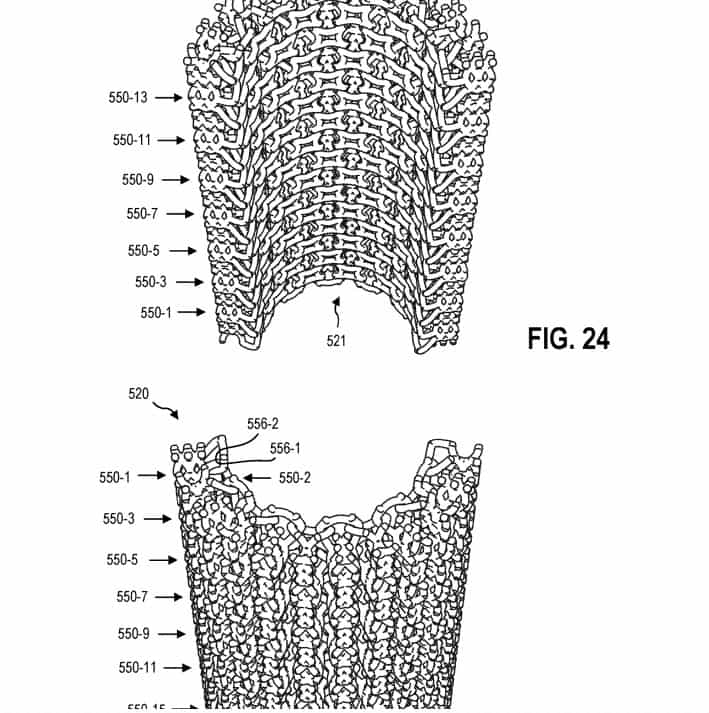 Specifically, it looks like Microsoft wants to apply a mesh network of some sort of flexible material to sandwich the bendable display to prevent excessive (potentially breakable) bend angles. Presumably, companies such as Samsung and Huawei have similar patents approved and in their stable as well
Microsoft has been pretty cautious and meticulous about its approach to foldable technology and with the recent stumbles of the Galaxy Fold pseudo launch, it is surprising to see Microsoft moving this quickly with dual screen foldable technologies.
Ideally, we would love to see the company's new foldable make an appearance at Microsoft's next Surface event.
Share This Post: