Recent and often short-sighted evaluations of IoT (Internet of Things) have focused on what shiny wrist-wear people can go out and buy right now, or what company is making a play for cars or in-home connectivity. While some consumers may be focused on the next smartwatch or in-car dash system, companies are building the connectivity glue to evolve processes and shape industries.
Here at WinBeta, we've been reporting on Microsoft's IoT and cloud pitch in various fields such as law enforcement, education, disaster relief and it now looks like we can add healthcare to the list.
Microsoft wants to combine the cloud with the various sensors and devices utilized in everyday healthcare to collect health analytics while using Machine Learning to aid in advances in the healthcare industry. Recent developments in healthcare are illustrating if and when properly executed, the use of the cloud and IoT in the industry could lead to better patient treatments and cut cost for chronic disease management.
Advanced analytics capabilities combined with the digitization of the physical world (Internet of Things) has tremendous impact when applied to remote monitoring and better treatment of chronic diseases. According to a McKinsey Global Institute 2015 report, IoT has the potential to cut costs by as much as 50 percent in chronic diseases management, equaling to a gain of $1.1 trillion per year in 2025. Use of IoT systems could enable societal benefits worth more than $500 billion per year. Interestingly, most of the IoT data collected today are not used at all, and data that are used are not fully exploited across various sectors – not only health and wellness – as less than 1% of data is currently used, mostly for alarms or real-time control, while more can be used for optimization and prediction."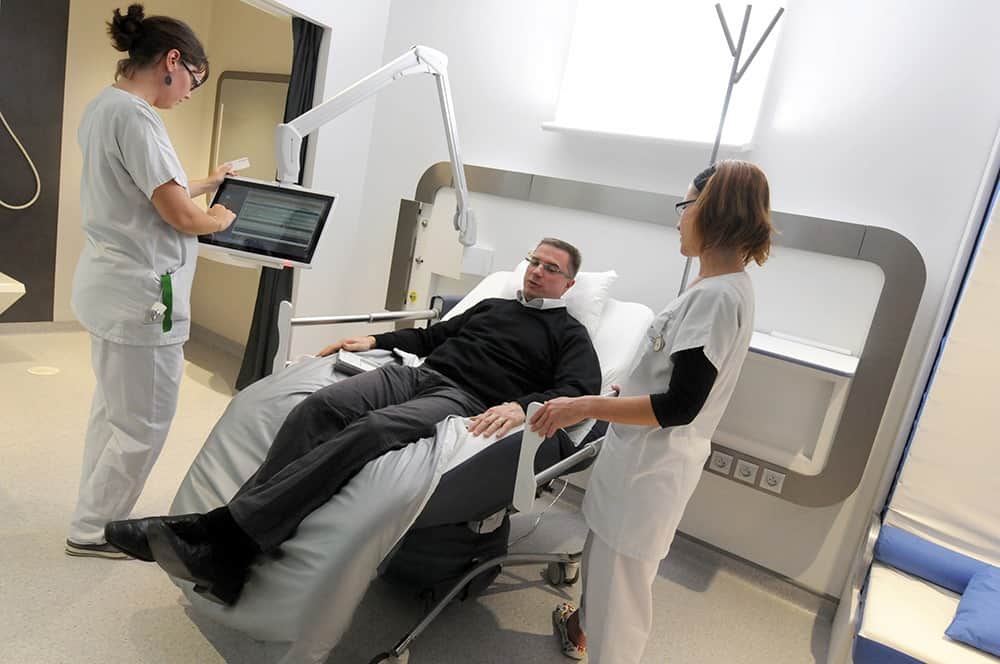 Specifically, the combination of cloud and IoT devices has led to some health professionals creating intelligent beside systems. Lille Regional Teaching University Hospital in France utilizes a collection of IoT solutions to improve the experiences of 87,000 patients each year.
By connecting 1,928 bedside terminals and 652 Internet Protocol televisions with multiple data streams and media capabilities, Lille is saving healthcare workers countless hours spent accessing and manually updating information."
On a slightly elevated scale of IoT and cloud utility, the City of Vienna is using cloud analytics to power a new epidemic management solution. With support from a European IT services corporation, Atos, and a fully scalable Microsoft Azure solution, Vienna's Atos Epidemic and Outbreak Management solution can track, trace analyze, and predict patterns of spreading diseases. Designed to address the type of disease, condition or pathology of a spread, much of the AEOM solution can track incidents in real-time using the cloud.
As more health organizations seek to use the cloud to power their IoT efforts, Microsoft is positioning itself as a trusted and industry compliant solution. Recently, Microsoft established what it calls Trustworthy Cloud. The Trustworthy Cloud is a website intended to show Microsoft's commitment to data privacy, compliance, transparency and cyber security. Microsoft's also hosts a European Cloud Risk Assessment Framework site intended to address concerns healthcare professionals in the area might have about the cloud and the IoT.
While, many of us would like to see a more consumer-facing effort by Microsoft in the IoT, it's perhaps, for the best they put their attention towards helping to prevent diseases and cut medical cost for both professionals and patients, at least for the time being.
Share This Post: