The new Surface Laptop was one of the main highlights of Microsoft's education event yesterday, and the company's first true notebook seems to deliver some very decent specs in a premium-looking package. For those of you who can't wait to get one, Microsoft announced yesterday that the Surface Laptop is now available for pre-order in 20 countries, with select models to start shipping on June 15:
Customers can pre-order Surface Laptop starting today in the U.S., Australia, New Zealand, Austria, Belgium, Denmark, Finland, France, Germany, Ireland, Italy, Luxembourg, Netherlands, Norway, Poland, Portugal, Spain, Sweden, Switzerland and the United Kingdom where available at Microsoft Store, microsoftstore.com and BestBuy.com. Surface Laptop will come to China later this year and we will announce availability in other markets in coming months.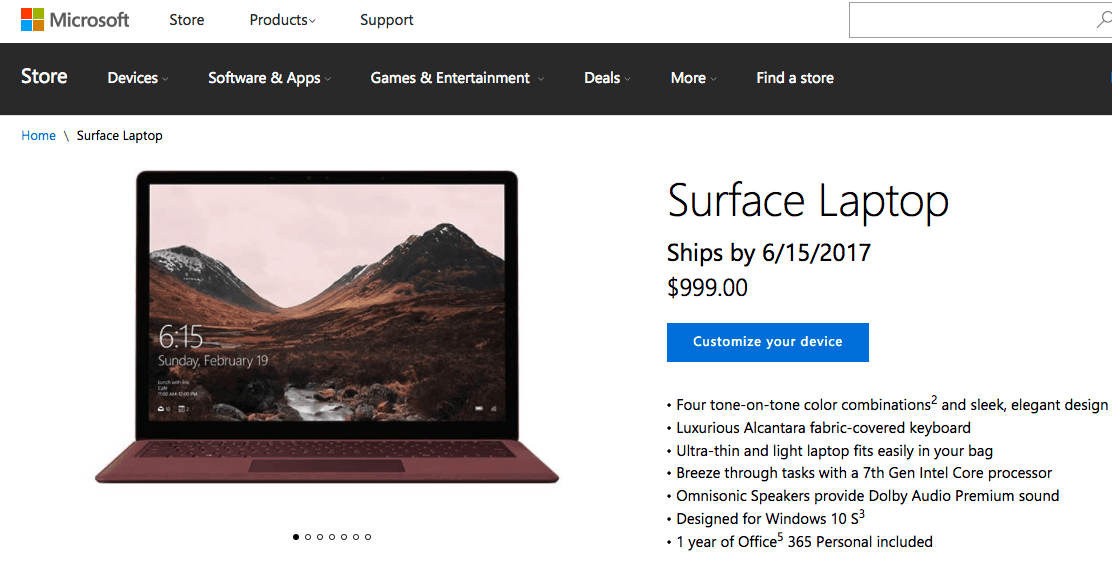 At the US Microsoft Store, the base model with an Intel core i5 processor, 4GB of RAM and 128 GB of storage can be yours for $999. The same model is available at £979 at the UK Microsoft Store, but we remind you that students, faculty, and staff can save up to 10% on the premium notebook.
Microsoft is also offering 1-year of Office 365 Personal through October 15, 2017, which is nothing to sneeze at: all Surface Laptops will ship with Windows 10 S, a new version of Windows 10 that will only allow users to install apps from the Windows Store, but Microsoft plans to release its Office 2016 desktop apps on it later this summer.
Share This Post: