Over the past few years, we've been reporting on how Microsoft's fortunes are now becoming directly tied to the cloud. With each new quarterly earnings report, the company continues to prove that its muted reliance on Windows and its new found appreciation for Azure were the right pivots during Microsoft's, sometimes, painful company restructuring.
Unfortunately, reporting about Microsoft's cloud growth can be a rather dull endeavor, unless you're an Azure customer, company investor,  or understand exactly what 'Intelligent Cloud' entails. So let's skip those metrics and go straight to the relatable stuff about Microsoft's FY18 Q4 earnings such as, how the company did with its expanding Surface hardware line, Xbox gaming division and how exactly is Windows doing for the company.
More Personal Computing
Windows
Despite Microsoft's reluctance to mention Windows by name as it used to, the company's tried and true work horse continues to buoy the business in some regards. Yesterday, Microsoft reported that Windows OEM Pro revenue grew by 14% signaling that the business uptick the company had been expecting is slowly gaining.
On the flip side, it seems that consumer Windows revenue hit a bit of slow patch this quarter even as PC sales grew. The odd paradox resulted in Microsoft claiming a 3% decline in the quarter, which is below the consumer PC market average. Microsoft attributes the decline to the growing entry level PC market where Windows licensing is struggling a bit.
Microsoft also noted that its business and cloud solutions which pivot from Windows saw a revenue increase of 23% thanks to some nifty multi-year agreements the company is pitching to businesses. Many of Microsoft's multi-year agreements are producing high in-quarter revenue numbers for the company.
Surface
Microsoft's Surface line has been a bit of an enigma for investors as the product line continues to try and calibrate a moderately seasonal reporting structure. Despite the Surface line being a billion dollar business for the company, it's typically boarding on stagnate or declining revenue for Microsoft on the whole. Fortunately, for Q4 this year, Surface proved to be a big winner with revenue growing by 25% year over year. Microsoft is contributing the growth to obvious year over year comparison where its Surface Laptop and Surface Pro (latest gen) had yet to fully penetrate the market following an unusually long product update cycle.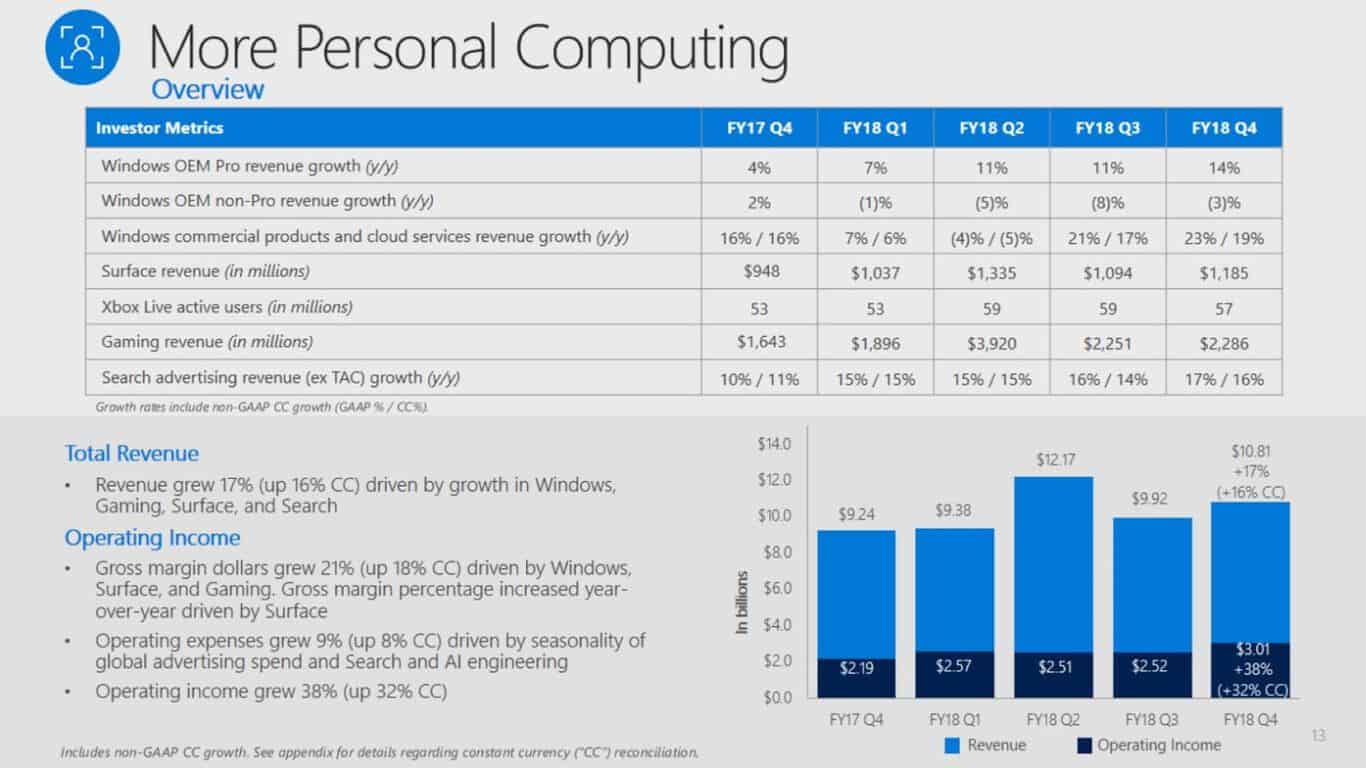 Xbox
While Microsoft arguably won the affection of writers and bloggers during E3 this year, the reality stands that its Xbox division has been struggling as of late to come up with enticing purchase offers in leu of actual well received first party titles. Despite that being the case, Microsoft has managed to leverage its Xbox branded software and services to increase its gaming revenue by 39% and products such as Xbox Live, Xbox Game Pass, and Play Anywhere titles.
Despite console sales numbers, the amount of Xbox Live monthly active users grew to 57 million or as investors would read it, an 8% growth from this point last year. The devil is in the detail with this growth number as Microsoft states it occurred across Xbox One Windows 10 and mobile platforms signaling that perhaps more Windows 10 owners were signing up for Xbox Live than were people who owned Xbox One consoles. Even if the latter is true, several of Microsoft's E3 2018 announcements all but outlined the company's plan to evolve the Xbox platform into something more platform agnostic, starting with its software and services.
Bing/Cortana
Lastly, Microsoft's Bing efforts are still putt-putting along with the search platform tracking a 17% revenue growth with a few asterisk tossed into the mix. Microsoft is subtracting the traffic acquisition from its overall search costs to get to its 17% revenue growth, meaning that if the if were to include the amount of money the company spent to be Yahoo search funnel, its overall growth might have seemed muted. However, a stagnate search trajectory is usually preferred to a decline, especially with Microsoft holding such little footing in mobile and the connected speaker market.
In all, Microsoft continues to rack up some impressive consumer-facing wins even as the company evolves into a mature 1990's IBM-like hybrid business.
With the Surface Go now on the market, a slew of Always Connected PCs and a new Xbox console slated for next year, it'll be interesting to see how these numbers fluctuate next year.
Share This Post: