Every year, Forbes publishes its list of the world's most valuable brands, and this year Microsoft once again made it to the top five (via Windows Latest). Indeed, the company ranked #3 with a $104.9 billion brand value (up 21% YoY) behind Apple ($182.8 billion) and Google ($132.1 billion), but ahead of both Facebook ($94.8B) and Amazon ($70.9B).
A couple of things to know about Forbes' ranking: first of all, it only includes brands that have a presence in the US, excluding so that excludes some Asian giants such as Tencent. As for the methodology for calculating brand values, Forbes explained that they "valued the brands on three years of earnings and allocated a percentage of those earnings based on the role brands play in each industry (e.g., high for luxury goods and beverages, low for airlines and oil companies). We applied the average price-to-earnings multiple over the past three years to these earnings to arrive at the final brand value."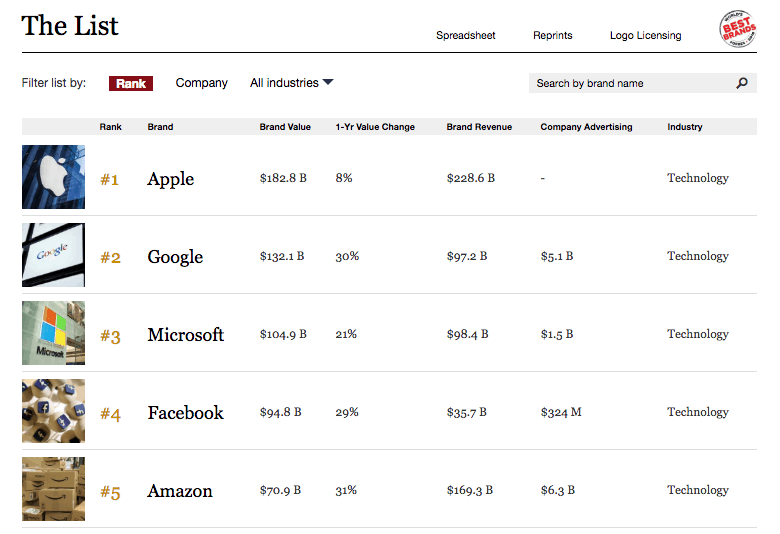 The result is quite positive for Microsoft, which has often been criticized for abandoning the consumer market since Satya Nadella took over the company four years ago. However, it's worth noting that Amazon did knock out Amazon from its #5 position this year with a +31% YoY value change, one of the highest variations in the top 100 behind Netflix (+35%) and PayPal (+33%). Overall, tech brands represent 20% of the top 100, followed by financial services (13 brands) and autos (12 brands).
"A robust brand helps drive demand and pricing power," noted Forbes' Kurt Badenhausen, adding that only Apple, the world's most valuable brand for eight years in a row in Forbes's ranking can price its iPhone X at $999 and still grab most of the smartphone industry profits. Over the past few years, Microsoft has often opted for a premium pricing for its latest hardware efforts, as you can tell with the $2,999 Surface Studio. If the company eventually decides to release its rumored "Andromeda" foldable mobile device, we expect it to come with an iPhone X pricing that only a revolutionary device could command.
In the meantime, the company may try something different later this year with new 10-inch Surface tablets starting at $400. This strategy has worked well for Apple, as its affordable iPads have crushed Android tablets in recent years. However, it's hard to imagine Microsoft ever beating Apple at its own game, and for two main reasons: Microsoft has never been great at marketing, and Windows 10 still has its fair of issues including a disappointing tablet mode and app store.
Share This Post: