We just learned yesterday that the new Outlook.com experience was starting to roll out worldwide, offering a number of enhancements that have been available to preview users for a while. Today, Mary-Jo Foley from ZDNet has reported that Microsoft is currently testing a new premium Outlook.com service with custom domain option.
This pilot program is not the same as the ad-free Outlook.com experience that Microsoft is currently offering for a $19.95 yearly subscription, but according to this official help page "offers a personalized email address for you to create and manage." Here are the most interesting bits from this help page :
After confirming the new personal email address, that address will now be your default From address when composing email. Your original address is still active too.
After setting your new personal email address as an alias, you can login to any Microsoft service with your personal email address and the same password that you use for your Outlook.com account. You should keep your original Outlook.com email address as an alias on your account.
Microsoft has partnered with GoDaddy to supply the email domain you choose to power your personalized email address.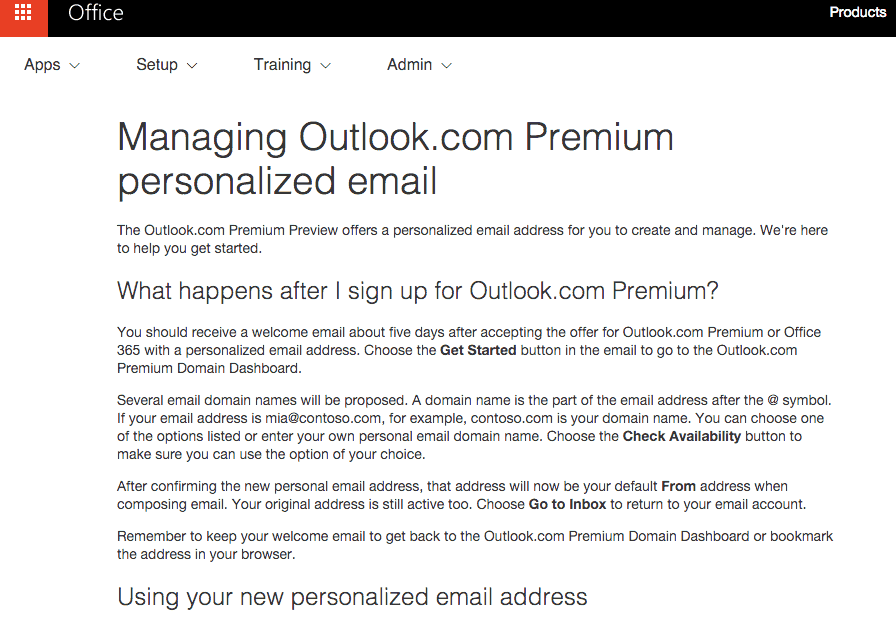 Microsoft previously offered a free option to use Outlook.com with your custom domain, but the company ended support for it in 2014 while existing users were allowed to keep their account for free. Since then, the only way to get an email address with a custom domain from Microsoft is to subscribe to Office 365 for business, which clearly is overkill for happy Outlook.com users.
A Microsoft spokesperson explained to Mary-Jo Foley why the company is running this pilot program:
We are evaluating interest in custom domains for Outlook.com. At this time, we are testing with a limited number of users in the United States and will evaluate the experience over time. The previous program required the user to manage the process of purchasing a domain. We are evaluating the appeal of custom domains but with Microsoft managing the processes of procuring the domain.

We're always investigating new features based on the wants and needs of our users, and we have nothing more to share at this time.
So that's it, folks. We don't know yet if Microsoft will go forward with this Outlook premium service and if Microsoft will include it in a Office 365 consumer subscription or sell it as a standalone service. But the new capabilities would certainly be a welcome addition for Outlook.com fans and "prosumers" who would want to use their favorite email service with their own domain. Please tell us in the comments if you would be interested in Outlook Premium!
Share This Post: