Earlier this year, Microsoft made it possible to set background effects for video calls in Microsoft Teams. At the time of its release, Microsoft Teams users could only choose from a library of pre-selected images from Microsoft, but people could use a hack to set their own background images.
According to the Microsoft 365 Roadmap document, Microsoft has recently rolled out an update for Microsoft Teams, which finally allows you to upload your own background images for video calls (via Windows Central). This much-anticipated feature is now generally available for all Microsoft Teams users around the globe (edit: beginning with version 1.3.00.13565).
Microsoft said in a support document that the ability to add custom backgrounds is currently available for scheduled meetings. If you are looking for some extra privacy or a way to hide your messy room during Teams video calls, here are a couple of ways you can change your background during Teams meetings.
Change your background before a meeting starts
To change your background before joining a Teams meeting, select the Background effects toggle button which is available besides the mic switch. Your background options will appear on the right side of your screen. Now to upload your own background image, click Add new and then select one to upload from your computer.
Change your background during a meeting
Start or join a Microsoft Teams meeting, from the Mac or Windows desktop application. Navigate to the bottom of your screen and go to your meeting controls and click the More actions button and then select Show background effects.
Finally, click Add new, select the image you want to use as a background, and click Open.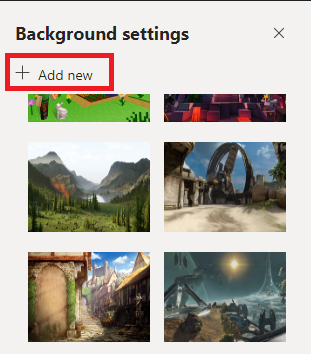 You can now preview your chosen background to see how it looks. If you like the background, hit the Apply button, and you are good to go. It should be kept in mind that the image should be a .JPG, .PNG, or .BMP file. Moreover, some background images that you will be downloading from the Internet might have their contents mirrored when uploaded into Microsoft Teams.
Now that this feature has been enabled by default, you might be looking for background images for your next Teams meeting. If so, we invite you to check out our dedicated Teams background Hub where we provide lots of custom backgrounds to choose from.
Share This Post: