At the close of the US stock market yesterday, Microsoft announced its 4th quarter earnings, showing that it is making significant progress in transforming into a cloud first (not sure about the mobile first) industry. Microsoft saw Azure grow 102%, Enterprise Mobility customers install base grow 2.5x, and Office 365 commercial revenue growth rise by 54%.
Today, the stock market continues to look kindly on the future of Microsoft, with the current stock price up some 5 1/2%, after rising all night in after hours trading: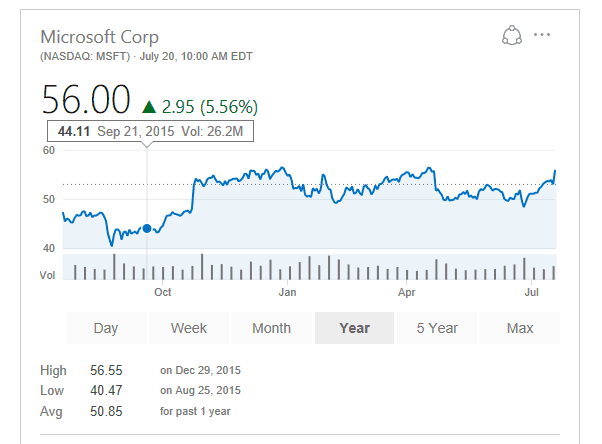 The current price of about $56 marks a near high-water mark for the year, eclipsed only by a short burst in April. With Office 365 and Azure continuing to grow, Windows 10 Anniversary Update nearly upon us, and a holiday season marked by what should be a strong Windows 10 push and new Xbox hardware, Microsoft's stock price should continue to do well as we head into the new fiscal year.
Where do you think Microsoft is headed? Can it sustain its growth even without a viable mobile hardware strategy? Will Windows 10 be a winner with the Anniversary Update, or will the real push for Windows 10 come with next year's RS2? Let us know in the comments below.
Share This Post: